According to the Aerospace Industries Association in 2017, the Texas aerospace industry added over $39 billion to the US economy. Texas is an aerospace industry hub. This unofficial distinction is thanks to a number of factors. Additionally, the logistics of moving these parts play a major role. So, what does shipping for the Texas aerospace industry entail?
When shipping for the Texas aerospace industry, it's important to prioritize the accuracy, safety, and fast delivery of aircraft and parts. Many large parts qualify as oversized freight, which requires additional planning and strategy. It's important to work with an experienced shipping and logistics company.
In this informative, in-depth guide, we'll explore the Texas aerospace industry in full. First, we'll look at why Texas of all places has become the hotspot for the aerospace industry. We'll also touch on the companies driving this success, what the aerospace supply chain looks like, and shipping in the aerospace industry.
Why Texas Is an Aerospace Industry Hub
Texas is among the biggest states in the country, with a 773-mile width and a 790-mile length. That's roughly 268,581 square miles total. About 29.09 million people live in Texas per 2019 data from World Population Review.
The state certainly has the people and the size to impact a variety of industries. These are chemical products and petroleum refining, computer and information technology, energy, life sciences and biotechnology, aerospace (including aviation and defense), and advanced manufacturing and tech.
It's clear that Texas decided to focus on aerospace because of its growth potential, but what made the state so well-suited for this industry? There are a handful of factors.
Workforce
As noted earlier, Texas has more than 20 million residents. For comparison, New York has only 19.5 million residents and Florida 19.06 million. In fact, the only state with a bigger population than Texas would be California with about 37.68 million residents.
Texas' population works to its advantage in the aerospace sphere. According to Business in Texas, a state resource, there are currently 130,000 Texas workers who have entered the aerospace industry. More than 1,300 such businesses or establishments exist to cater to these employees.
Texas aerospace employees make about $95,414 annually by working in this industry. Business in Texas also mentions that it's easier than ever for those interested in working in aerospace to get started. Here are some options you have:
Earning your Avionics Certificate through the Federal Aviation Administration or FAA's aerospace academy

Obtaining your Airframe & Power Plant license through St. Philip's AA branch

Taking a class in San Antonio's St. Philip's College, which has programs through the U.S. Air Force, Gore Design, Standard Aero, M-7, Cessna Citation, ST Aerospace, Chromalloy, Boeing, and Lockheed Martin

Getting a Mechanical and Aerospace Engineering degree through Rice University, Texas A&M, UT Arlington, or the University of Texas in Austin

Attending pilot training, aviation maintenance, and other FAA courses through Waco's Texas State Technical College airport
Aerospace Manufacturing Facilities
Many major names in aerospace already have manufacturing facilities in the state of Texas. These include Bell Helicopter, L-3, Lockheed Martin, and Boeing. Thus, the state has an advantage over others.
Square Footage
With more square footage than many other states combined, Texas can take on large projects in the aerospace industry. For instance, they've opened facilities dedicated to repairing helicopters in Corpus Christi.
Also, the state was able to use Brownsville as a commercial rocket launch facility for SpaceX back in 2014. They could afford such through their Texas Enterprise Fund, of which the project cost $2.3 million. Still, Texas expects capital investment on the project to add up to about $85 million, thus allowing the state to turn quite a profit.
The United States had yet to have such a commercial rocket launch facility before now. If all goes well with the project, it could add 300 jobs for those entering the aerospace industry in Texas.
Airports
Both American Airlines and Southwest have chosen the Dallas Fort Worth Metroplex as their respective headquarters. Speaking of Dallas Fort Worth, its airport is one of the most used across the nation. The same is true of San Antonio International.
The entire state of Texas boasts 26 commercial airports as of this writing. Some others include:
Valley International Airport

Laredo International Airport

Midland International Air & Space Port

Easterwood Airport

Tyler Pounds Regional Airport

Jack Brooks Regional Airport

Lubbock Preston Smith International Airport

Dallas Love Field Airport

William P. Hobby Airport

George Bush Intercontinental Airport
Military Bases
Further making the marriage between Texas and aerospace more of a natural one is the number of military bases in the state. Over 170,000 military personnel are spread across 15 Texas bases. Some of these are:
Naval Air Station Joint Reserve Base Fort Worth or Carswell Air Force Base in Fort Worth

Corpus Christi Naval Air Station in Corpus Christi

Fort Bliss in El Paso

Lackland Air Force Base in San Antonio

Kelly Field/Joint Base San Antonio in San Antonio
It's no wonder then that, in 2018, publication The Austin American-Statesman declared Texas the second-best pick for aerospace manufacturing, with only Washington state in front of it.
Why the Texas Aerospace Industry Thrives
Thus far, I've discussed the reasons Texas has focused on aerospace, why the state is so well-suited to the venture, as well as the slew of Texas businesses involved in aerospace. What makes the state thrive in this industry?
Low Taxes
With a low rate of taxes for Texas residents, they don't feel the crunch as hard around tax time. Thus, they can spend money more freely, which gets puts back into Texas' economy. Texas can then use these funds to further its goals in aerospace, even taking on new projects.
For instance, there was a report in the Statesman piece that Texas could enter the bid for the site of the upcoming Boeing 797 jet. However, an August 2019 article from CNN Business notes an incident with the current Boeing jet, the 737, that led to deaths and many expenses for the company. Thus, while the 797 jet project may be on hold (possibly indefinitely), surely others will crop up.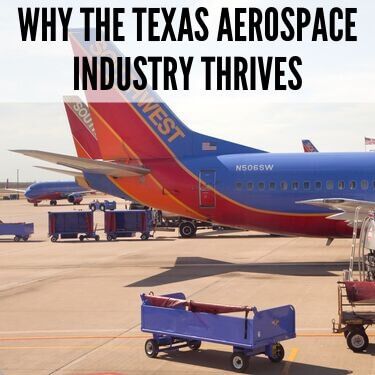 Economics
Going hand in hand with the lower tax rate is an economically prosperous Texas. Per the article in the Statesman, PricewaterhouseCoopers' U.S. aerospace and defense leader Scott Thompson mentioned the Texas economy specifically as a factor. Said Thompson: "The whole country is doing well (economically), but Texas seems to be leading the charge here in terms of economic growth."
To add to that, the Statesmen mentions that, of all the US aerospace jobs available, Texas has roughly nine percent of them.
Shipping in or around Houston? Find out how to get the best Houston freight shipping rates.
Proximity to Aerospace
With major airports and the headquarters of big names in the aerospace industry on its home turf, the state thrives because of its proximity.
Texas Aerospace Manufacturing
Which areas of aerospace manufacturing do Texas companies deal with? Here is an overview.
Aircraft Seat Manufacturing
The companies that manufacture seats, such as Zodiac Seats, make the seating used in planes and other aircraft. Most of the time, these seats have polyurethane foam blocks that are covered by an aluminum frame. Such a design promotes durability and comfort.
Aircraft Parts Manufacturing
Most other parts of the aircraft excluding chairs would be covered by this area of manufacturing. In Texas, aircraft parts manufacturing is handled by companies such as Weatherford Aerospace, Inc., UTC Aerospace Systems, Triumph Fabrications, Texas Almet, and many more.
Spacecraft Parts Manufacturing
Unlike with aircraft parts manufacturing, spacecraft parts manufacturing involves producing parts for the vehicles that may ascend into space. These vehicles include rockets and other such ships. One company involved with spacecraft parts manufacturing is United Launch Alliance or ULA.
Helicopter and Parts Manufacturing
Companies such as Turbomeca USA deal exclusively with helicopters and their related parts rather than planes or rockets.
Advanced Aerospace and Defense Systems
The area of advanced aerospace and defense involves the creation and testing of defense and security measures. These defense systems can include specialized aircraft or missiles. Such items start as prototypes, and, through testing, become full-fledged defensive options.
Semiconductor Manufacturing
Semiconductors, as part of an aircraft's electronic circuit, allow conductivity to occur from a metal to an insulator. Businesses like TriQuint Semiconductor produce these parts exclusively.
Aircraft Engine Manufacturing
In that same specialized vein is the area of aircraft engine manufacturing. With this, a company such as TRACE Engines in Midland would produce the engine that gets outfitted into a plane or helicopter.
Aircraft Manufacturing
Unlike aircraft engine or aircraft parts manufacturing, with aircraft manufacturing, a company would just make the entire plane, helicopter, or other flying vehicles. Lockheed Martin is one such major name in aircraft manufacturing.
Advanced Communications Systems Manufacturing
The means of communications that planes and helicopters use to relay crucial messages must be up to par. That's why companies like Rockwell Collins in Richardson exist, to make these communications systems efficiently.
Navigation Instrument Manufacturing
To ensure pilots can always reach their destination safely and securely, navigation instruments exist. Companies such as Raytheon in El Paso deal in navigation instrument manufacturing.
Carbon and Graphite Products Manufacturing
Texas businesses like Poco Graphite play a major role in the state's aerospace manufacturing. Synthetic graphite with heat-treated properties goes into the making of bolts, nuts, posts, and precision-machined plates. Also, by adding materials like graphite to stainless steel or titanium, the metals are harder, more flexible, and stronger, too. That's quite useful for aircraft.
Aircraft Servicing and Repair
Should an aircraft have issues or even break down, companies like Elbit Systems of America in Fort Worth can get the vehicles in flying shape.
Aerospace Supply Chain
Next, let's talk about the aerospace supply chain. As this industry has continued to evolve in Texas and elsewhere, the demand has as well. This means changes to the supply chain. For instance, as of late 2015, Aviation Week estimates that passenger traffic will continue to grow by six percent. Fleet growth expects an uptick, too, with 21,600 fleets as of 2014 and up to 21,960 anticipated by 2034. Up to 5,510 fleets would be of the stay-in-service variety. Another 16,090 would be replacement fleets.
Also, with more air traffic identified as a growing trend in 2018 per the Bureau of Transportation Statistics, now is a better time than ever to familiarize yourself with the aerospace supply chain.
While it does borrow some structure from the basic automotive supply chain, the aerospace supply chain is not identical by any means. This supply chain is instead broken into three tiers per data from Tresvista.
Primarily, there is the airframe manufacturer. This manufacturer starts the value chain and acts as the most important part. There are three other tiers. Let's talk about these more.
Tier 1:

In the first tier, you have areas such as fuselage, wings, landing gear manufacturing, and engine manufacturing. The items produced in this tier give the airframe manufacturer or primary tier the equipment and thus support they need to thrive.

Tier 2:

The second tier involves hydraulics and avionics, flight control actuators, brakes and wheels, and mechanical parts. Based on the needs of the suppliers in Tier 1 and the primary airframe manufacturer, Tier 2 companies make specific aircraft parts.

Tier 3:

The third tier concerns in-flight entertainment and interiors, plastic castings and parts, bearings, and other accessories. These are identified as non-core value-added items.
The primary airframe manufacturer includes such names as Boeing, Embraer, Bombardier, and Airbus. They may produce very larger aircraft, twin-engine, or single-engine aircraft over the course of eight to 15 months. Most of the plane value, up to 65 percent, could be outsourced. These companies themselves will take care of the manufacturing of the plane's tail or empennage, wings, and its body or fuselage. This constitutes a good deal of the manufacturing cost, up to 40 percent.
Tier 1s include such names as Rolls-Royce, Pratt & Whitney, and General Electric. These companies contribute a portion to a commercial airliner's overall cost, about 25 percent. They deal mostly in engines, in which there may be a growing demand in the years to come.
The Tier 2s in brakes and tires are companies such as Honeywell, Safran Landing Systems, and Goodrich. These companies may produce carbon brakes for twin-aisle aircraft as well as steel disc brakes for single-aisle aircraft. The tires use nitrogen inside so they're less resistant to temperature changes and the contraction and expansion that can occur.
Tier 3s sells most of their products to subcontractors or original parts manufacturers, up to 69 percent. The rest goes to airlines. A lot of the market for Tier 3s is Europe and North America, which constitute about 68 percent of the total market.
There are a handful of issues in which the aerospace industry may run into when creating and managing a supply chain. Here is an overview.
Not Enough Trained Workers
While this isn't so much of a problem in Texas, in other parts of the US and the world entering the aerospace industry, they may lack the talent pool to progress the supply chain. Sometimes, even training doesn't help, as it's often outdated and doesn't provide the employees with the skillset needed to excel at their jobs.
Employees are needed for such areas of aerospace as smart automation, blockchain, machine learning, and additive manufacturing.
Integrating Modern Tech
It's a frankly amazing world we live in. Today, we have such emergent technology as standardization, robotics, and automation. However, the field of aerospace hasn't quite caught up as readily as the rest of the world. This can lead to problems that halt the progress of the supply chain. Whether it's a wiring issue or a software glitch, each time these problems occur, the supply chain pays for it.
Planning for Supply Disruptions
Plenty of factors can influence the availability of a product supply. These include natural disasters, climate issues, design changes, inaccurate pricing, and even lesser demand than before. Failing to anticipate and have a plan for these disruptions can be quite problematic. When working with an aerospace company, it's important to learn the supply portfolio as well as have a basic knowledge of how the industry works. This can prevent some supply disruptions.
Obtaining Raw Materials
Yet another supply chain issue it's possible to run into is the lack of raw materials. From chromium to nickel as well as manganese, magnesium, copper, titanium, aluminum, steel, and more, these materials are crucial for the manufacturing of aircraft and their parts. Without these raw materials, production must stop or slow down for as long as it takes for them to arrive. It's not just metals, either. Aircraft manufacturers also rely on chemicals, textiles, rubbers, plastics, and woods. Shortages of these materials are detrimental to the supply chain.
Part of getting raw materials involves managing the plastic distribution supply chain. Learn more about this process.
Texas Aerospace Industry Shipping
When transporting items such as engines, fuselage, or even whole aircraft, you cannot use just any type of shipping method. Instead, you must choose shipping that ensures the safe, accurate, and fast delivery of the item to the manufacturer or other aerospace company. Shipping should be available nationwide and even across country borders as aerospace becomes more of an encompassing industry.
The following shipping methods and services are those you should emulate for your own company if shipping for the Texas aerospace industry.
Custom Cushioning and Packaging
As noted earlier, the nature of the items being shipped call for some of the most secure packaging around. Cushioning agents allow the items a comfortable barrier that keeps them from moving in transit. This safeguards the aerospace product from getting jostled and even broken on its trip to its destination.
While packaging the aerospace product, you must factor in the destination of the product as well as its transportation method, how fragile it is, its weight, and its dimensions. Only then can you get the custom packaging with cushioning it needs for a safe trip.
Offsite and Onsite Crating
You should also consider crating. For instance, there's Bugstamp creating, which are wooden shipping crates that meet ISPM-15 certifications. This certification allows for the aerospace item to get shipped from the US to other parts of the world. This wood undergoes a heat treatment to keep bugs and critters away from the wood itself or the product inside.
Military and government or MIL-Spec crates may get shipped to and from the Coast Guard, Air Force, Navy, Marine Corps, and the Army. These packages must earn the MIL-STD-2073-1 specification before they're approved for shipping. This specification ensures the product has the right barcoding, outer shipping container, packing level, barrier materials, wrapping, cushioning, and that it was properly dried and preserved.
In some cases, like when shipping aircraft, the item may be too large and unwieldy for offsite crating. In such an instance, offering an onsite crating option makes the most sense.
International and Domestic Shipping
Texas may be an aerospace hub, but it deals with manufacturers, vendors, and clients all over the country and even the world. They may also buy parts from these same vendors. Thus, it's necessary to prioritize the freedom to ship aerospace items both domestically and internationally.
Aerospace Transport and Logistics
Once the aerospace product is packaged, it moves along the supply chain to the transport phase. Your logistics company, if partnering with aerospace brands, must have the ability to ship products such as engines, fuselage, or even entire aircraft.
This requires vehicles that specialize in heavy haul shipping, among them winch trucks, flat rack containers, large-volume cargo aircraft, flatbed trucks, and heavy-haul trucks. Besides transporting freight by truck, sometimes the better option is to send it by ship or boat or fly it to its destination.
Looking for the best flatbed carriers to move your aerospace shipment? See how R+L Global Logistics is here to help.
It will be your job to sort the logistics of transporting aerospace products. You must have access to the above shipping methods to do so. It's also crucial that you're certified through the Transportation Security Administration or TSA as well as the International Air Transport Association or IATA. You must also keep immaculate records of documentation, especially regarding exports and imports. Your logistics company will also have to handle permits on both a local and state level.
Truckload Shipping for Aerospace Equipment and Materials
As mentioned in the last section, the vehicular requirements for shipping aerospace products is somewhat outside of the norm. A logistics company needs a heavy fleet that includes winch trucks, flatbed trucks, and heavy-haul trucks.
While it's not advisable to limit your aerospace transport and materials shipping to only trucks, truckload shipping does have a myriad of advantages. These include the following:
Available technology to review cargo as it's in transit in real-time

Potentially lower costs of transporting with trucks compared to other shipping methods

Online tracking around the clock

Risk management consulting performed before shipping out aircraft and other highly valuable items

Strict safety requirements and standards that truckers must follow when shipping freight of this nature

Nationwide traveling if the trucking company has a large car
Need Help Shipping Your Aerospace Products?
You know the saying that everything is bigger in Texas, right? That goes for the aerospace industry as well. This field has seen a boom lately, and Texas is right at the forefront of it. If you're looking to ship aerospace products to or from Texas, you'll need to work with a trusted shipping & logistics company. This is where we come in. We also handle all of your other Texas shipping needs, including cotton supply, corn, oil and gas and more. We also handle logistics needs in other states across the country. For instance, everything from freight movement in Southern California to shipping from Georgia pecan farms and shipping from Texas to Idaho are services we assist with.
At R+L Global Logistics, we have over 20 years of extensive shipping & logistics experience. From cross-country heavy haul shipments to importing international freight, we can handle it all for you. We understand the complexity of shipping aerospace parts and are equipped to manage the process. Whether by land, sea, or air we'll make sure your shipment is stress-free, secure, and on time. Contact us today for a custom quote.