Whether you're moving from south to north or north to south, your business might need freight shipping in California. California spans 163,697 square miles and this is a lot of territory to cover. Booking truckload freight shipments in California is easy — you just need the right broker. Learn more about freight shipping in California and make your next move simple.
California is one of the country's biggest gateways, with the fifth largest economy in the world. Freight shipping in California is the process of moving goods and materials from one part of the state to another. With major cities and ports like Los Angeles, Long Beach, San Francisco and more, lots of freight moves around in California.
California Freight
All kinds of truckload freight moves along California's highways. This is because California is a serious destination for import and export. A lot of freight stays inside of the expansive state. Full truckload shipping is a big deal in California and the right broker can help you find competitive shipping rates.
Common agricultural commodities and freight moving through California includes:
Milk and dairy products

Grapes

Almonds and nuts

Strawberries

Lettuce

Tomatoes

Pistachios

Avocados
Are you shipping California almonds? Learn the nuts and bolts of moving this popular product.
In addition to agriculture, manufacturing, production and technology also drives the California economy. Other products you'll find on the road by the truckload in California include:
Electrical equipment

Electronics components

Chemicals

Military communication equipment

Electronic systems for aircraft and missiles

Computer machinery

Baked goods

Canned vegetables

Beverages
California is also a major mining state. Here the raw materials are extracted from the Earth and transported to production facilities where they can be transformed into other products. Materials extracted in California and transported to other places include:
Oil

Boron

Diatomite

Gravel and sand

Sodium compounds

Tungsten

Gold

Gypsum

Magnesium

Molybdenum

Perlite

Potash

Pumice
With so many hot commodities in California, it's no surprise that the state's shipping lanes stay busy.
Need help shipping avocados from California? Get your goods on the go with expert services from an industry leader.
Truckload Shipping in California
California is a busy place for truckload shipments. Most of the state enjoys a mild climate, so freight moves easily along California's highways. The geography of California is diverse. You'll find coastline, deserts, mountain ranges and plains in California. California's highways are among the best in the nation, and they connect to seaports, railway hubs and more.
California has major international seaports in Los Angeles and San Francisco, along with an international border with Mexico. Many shipments coming into the ports and across the border stay in California. You'll also find that California has several air travel hubs. This helps products move around the state and around the world.
Major cities for truckload shipping in California include:
Long Beach

Los Angeles

Sacramento

San Diego

Santa Ana

San Francisco

Oakland

Fresno

Anaheim
The above metro areas are shipping and transportation hubs. Many other cities in California also serve as origins and destinations for truckload shipments.
Because so much commerce happens in California, freight rates can vary. It might be wise to choose California freight shipping companies based on factors like customer service and value rather than price.
Freight Shipping Routes in California
Freight in California moves in many directions. Common freight shipping routes in California are from Southern California to Northern California and from Northern California to Southern California.
Highway congestion can be a problem when moving freight in California. Many highways in California's metro areas are over capacity. Thankfully, changes and growth in infrastructure is alleviating this problem and making moving freight in California easier.
Semi-trucks and "big rigs" are regulated throughout California in how they are allowed to travel on the highways. Big trucks must use the far right lane on highways of 3 lanes or less, and have to use the two right lanes in highways of 4 lanes or more. These vehicles cannot go over 55 mph and Interstate 5 — which connects Northern and Southern California — has truck-only lanes. These lanes separate trucks from the rest of traffic to ease the flow of traffic and make conditions safer.
Tips for Shipping Freight in California
Decide if You Need LTL or FTL
If you're shipping freight, there are two types of services — Less Than Truckload (LTL) or Full Truckload (FTL). The differences between the two are:
LTL: This is when you have less than a full truckload of freight. Your freight will be shipped with other companies' items as well, which could be less than ideal if you have very valuable or fragile freight to ship. Depending on several factors, an LTL shipment could be more or less expensive than an FTL.
FTL: This option is best for several different scenarios, the most obvious being when you have an entire hauler worth of inventory. FTL is also good when you want your freight to be the only items in a load or if you must get freight quickly from one point to another.
Even though it might seem counterintuitive, FTL shipping can actually be cheaper than LTL in some cases. Or the price difference could be negligible enough that FTL shipping still makes more sense for your freight. It's worth checking with the carrier to see your options.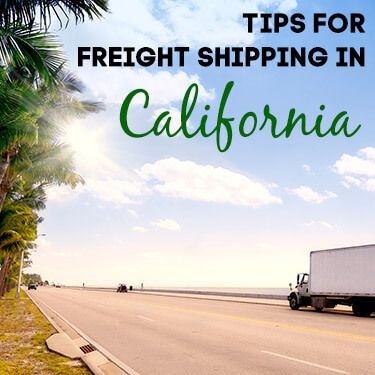 Know Your Estimated Weight
Even if it is an educated guess, having a rough estimate of the weight of your freight can allow the carrier to give you a more accurate initial quote. If you are too low or too high, it's not a problem. The carrier will adjust the quote accordingly once the actual weight is known.
Freight Shipping through Los Angeles
Chances are, if you're shipping freight in California, you might be picking it up or dropping it off in Los Angeles. With a city population of 4 million people and over 13 million in the metropolitan area, it is the third-largest city in North America behind Mexico City and New York City.
With all of those people comes production and money. In 2017, Los Angeles' gross metropolitan product was just over $1 trillion, which puts it behind only Tokyo and New York City in the world. L.A. is the largest manufacturing center in the western United States.
L.A. is also home to the Port of Los Angeles, which takes in 18 percent of cargo freight for all of America and is the biggest handler of container shipping in the Western Hemisphere. If you're importing product to ship throughout California, whether it's almonds or cars, there's a very good chance it will enter Los Angeles first.
Freight Shipping in California
When you need to run a shipment of freight in California, you need an experienced broker who can pair you with a carrier to get it there on time and intact. Let R+L Global Logistics make freight shipping in California easy for you. With top-tier customer service, the latest technology and competitive rates, plan to make your next California shipment with R+L Global.