If you're looking to ship avocados from California, you're not alone. More avocados are produced in California than any other state in the U.S. These avocados are transported to other countries and all throughout the United States. The transportation process can make or break the quality of California avocados. When done improperly, avocados can rot and cause significant financial loss. It's important to know the ins and outs of the shipping process to ensure your avocados remain fresh.
When shipping avocados from California, they should be kept between 40° and 55°F. The specific temperature will depend on the variety of avocados between shipped. All USDA and FDA requirements also need to be followed. Expedited freight service is often used to ensure avocados arrive quickly and at their desired stage of ripeness.
Following best practices and guidelines when shipping avocados from California will ensure efficient and safe transport.
Packing Avocados For Shipping
The first detail that should be considered when shipping avocados is how they're packed. How avocados are packed for shipping can have some important consequences. This includes changes to the cost to ship the avocados, as well as the condition in which they arrive. Below are some details to keep in mind when packing avocados.
Consider shipping the avocados on pallets. Depending on the carrier you work with, you may receive a better shipping rate if your avocados are on pallets. Handleability is one of the factors that carriers consider when quoting freight.
Having your avocados on pallets makes them easier to handle. This reduces the loading and unloading time as well, which makes this freight more desirable than loose loads. If you're able to use a container with an integrated pallet, this makes shipments even easier to manage.
Exercise caution when packing avocados. Like other produce, avocados can be damaged when they make contact with another object. While not as sensitive as apples or bananas, avocados are still at risk of damage.
When packing avocados for shipping, carefully place them into their shipping container. Avoid dropping or tossing them into a box from a high distance as this can cause bruising and damage. After they've been packed into boxes, be careful when loading or unloading as well. Too much movement will create contact between the avocados which can damage them.
Keeping Avocados Fresh During Shipping
In addition to packing strategies, there are a number of guidelines to be followed during shipping to ensure avocados remain fresh. While most of the factors are controlled by the carrier, it's important to be aware of them. Should an issue arise, like damage to the shipment, you'll want to know if the proper procedures were in place.
Appropriate Temperature When Shipping Avocados
The United States Department of Agriculture (USDA) establishes many of the recommendations for shipping food. A large portion of these can be found in their document Protecting Perishable Foods During Transport by Truck. One of the most important details covered in this document is the recommended temperature for shipping avocados.
According to the USDA, the recommended temperature for shipping avocados is between 40 and 55°F. Cold tolerant varieties of avocados should be shipped on the lower end of the range around 40°F. Avocados that aren't tolerant of colder temperatures should be shipped on the higher end around 55°F. It's important to stick to these recommendations since avocados are prone to chilling damage.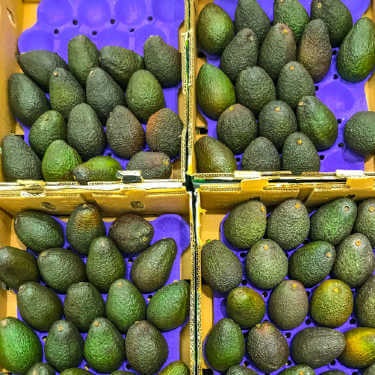 Damage to avocados due to overheating is also possible. Avocados ripen naturally in four to seven days when stored at room temperature around 71°F. However, the temperature inside of a truck that's not temperature-controlled often exceeds 71°F. When avocados are stored beyond 71°F, the ripening process is accelerated and shelf life is reduced. While temperature isn't as critical when avocados are traveling a shorter distance, it still needs to be properly implemented.
Shipping Avocados With Other Produce
Another important factor that has to be considered is other produce that's also being shipped with avocados. Not following guidelines for mixed loads can lead to avocados at the wrong stage of ripeness and cross-contamination. This can lead to bigger problems including loss of goods and financial loss.
The biggest concern when shipping avocados with other fruits and vegetables is the presence of ethylene. Ethylene is a gas that some plants, such as apples and grapes, naturally produce. When it's produced and held in tight, enclosed spaces, it can speed up the ripening process of avocados.
You can't ship grapes with avocados. Wondering how are grapes transported? Let us show you how this delicate fruit moves across the country.
Placing avocados with high-ethylene fruits is actually a strategy used by consumers that want to speed up ripening. However, when shipping avocados this needs to be managed properly to ensure that avocados arrive at their desired stage of ripeness. Avocados and produce that release high levels of ethylene can be shipped in the same truck. They shouldn't be shipped in the same container or packed together in an enclosed container.
Below is a list of high ethylene producing fruits and vegetables:
Apples

Bananas

Cantaloupe

Kiwi

Peaches

Pears

Peppers

Tomatoes
Choosing a Freight Service
Once your avocados are properly packed and will remain fresh during shipping, you'll need to select the right freight service. Your choice will depend on how many avocados are being shipped, as well as how quickly they need to arrive. Consider your specific situation before making a decision.
LTL
LTL stands for less than truckload and refers to shipments that take up only a portion of a truck's space. If you're shipping a small number of avocados (typically five pallets or less), LTL is often the best choice. You're only responsible for paying for the portion of the truck that your freight occupies, so the cost is low.
On the other hand, the truck transporting your avocados will stop more often since other freight is onboard. This can affect how quickly your avocados will arrive, as well as how fresh they are.
FTL
FTL, or Full Truckload shipping, is when one shipment occupies the cargo area of a truck. This is the obvious choice when the avocados will take up the entire space of a truck. However, FTL should also be considered when getting the avocados to their destination quickly is a major factor. Unlike LTL freight, FTL loads will only make one stop. This can save a significant amount of time and ensure that your avocados arrive at their desired stage of ripeness.
Expedited
In addition to LTL and FTL freight, expedited freight is an option that may be necessary in common situations. If the standard freight service won't have your avocados arriving in time, inquire about expedited freight. Carriers will have different types of expedited freight available.
Some of the expedited freight service options offered by carriers are listed below:
Guaranteed AM-

Freight is guaranteed to arrive at a specified time in the morning, usually before 12 PM.

Guaranteed Hourly Window

- Freight is guaranteed to arrive within a specific set hourly time period. This is agreed upon between the shipper and the carrier.
All expedited services will add an additional cost to your shipment, with guaranteed services incurring the most. However, when your avocado shipment needs to arrive quickly, expedited service is a must. It's worth noting that when exploring expedited service, you should compare rates to FTL service. The rates could be comparable and in some cases cheaper for FTL service depending on the carrier.
When Are California Avocados in Season?
If you're a wholesaler or distributor it's important to know when California avocados are at their best. Making sure that the end consumer gets the highest quality avocado ensures all parties of the supply chain are satisfied. Distributors and wholesalers can plan ahead to maximize quality and efficiency.
Although grown throughout the year and available any time, the peak season for California avocados is from spring through Summer.
Regulations For Shipping Avocados
The Food and Drug Administration (FDA) and the United States Department of Agriculture (USDA) established guidelines for transporting food products. Avocado suppliers and buyers need to be aware of these requirements to ensure their goods are being properly handled by carriers.
Sanitary Food Transportation Act
The SFTA was created in 1990 in response to unsafe food transportation practices. In the lead up to the creation of this law, several large instances of contaminated food were reported. Each case was linked to how the transportation of the food caused the contamination. Specifically, the food was contaminated by products that were previously or simultaneously transported in the same space.
Although the rules for this law wouldn't go in effect until 2005, they would address multiple areas.The rules addressed the following:
Sanitary transportation practices

Recordkeeping procedures

List of goods that may cause contamination when shipped simultaneously with or prior to a food shipment
These guidelines helped create a standard set of food transporting guidelines and increased accountability.
Food Safety Modernization Act
This legislation signed in 2011 built on the foundation of the SFTA. The FMSA was established to address multiple aspects of food production and distribution to prevent foodborne illness. There are seven parts that make up the entire law. The section of the law that applies to transporting food is Sanitary Transportation of Human and Animal Food.
Within this section, the following topics are covered:
Vehicle and Transportation Equipment
Transportation Operations
Each component positively addresses the goal of preventing foodborne illness.
Working With R+L Global
When you're ready to arrange your avocado shipment, R+L Global is ready to handle it. With over 30 years of freight and logistics experience, we have the knowledge and expertise to manage your shipping needs from California to Arizona or across the country! Whether you're shipping LTL or FTL, expedited or standard, you can rest easy knowing that your shipment will be taken care of.
For shipping avocados, we have the necessary resources to get the job done:
Personnel trained in best practices regarding food transportation

High-quality, temperature-controlled vehicles that meet government requirements

Accurate monitoring before and during delivery to ensure your avocados are properly transported
If you're shipping your avocados internationally, our licensed customs brokers can manage this process as well. Need warehousing and inventory management for other goods? Our network of 40+ strategically located warehouses in the U.S. are available to meet your needs.
Contact us today with any questions or to receive a quote for your avocado shipment. We'll make shipping your avocados from California easy and hassle-free.