When it's hot and a new cooling system is yet to arrive, waiting for freight delivery of air conditioners can seem like an eternity. The presence of air conditioner systems can make it cool to live and work in any environment. Who wants to shop in a store with stifling heat on a hot summer day? Moving around at home with fans blowing and windows up to get a breeze through in hopes of controlling the sweat is no fun either.
Freight delivery for air conditioners occurs year-round in certain parts of the country. Whether it is a window unit for a small room or a central air conditioner that can chill a commercial space, working with the right freight carriers to handle the logistics of the delivery is key.
The Basics of Air Conditioners
The invention of the air conditioner dates back to 1902 by Willis Carrier. Yes, that Carrier whose name is a household word for air conditioner units. The original air conditioner was developed to help solve the problem of stifling humidity in Carrier's printing facility and the impact of the quality of the finished product. However, the more modern central air conditioning units utilized today were introduced and made popular for residential use in the 1960s.
While we depend on A/C units, as they are commonly referred to, the invention was not wildly received initially. According to the Smithsonian, the United States holds the top rank of using the most electricity for air conditioning.
Today it's hard to find a home or business space that lacks some type of air conditioning system. The newer the home, the chances are an air conditioner was installed. However, homes and commercial spaces built prior to say the 1950s or even the 1940s typically do not have an A/C system or are using very outdated units in place.
Whether it is a ductless or portable air conditioning unit, shipping them all takes care to ensure the unit arrives damage-free and ready to go to work to cool the space.
Types of Air Conditioners
Depending on the size and type of air conditioner, shipping the unit may vary based on weight and other factors. A central air conditioning unit is the system found in most residential and commercial spaces.
Air conditioners come in several different sizes and capacities to include:
Central
Portable air conditioner
Window air conditioners
Ductless
Air source heat pumps
Hybrid
Geothermal
Hybrid and geothermal units are the newest air conditioners on the market and may have a bit of sticker shock in the price tag. However, they are gaining in popularity similar to the early models of window units which became the must-have appliance to beat the heat of days past.
And chances are if the home or business is located in a humid climate like the Southeastern region of the country an air conditioning unit is in use and set to cook things down to comfortable levels.
The Cost of Freight Delivery for Air Conditioners
Although delivery of air conditioners is routine in some cases, there is still a lot that needs to be assessed when it comes down to figuring out the cost to ship one unit or a truckload.
Here is a sample of what is used to calculate the cost of freight delivery when it comes to air conditioners:
Size
Weight
Type
Destination
The most important thing for shippers to remember is that working with the right freight carrier who understands what it takes to deliver air conditioners is critical. Sure, you can use the carrier offering the lowest price and promises no delay transit times. However, if the unit arrives damaged, it means lost time and money to the bottom line.
Work with a knowledgeable freight expert to obtain the best rates for freight delivery of air conditioners. Rely on the logistics professionals to offer a ton of tips to help make sure everything is ready to go on your end. In addition, the team has gathered a few tips for shipping HVAC equipment that can be applied to air conditioners too.
Freight Services to Handle Air Conditioner Delivery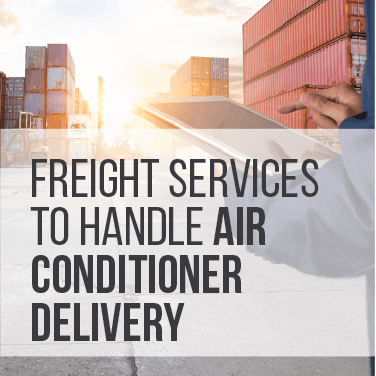 Try not to sweat about finding a freight carrier to partner with to make air conditioner deliveries because we've got you covered. As a third-party logistics solution, we are here to help make everything come together with ease.
We offer a range of services which are well-suited for the delivery of air conditioner units. It may be an entire truckload of units heading to a distribution center or a large unit to be assembled on-site for an industrial complex that requires heavy haul trucking. We have a trusted network of partners to manage the load.
In some cases, air conditioner deliveries require a bit more attention and this is where white glove service may be utilized.
Freight Delivery for Air Conditioners with R+L Global Logistics
We are here to make your job of shipping air conditioners easy, so don't sweat it. Trust our logistics experts at R+L Global Logistics to coordinate the freight details and get everything delivered on time and ready to go. Contacting our customer service team to get you started is simple.
R+L Global Logistics freight services include:
Truckload shipping
Less-than-truckload shipping
Heavy haul trucking
Refrigerated shipping
Expedited freight
HAZMAT carriers
Flatbed carriers
White glove delivery
And more
When you combine our exceptional customer service with a 99.5 percent on-time delivery rate the result is that customers are in good hands during the entire process. When it's time to ship domestically or internationally, make R+L Global Logistics your first call for supply chain solutions.
No air conditioner unit is too large or too small for R+L Global Logistics, as our scalable solutions are right for almost any business.
Let R+L Global Logistics handle freight delivery of air conditioners with ease by using a variety of services to meet your shipping needs. Contact R+L Global Logistics by phone at (866) 353-7178 to obtain a freight quote. We're ready to align our services to your business needs and build a strategic partnership so you don't have to break a sweat.