Blanket wrap shipping is a freight service you'll need when shipping fragile goods. This service works by wrapping thick protective blankets around the exterior of the freight that's being shipped. The freight is then shipped in a truck or trailer that uses air ride suspension.
Blanket wrap shipping is used to prevent your freight from taking damage during the shipping process. We can attest to its efficiency in the logistics industry when:
Freight is loaded into a trailer
Freight is unloaded off a trailer
Other freight falls on top of it
Other freight falls against it
Freight is pulled on a bumpy road
Blanket wrap shipping is beneficial in other ways due to its reusability and cost-efficiency. In this article, we will give you a full rundown on everything that you need to know about this freight service.
What Is Blanket Wrap Shipping?
Most types of freight are shipped with packing material to secure and protect it within the confines of its package. However, for certain types of freight, a little extra protection around the outside of the package is needed to prevent damages from occurring.
This is where blanket wrap shipping comes into the picture. Also known as pad wrap freight services, blanket wrap freight services protect fragile types of freight by keeping them within thick moving blankets. Blanket wrapped freight is often shipped on trailers that use air ride suspension.
What Is Air Ride Suspension?
Most trailers utilize coil or leaf springs to absorb shock. Air ride suspension on the other hand utilizes pressurized bellows that are made from a variety of rubber types. These bellows are filled with air by an electric pump or compressor.
Trailers that have this type of suspension can absorb large amounts of shock. Therefore, if the trailer carrying your blanket wrapped freight goes over some rough patch of road you won't have to worry about the freight tipping over.
Moving blankets along with the shock-absorbing ability of the trailer will protect your shipment from damages that could occur during the shipping process.
What Items Are Transported Using Blanket Wrap Shipping?
Most kinds of freight are sturdy enough to be shipped without the added protection of moving blankets. However, other freight types need more security because they're fragile, expensive or both.
Industrial Electronics
The reason these types of electronics need added protection when they're shipped is because of all the components that comprise them. These components can include things like:
Meters
Sensors
Semiconductors
Transistors
Timers
Components like these ones are extremely fragile and if they break the industrial device won't be able to function properly or at all. Industrial electronics are used in a variety of settings such as construction sites.
Our article on shipping construction materials will give you more insight on how to get industrial electronics and other equipment to a construction site.
Trade Show Exhibits
Trade shows are where businesses make sales, gain leads and get feedback from potential customers. It's important for businesses to not only offer good products but to also present themselves professionally.
An exhibit that looks damaged, cheap or beat up could send the wrong message to customers making their way around the trade show. To avoid this, businesses will use the services of blanket wrap carriers to ensure their exhibits arrive safely at a trade show.
Furniture
Damage to furniture can be as detrimental to its function as it can be to its aesthetic appearance. While comfort is important, many homeowners choose their furniture based on how it looks and other factors not related to its functionality. Using blanket wrap shipping will keep the furniture safe from structural and superficial damage that it could incur while in transit.
Household Goods and Artwork
Fragile household goods must get to the furniture store without any damage. Many types of household goods need the extra protection given to them by moving blankets:
Mirrors
Pottery
Glass Cups, Plates and Bowls
Chandeliers
Artwork is another expensive and irreplaceable commodity that needs to be protected when it's shipped. If a collector's artwork becomes damaged they'll have wasted a large amount of money.
Likewise, a gallery that's shipped a work of art that was damaged while it was in transit won't be able to display it in a new exhibit. Artwork requires delicate preparation before it's shipped and many collectors and galleries opt to use moving blankets to protect artwork they've shipped.
We have an article about shipping fine art that will give you more insight into the best artwork shipping practices.
Medical Equipment
Given the current state of the country due to the pandemic, hospitals need large quantities of medical equipment more than ever. Medical equipment is used to treat illness and save lives which is why it must arrive at a hospital unharmed. Because of this, many shippers take advantage of blanket wrap freight services when shipping medical equipment.
Looking for a solution to move truckload freight?
R+L Global Logistics handles truckload shipping. Let us know when and we'll handle the rest.
What Are the Benefits of Blanket Wrap Freight Services?
If you think blanket wrap freight services aren't worth it because it only offers an extra layer of packing material, then you will be happy to know that there are many other benefits.
Reusable
One of the most beneficial aspects of using blanket wrap shipping is that the blankets are reusable. Blankets can be used for multiple shipments and still provide the same quality of protection. There are also different varieties of moving blankets you can use.
Can Be Stacked
Even with the extra protection of blankets, your freight will still retain the shape of a box. This means that blanket wrapped freight can be stacked on top of normal types of freight.
Takes Up Small Amount of Space
Another benefit to using moving blankets is that they don't add much mass to the rest of your freight. Therefore, you won't have to worry about your freight taking up extra space in the trailer or delivery truck that transports it.
Can Be Wrapped As Many Times As Needed
Some types of freight will require more protection than others. It all depends on how fragile the freight is. The great thing about moving blankets is that they can wrap around freight as much as needed. This feature ensures that you can protect your shipment efficiently regardless of how many wraps are required.
Cheaper Than Other Alternative
Another alternative to protecting extremely fragile types of freight is to utilize crating services. Crating is the process of building specialized crates that will protect freight during shipments.
There are many benefits to using crating if you're shipping fragile goods. However, the one disadvantage to crating that blanket wrap shipping always overcomes is price.
The table below will give you a better perspective on the price differences between using moving blankets and crate services.
| Transportation Method | Cost |
| --- | --- |
| Moving Blankets | $50.00 to $190.00 |
| Crating | $50.00 to $100.00 or more |
At first glance it might look like crating would be the cheaper option. However, you must remember that moving blankets can be reused for multiple shipments.
The price of shipping blankets only differs due to their size and how many come in a set. In the long run, moving blankets practically pay for themselves thanks to their reusability.
Crates don't have the same amount of reusability because they're only used for one shipment. The larger your freight the larger the crate will have to be to hold it. Larger crates are more expensive and since you're shipping in bulk you will need to pay the same crating price for each piece of freight you want to ship.
If you are willing to pay extra money to ship fragile items you can utilize both crate and blanket wrap shipping. Fortunately, both of these services are compatible with one another and when combined they will give your freight maximum protection.
Things to Consider When Looking for a Blanket Wrap Carrier
Although moving blankets do offer extra protection that doesn't mean your freight should be loaded and unloaded recklessly. You should have the assurance that each fragile piece of freight that makes up your bulk shipment will be handled carefully.
When you search for a blanket wrap carrier to ship your freight, find out if they offer the following services:
Ramp or Liftgate Service
Drop Trailer Service
Equipment Resources
White-Glover Service
Ramp or Liftgate Service
Ramps and lift gates are excellent tools to unload trailers with when a loading dock isn't available. Good blanket wrap carriers will be prepared for this possibility by being equipped with ramps or liftgates. These two devices will make unloading your fragile freight easier and safer.
Drop Trailer Service
Even though you might be transporting a large number of fragile items it's important to unload them carefully and one at a time. Unloading your freight as carefully as possible requires having the time to do so.
Blanket wrap carriers that provide drop trailer services will give you that time. With drop trailer services the carrier will leave their trailer at your facility where you can unload your goods at a more convenient pace.
Equipment Resources
Even though you can use your padded blankets repeatedly thanks to their reusability, it's convenient to have these items provided to you by your carrier. Carriers that provide their equipment can even wrap your freight with moving blankets on your dock or in the trailer.
White-Glove Service
Many blanket wrap carriers offer white-glove services. This type of service is when a carrier not only unloads freight but moves the freight into your home for you.
Since you're making a bulk shipment you won't have to worry about your carrier coming to your home. However, you can ask your carrier if they will perform white-glove services in your place of business.
What To Expect When You Use Blanket Wrap Shipping Services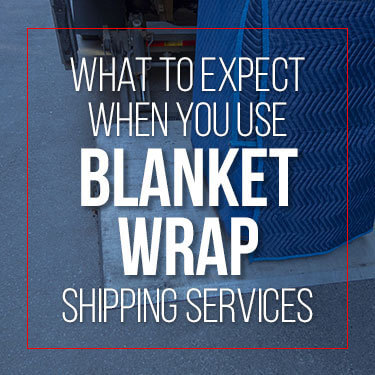 If you've never made large shipments using blanket wrap freight services then it's important to know what to expect. While blanket wrap shipping is similar to shipping regular forms of freight, there are a few differences regarding:
Appointment availability
Transit Time
Delivery Dates
Appointments and Availability
Blanket wrap carriers have to use their vehicles to transport shipments to and from destinations. Therefore, their schedules are based on what vehicles they have available when you schedule an appointment.
Once an appointment has been scheduled the carrier will contact you two to four days before picking up your freight. Your carrier will be as flexible as possible as far as pickup times are concerned. That said, you should also be flexible in case they give you pick-up time that you aren't normally available for.
Because of these factors, it's important to schedule blanket wrap services as soon as possible just in case it takes a long time for the carrier to get your shipment. Likewise, you must never miss a pick-up time because it means searching for another available appointment all over again.
Transit Time
Transit time for blanket wrap shipments is another factor that you should be prepared for. When you schedule blanket wrap freight services you should expect the carrier to pick up your freight in a maximum of three weeks.
Once your freight has been picked up it could take another three weeks for the freight to be delivered. If the final destination of your shipment is in an isolated location the time it will take for it to be delivered could be as much as an additional two more weeks. When you use blanket wrap shipping services you're looking at six to eight weeks of transit time.
Delivery Dates
Delivery dates are not always guaranteed. In the shipping industry, there are all kinds of freight shipping delays that could occur. Delays can be caused by a variety of different reasons like extreme weather events.
Utilize Blanket Wrap Shipping When You Use R+L Global Logistics
Utilize R+L Global Logistics to find you a carrier that will transport your blanket wrapped freight. Our carriers will handle your freight carefully and get it to its destination safely.
Besides blanket wrap shipping, we also provide logistics services for numerous other types of freight like hazmat and heavy haul. When you use R+L Global Logistics you can count on us to find you the fastest route for your freight.
Being the best logistics relationship you've ever had by starting your easy-to-fill-out and free quote today on our truckload site.
Meta Description: When you're shipping large quantities of fragile freight you need to have the assurance that it will arrive at its destination in one piece. Blanket wrap shipping will protect your shipment from any damage it might sustain while it's in transit.
Looking for a solution to move truckload freight?
R+L Global Logistics handles truckload shipping. Let us know when and we'll handle the rest.