The most common form of moving freight is done through the use of dry van trailers. It is important to understand the types of dry van trailers available including other alternatives that can help facilitate not only the transportation of goods but their security and on-time delivery.
The types of dry van trailers used in both LTL and FTL shipping include:
26-Foot Trailer
28-Foot Trailer
48-Foot Trailer
53-Foot Trailer
Box Trucks
These trailers can be standard or ventilated depending on the needs of your freight. Choosing a dry van trailer that works for your business needs is critical to successful shipping.
The following guide presents information pertaining to dry van trailers, their applications, dry van trailer types, and alternatives.
What are the Types of Dry Van Trailers?
Types of dry van trailers travel up and down the highways, streets, cities, and towns across the country every day. Unlike flatbed trailers, these trailers are fully enclosed with a lockable set of doors. They are also free from refrigeration and not controlled by temperature.
Dry Van trucks are commonly used to transport non-perishable types of freight in large shipments. These trailers run an average length of over 50 feet, most commonly 53 feet in total length.
Why should anyone consider using a dry van trailer? If you are looking to move freight in large quantities, The use of a truckload solution will be the most cost-effective. However, two questions typically come into play:
Do I need to keep my freight out of the elements? When transporting most goods, using a dry van is the most sound decision. This decision is because a dry van provides security for your goods and complete physical protection from the outside elements.
Is my load perishable? When asking if your load is perishable, you should consider using either a standard or ventilated dry van. Not only is the availability of dry vans greater than other trailer types, but a ventilated dry van gives greater flexibility.
Some examples of goods transported in dry vans are typical commodities you would find in retail or grocery stores. However, some items will require a ventilated dry van like some vegetables, beverages, and boxed goods like chips and other snacks.
After isolating the type of goods being transported, and the manner in which they can be shipped, a solution is required that meets the desired shipping format. Anyone shipping non-perishable goods that require protection from rain, snow, or direct exposure to extreme heat will choose a dry van trailer.
Size does matter, and the way pallets or boxes are packaged can and will influence whether or not a dry van trailer is an appropriate shipping solution. Dry van trailers are without a doubt the most common form of freight shipping trailers seen on the roads today.
Trailer repositioning is a service that incorporates dry van trailers. Our article on the topic will be able to help you.
LTL vs FTL Dry Van Trailers
Dry van trailers are most commonly used in less-than-truckload (LTL) and full-truckload (FTL). There are distinct differences between the two in terms of their purpose and also, the benefits are different. Both forms of trucking utilize dry van trailers and their alternatives like flatbed and refrigerated trailers.
LTL Dry Van Shipping: Small portions of freight that needs to be moved across destinations that share trailer space with other shipments. Rates are calculated based on the space occupied within the designated trailer and help save on the cost of shipping when a full trailer is not required.
FTL Dry Van Shipping: Large loads are better serviced on an FTL dry van trailer due to the entire load filling the trailer. Also, the freight on board will remain until loading and unloading occur at its origin and final destination. This measure eliminates extra cost and time to transfer the freight to another vehicle for further routing.
Depending on the needs of your shipment, an LTL or FTL dry van solution can move your goods from point A to point B effectively and securely. It is important to analyze your situation and determine factors like weight & dimensions, the fragility of goods, and the timeline in which your freight needs to arrive; these factors can help guide your decision.
Types of Dry Van Trailers
There are many common types of dry van trailers available for truckload shipping. Some trailers are more common than others; however, commonality does not mean that is what is best for you or your needs. Here are some of the various forms of dry van trailers that can haul goods seen on the road today.
Types of Dry Van Trailers
| | | | |
| --- | --- | --- | --- |
| Trailer Type | Dimensions | Weight Capacity | Maximum Pallets |
| 26 Foot Trailer | 24' x 8' x 8'6" | 10,000 Pounds | 8 - 10 Pallets |
| 28 Foot Trailer | 28' x 8' x 9' | 24,500 Pounds | 12 - 14 Pallets |
| 48 Foot Trailer | 48' x 8'6" x 8'6" | 43,000 Pounds | 22 - 24 Pallets |
| 53 Foot Trailer | 53' x 8'6" x 8'6" | 45,000 Pounds | 24 - 26 Pallets |
Source: FreightWavesRating.com
Depending on what you are moving, how you require your goods transported and the size of your total load, you have many options to facilitate your truckload needs. All of these factors will influence the cost and determine the dry van trailer equipment type for shipping.
Dry Van Trailer Variations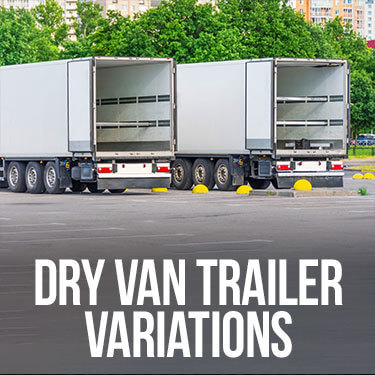 As outlined above, dry van types differ in their length, dimensions, max load capacity, and pallet capacity. These box trailers also come in both ventilated and non-ventilated forms. The ventilated dry vans are primarily used for transporting plastics, certain perishable food and beverage items, and plants.
The main feature that comes with shipping freight in a ventilated dry van is that the cabin ventilates heat so that freight shipping items like fruits & vegetables, plants, and certain plastics can be transported safely. Examples of freight goods transported in a ventilated dry van are:
Vegetables

Carrots
Corn
Green Beans
Among others

Plastics

Plastic cups
Plastic silverware
Plastic bags
Among others

Plants

Sunflowers
Tulips
Orchids
Among others
When utilizing a ventilated dry van trailer, you can effectively guarantee the safe and efficient transportation of certain goods or household goods from their origin point to their delivery destination. These trailers have ventilated airflow, unlike standard dry van trailers, but unlike refrigerated trailers, they are not temperature controlled.
Advantages & Disadvantages of Dry Van Shipping
In terms of freight transport, dry van trailers are the most frequently used form of freight shipping in the country. The advantages of freight shipping using dry van trailers are numerous. However, there are also disadvantages that you should be aware of. The following information illustrates exactly that.
Advantages of Dry Van Trailers:
Complete enclosure: Dry van trailers are entirely enclosed, protecting their freight from the elements, such as rain, sleet, snow, hail, and heat.
Security: Dry van trailers are equipped with locking load doors that add an extra layer of protection besides the complete enclosure of the dry van itself.
Affordability: Dry van freight shipping continues to be one of the most affordable freight shipping options available for truckload services.
Disadvantages of Dry Van Trailers:
Ventilation: Not all dry van trailers are ventilated; depending on the goods you are shipping, you may require the need for a ventilated trailer.
Durability: Most dry vans suffer moisture damage due to the nature of the hardwood flooring that is in place.
Shipping Factors: When shipping freight with dry van trailers, time and the distance of the haul can pose specific and unique challenges to the shipper.
Just like anything in life, nothing is perfect, and nothing comes without a challenge. The same can be said in terms of challenges regarding dry van trailers. There are some distinct advantages and disadvantages to using a dry van trailer. Always analyze your freight shipping requirements, so the proper trailer type is used.
Maximum Weight Limits
Weight limit maximums play a role in how much freight can be moved on dry van trailers. Depending on the size of your trailer, there are weight limits. Although, The maximum weight limit is affected by both the tractor and trailers' combined total weight.
The U.S. Department of Transportation has mandated size and weight limits for commercial vehicles that travel on the roads and highways in the United States. By instituting these weight and dimension limits on commercial dry van trailers, it increases the safety of vehicles traveling up and down America's roads and highways.
Alternatives to Dry Van Trailers in Truckload
There are many alternatives to freight shipping through the use of a dry van trailer, whether standard or ventilated. Each trailer type has more robust use case application benefits than another. It is important to analyze your situational needs and understand the various options available to you.
For example, let's say you are shipping ice cream on a long-haul transport. You obviously wouldn't ship using a non-ventilated dry van or a flatbed trailer due to the nature of the goods you are shipping. You would use a refrigerated trailer to keep your product safe and intact.
Meeting the desired needs of your cargo, the pickup and destination points, the size of the load, how it is packed, and the time frame you are working with all play a pivotal role in trailer time. It is essential to perform your due diligence when selecting a trailer.
1. Refrigerated Trailers
Refrigerated trailers, more commonly referred to as "reefer" trailers, provide an atmosphere for hauled goods that are under a temperature-controlled climate inside the storage area.
The typical goods shipped with the use of a reefer trailer are perishable foods like meats, fruits, ice cream, and certain baked goods that require refrigeration. Also, other goods that can become damaged or destroyed unless kept cool require the use of a temperature-controlled shipping container.
2. Conestoga Trailers
Conestoga trailers are flatbed trailers that feature a removable tarp on a roll and pull curtain system. The trailer itself features removable rear doors and uplifting bows to increase the maximum inside clearance of the storage area.
The purpose of a Conestoga trailer is to have versatility in shipping freight. The beauty of this trailer type is it offers two applications depending on your load: the ability to be used as a flatbed trailer or the ability to create a bow and siding with locking doors. This feature set turns a flatbed trailer into a dry van trailer on the fly.
3. Pup Trailers
Pup trailers are interesting because this trailer type is typically smaller, coming in at around 26 feet in length. They generally are used to increase overall capacity without sacrificing the truck's ability to maneuver on the road.
This trailer type is typically seen pulling anywhere between two to three dry van trailers at once. One of the main distinct advantages of pup trailers is that they reduce the carbon footprint of commercial transport vehicles on the road today.
4. Intermodal Trailers
The use of intermodal trailers is most commonly seen in ocean ports, rail terminals, and drayage. These containers are similar to dry van trailers in the sense that they are completely enclosed with a locking set of doors.
These trailers come in a variety of sizes, such as twenty, forty, forty-five, and fifty-three-foot container applications. These containers are loaded onto an intermodal chassis and shipped to and from ports, drayage, and freight destinations.
Intermodal trailers are stackable trailers that are moved using heavy forklifts and cranes. These heavy-duty forklifts and cranes unload off ships and railcar flatbeds to transport chassis to be shipped anywhere in the country.
5. Flatbed Trailers
If you have freight that is exceedingly large or has a shape that is not conducive to an enclosed trailer, then alternatives in trailer type such as a flatbed trailer might be a better option. There are many forms of flatbed trailers available today.
Commonly, flatbed trailers have an intended purpose of moving not only building materials, and heavy equipment but also large miscellaneous commodities as well. This trailer type is by far the most flexible in moving heavy loads but at the same time sacrifices the ability to enclose or cover its cargo.
Get Help Freight Shipping With R+L Global Logistics
Regardless of whether you are shipping freight short-haul or long-haul, or with less-than-truckload (LTL) or full truckload (FTL). R+L Global Logistics is the gold standard you need as a trusted third-party logistics (3PL) carrier.
Our team of experienced and dedicated professionals is committed to giving an unmatched level of service to our customers. It is for this reason that R+L Global Logistics has the brand recognition that it does.
We provide the following services to our customers:
Live customer service 24 hours a day
An incredible 99.5% on-time delivery reputation
Scalable solutions for all business types
No pressure freight quote guarantee
We understand that your time and interest are the most precious commodity of all. That serves as an intricate part of who we are and what we do, placing the customer and their needs first. Call us today at (866) 353-7178 or click here for a quote today so we can get your freight safely, securely, and on time!