If you've got boxes to ship, you're going to need to palletize them, and if you need freight palletized, then you're going to need to do it yourself. Trucking companies don't palletize freight on behalf of their customers, so you will need to know how to palletize boxes yourself. As a shipper, it is your responsibility to prepare your boxes for shipment, so you need to learn how to do it right.
The best way to learn how to palletize boxes is to just jump in and try it. There are several best practices that you can incorporate into your strategy too, such as adding slip sheets between layers or reinforcing the corners with cardboard. The more you do it, the better you'll get, but you don't want to use that as an excuse to mess up in the beginning when your freight depends on it.
Why Should You Palletize Boxes?
If you have a lot of boxes to ship, then palletizing them can be a good idea for more than one reason. First of all, palletizing your boxes keeps them all together, so you won't have to worry about a box getting misplaced or lost. It's much harder to lose an entire pallet than it is to lose one little box. In addition to that, it also keeps the boxes secure and protected, so they are less likely to get damaged.
Not only does palletizing your freight make it easier to keep track of, but it also makes it much easier to move and store in larger quantities. If you had 20 boxes that had to be moved, that would take a long time to load, unload, and handle in general. It would take 20 times as long as if you were moving one, consolidated box. If your freight is on a pallet, it can all be moved for a fraction of the effort in a fraction of the time.
Finally, a palletized shipment is easier to store, since they are compact and can be stacked on top of one another. Because of that, they save space in warehouses and trucks.
To learn more about the benefits of palletizing, check out our article 8 Advantages of Palletization: A Blissful and Easy Way to Ship.
How Many Boxes Fit on a Pallet?
The number of boxes that will fit on a pallet depends entirely on the size of the boxes you need to ship. Standard pallets have specific height and weight restrictions that limit their capacity, so even if you theoretically could stack more on a pallet, it might end up being unsafe to move.
Standard pallets are typically 48" by 40", but they can come in many different sizes. Other common sizes are 42" by 42", or 48" by 48". However, they can get much larger than that. Communicate with your transportation partner to make sure you are selecting the correct size pallet, since some companies could refuse to move pallets of the wrong size.
Standard pallets should never exceed 77 inches, including the height of the pallet itself. In addition, it should never be heavier than 4,600 pounds, so make sure that you keep these two measurements in mind when you are trying to determine how many of your boxes to put on a pallet.
Read our article on shipping skids vs pallets to determine which is right for you.
Best Practices for Palletizing Boxes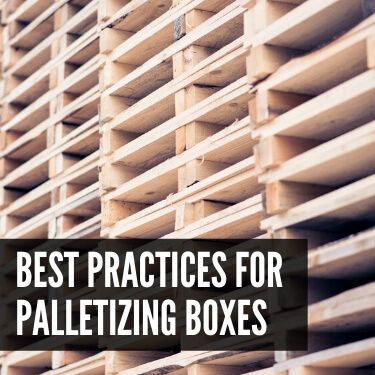 Anyone can simply stack boxes on a pallet and call it a day, but there are a few best practices that you can utilize to add strength and stability to your palletized freight. Here's a complete breakdown of the step-by-step process that will yield the best results:
First and foremost, you need to select a pallet that is in good condition. It shouldn't have any moisture damage, cracking, splintering, decay, or any other kind of damage. If your pallet breaks while it is being moved by a forklift, it could damage your freight and seriously injure the forklift operator and other workers.

Before you start to load your freight onto the pallet, lay down a plastic or cardboard slip sheet on the bottom. This will cover up the gaps in the pallet and give your boxes a more stable base.

Start to load the boxes onto the pallet. This is easiest if all the boxes are the same size and weight, which is typical for shipping products. You should generally avoid palletizing different sized boxes together, but if you don't have a choice then you should try to put the heaviest boxes on the bottom.

When you are loading the pallet, make sure that no part of the boxes hangs over the edge of the pallet. If they do, they are likely to get damaged, so you should rearrange your boxes to avoid that.

Start to stack the boxes straight upwards, keeping the corners of each box lined up with the corners of the box below it. Corners are the strongest parts of the box, so keeping them lined up will mean that most of the weight is supported by the corners.

Never make a pyramid-shape with your boxes. It might look secure, but it actually is a flimsy structure. The top of the pyramid would be highly susceptible to damage. Additionally, the shape is simply not space-efficient at all.

Try to keep the weight of the pallet evenly distributed, across all layers. This will make it more stable and less likely to damage any of the boxes.

If you are palletizing boxes of the same size, then insert a plastic or cardboard sheet between every third layer to add additional stability to the whole pallet.

Do not stack your pallet any higher than 77 inches high (6'5"). Stacking it any higher than that could mean that transportation companies would refuse to move your freight. Tall pallets are more likely to tip over and cause damage.

If you know that other pallets will be stacked on top of this one, then you should add cardboard corner beads to reinforce the strength of the pallet.

Next, you will need to use shrink wrap to secure the entire pallet. You should use, at minimum, 60 gauge plastic wrap, and you should make at least 5 rotations around the freight. You should also use this to wrap around the boxes and the pallet to hold them together, as long as you do not block the forklift gaps.

Use heavy-duty straps or bands to further secure the boxes to the pallet. The boxes might be secured together really well, but nothing matters if the entire thing separates from the pallet in shipping.

Attach a label to each side of the pallet, including the top, that states the addresses and phone numbers for both the shipper and consignee.
You may find scenarios in which you'll have to comply by with specific pallet requirements. If you'd like to learn more, we have articles on what you need to know when shipping pallets internationally.
Want to know more about shipping pallets to large companies? Read our articles on Amazon pallet requirements and Walmart pallet requirements.
Ship Your Pallets by the Truckload with R+L Global Logistics
Now that you know how to palletize boxes, you might be looking for someone to move those pallets for you. No matter what you have in your boxes, R+L Global Logistics can help you get them where they need to go. With our network of reliable truckload partners, we can offer expedited, refrigerated, and white-glove services to anywhere in the continental U.S. If that sounds good to you, you can request a quote for our freight shipping service today at (866) 353-7178. The quote is free, so what do you have to lose?