Freight from the Mountain Region Ships to the Southwest Pacific Region
Shipping freight from Wyoming to California is accomplished best by a direct route that runs through the southern part of the Equality State to reach the northern portion of the Golden State. R+L Global Logistics is well positioned across the country and diligently works with shippers to get freight delivered where few others will go the distance.
Whether it's a load of Wyoming's natural resources such as coal, R+L Global Logistics has a wide array of equipment to get the job done with ease. We've been in the transportation business a long time so we understand what it takes to ship freight within the state, regionally or across the U.S.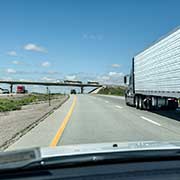 Covering the West with Freight Shipping
Taking the load from Wyoming to California is a freight route that R+L Global Logistics knows well. Our team of expert brokers and trusted carriers are able to put shippers at ease. Regardless of whether it's a truckload of beef or other goods produced in Wyoming, R+L Global Logistics is able to ship freight approximately 1,100 miles from Cheyenne to Sacramento.
Our team is able to provide competitive freight quotes that get truckloads of goods delivered on-time, every time and ahead of the competition.
When it comes to shipping freight from Wyoming to California, R+L Global Logistics has the flexibility to customize freight services. As a family-owned business, we don't make customers fit into just one size.
Wyoming Freight Arrives In the Golden State
The mountain ranges of Wyoming produce truckloads of goods that fuel supply chains around the country. The supply chain from Wyoming delivers several energy sources along with beef livestock to California's rich farmland, urban markets and coastal beaches.
Wyoming to California freight includes:
Our goal is to get it right the first time. Mistakes on our part means delayed freight deliveries which means shippers ultimately lose revenue. R+L Global Logistics understands time is of the essence and there is no room for errors. Shippers work closely with our broker experts to get everything in place.
Not only does R+L Global Logistics invest in the top technology tools, customer service is also a top priority. Shippers are able to track freight from pickup to delivery. While other freight companies may not allow this kind of access, it's standard procedure with R+L Global Logistics.
Discover Freight Shipping with R+L Global Logistics
When it comes to shipping freight from Wyoming to Florida, it takes good planning of all aspects of the journey. R+L Global Logistics is here to make the process seamless and hassle-free for shippers regardless of the freight.
Shippers have access to the vast knowledge of the R+L Global Logistics team. Experience excellent customer service and state-of-the-art equipment to handle the load.
Advantage of shipping with R+L Global Logistics includes:
You bring the freight and we will bring our expertise to the table for each shipment. R+L Global Logistics brokers can answer questions and go over services to assist shippers.
Partner with R+L Global Logistics
On the surface, Wyoming and California appear to have little in common other than mountain ranges. However, when shippers connect with R+L Global Logistics, brokers will position freight delivery to exceed deadlines and outperform the competition. Start with a freight quote and let us showcase the span of our consistent and reliable services.
Additional services include:
We take on the miles for shippers so they can concentrate on production and ensuring freight is ready to go when needed. Relay on R+L Global Logistics to handle shipping freight from Wyoming to California.