In recent years with the growing popularity of DIY projects and home improvement shows, everyone wants to update their castle in some way. A couple of coats of paint can do the trick in most cases. And it's those couple of coats of a fresh color that is driving the uptick in freight shipping paint as retailers work to keep shelves stocked.
The task of freight shipping paint means working with a carrier who is qualified to handle the transportation of hazardous materials. Carriers transporting paint should have HAZMAT endorsements which means they are certified by the Federal Motor Carrier Safety Administration (FMCSA) to handle freight containing flammable or other sensitive goods. The chemical makeup of certain types of paint such as aerosol spray cans or the disposal of oil-based paint puts them on the list of items that must be transported with extreme caution.
Behind the scenes, there is a lot that goes on with freight shipping paint to ensure it arrives safely and ready to create a focal wall in the family room, or add a bright spot in the kitchen. There is a lot to know about shipping paint.
The Many Shades of Paint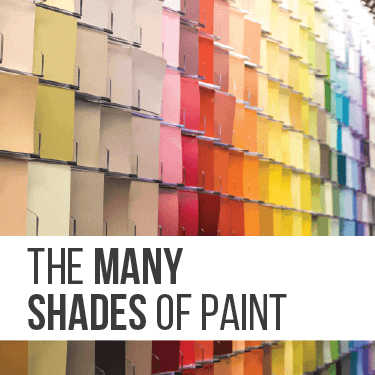 The National Association of Realtors lists a complete interior paint job as a home update that is worth the time and cost when it comes to the resale market. So homeowners looking for top dollar are rushing to the nearest hardware store or home improvement giant to snag the right shade of sunny yellow or seafoam green.
First, let's understand that not all paint is the same. There are so many different types of paint mostly used for residential and commercial buildings either interior or exterior. However, paint is used for automobiles, art projects and the list goes on. Most people get excited about the colors they want to use, however in freight shipping paint the focus is on the chemical makeup of the products.
There are various types of paint which include:
Sheen
Acrylic
Oil-based
Enamel
Latex-based
Water-based
Satin
Regardless of the type of paint, the shipment must all be classified properly before being loaded on a truck. Working with the right freight broker can help navigate this often confusing task to make sure everything is labeled correctly for shipping dangerous goods.
Prior to the kaleidoscope of paint colors to choose from for a room makeover on display at your favorite retailer, each container had to be transported from the factory to a distribution center or direct to store shelves. The process to keep the supply chain moving smoothly relies on efficient brokers to make sure everything is in place.
How to Ship Paint
An important first step in preparing paint for shipment is that each can is considered a flammable liquid. Paint must be tagged with the proper labels and documented outlined by Title 49 of the Code of Federal Regulations or the 49 CFR. Preparing a freight shipment can be challenging if you don't know exactly what you need to do, like how to use the hazardous materials table.
Working with a shipping partner who has expert knowledge of all the transportation regulations associated with paint puts you ahead of the competition. When contracting with a freight carrier, make sure they are up-to-date on the regulations for ensuring compliance. The carrier must also adhere to strict guidelines related to temperature to keep paint freight safe too. The Department of Transportation requires that all paint products be shipped by ground transportation.
The DOT has nine classes to ship hazardous materials. Paint falls into Class 3 of the hazard class for flammable or combustible liquid. However, other classes may be assigned depending on the type of paint and added components.
For instance, a can of liquid paint and an aerosol can of spray paint can be classified differently based on the hazardous materials table and the component of each. A mistake on documentation could ultimately be dangerous for the entire shipment.
In addition to paint, other products such as primer, paint thinner and varnish also fall into the category of hazardous materials. Documents like the Safety Data Sheets or SDS disclose what is included so that if an accident occurs a hazmat team will know how to handle the substances.
Plan to Ship Paint
Stocking store shelves with enough paint is a year-round task, especially to keep up with the demand of trending colors. Work with a team that makes the process seamless and hassle-free from start to finish.
R+L Global Logistics is a qualified hazmat carrier, able to transport a variety of hazardous freight. Our team of experts includes a live hazmat freight specialist ready to answer questions and help secure the best shipping solution.
While transporting paint and other hazardous material may intimidate some because of the extra layer of documentation required for each shipment, R+L Global Logistics makes it look easy with our knowledgeable team ready to provide competitive quotes and get everything ready to go.
Working with a team of trusted carriers, we take the job of freight shipping paint seriously. Rely on transparency, top safety ratings, and promptness every mile of the way. In addition, our experts are able to assist with ensuring the transportation of hazardous materials along with filing other required paperwork.
We realize it can be a huge undertaking, so we are here to help.
Freight Shipping Paint with R+L Global Logistics
We are here to make your job of freight shipping paint easy. Trust our logistics experts at R+L Global Logistics to coordinate the freight details and get everything delivered on time and ready to go.
R+L Global Logistics freight services include:
Truckload shipping
Less-than-truckload shipping
Heavy haul trucking
Refrigerated shipping
Expedited freight
HAZMAT carriers
Flatbed carriers
White glove delivery
And more
When you combine our exceptional customer service with a 99.5 percent on-time delivery rate the result is that customers are in good hands during the entire process. When it's time to ship domestically or internationally, make R+L Global Logistics your first call for supply chain solutions.
The choice of a favorite paint color is the only thing to worry about when partnering with R+L Global Logistics to handle the details of freight shipping. We make the process easy to access a variety of services to meet your shipping needs. Contact R+L Global Logistics by phone at (866) 353-7178 to obtain a freight quote. We're ready to align our services to your business needs and build a strategic partnership to accommodate freight shipping paint.