When shipping hazardous materials within the United States, it's important to be aware of and comply with chemical shipping regulations. It should come as no surprise that failing to follow these regulations can result in serious consequences. For new shippers, these rules can seem overwhelming. However, once you break them down and take a look at what's required, it's as difficult as it might seem.
Chemical shipping regulations are issued by the U.S. Department of Transportation and are found within 49 CFR (Code of Federal Regulations). The regulations cover labeling requirements, which chemicals can and cannot be shipped together, loading and unloading procedures, and more. Each violation of these requirements carries a maximum fine of nearly $200,000. When shipping hazardous materials, it's important to work with an experienced freight carrier that can advise shippers.
In this article, we provide you with all of the information you need to successfully and safely ship hazardous materials and chemicals.
What Is A Hazardous Material?
While this may only be the first section of the article, we are going to plunge straight in at the deep end. When we try to classify what constitutes hazardous materials, there are probably things that come to mind.
What you may not realize, though, is that there are, in fact, a lot of items you may think are general items, when in fact they are classified as hazardous materials. In those classifications, we have items like shipping lithium batteries, dry ice, spray cans, sun block, and even some face creams and moisturizers are deemed to be hazardous materials. This list from the University of Iowa is a good starting place to get a more comprehensive idea of what qualifies as hazardous materials.
Not every item you'd think of is itself a hazardous material but contains components within them that must be carefully handled or disposed of. A great example is an air conditioner; encased in plastic or metal, it seems relatively harmless but contains the hazardous chemical freon inside is classified as a hazardous material, so they can't necessarily be transported, stored or thrown away in the same way as other goods.
These items may be things that you throw around without a care in the world from the comfort of your own home, but the question stands as to whether or not they are hazardous materials for shipping.
What Is Considered A Hazardous Material For Shipping?
Well, as we saw in the previous section, there are a lot of items that are seen to be hazardous, but do these items fall under hazardous materials for truckload shipping? The answer is yes.
As a basic rule of thumb, if an item is deemed to be generally hazardous, the chances are that the item will come under more stringent regulations when it comes to shipping. You should also take into account that there are so many more items that may be classified as hazardous materials for shipping, so you should be vigilant with everything you send.
Moreover, the transportation of hazardous materials is regulated by local, state and federal agencies. The party shipping the materials should check at the local and state level but we'll explain federal rules in more detail in the next section.
What Are Hazardous Materials Regulations?
Now, the Hazardous Material Regulations (HMR) govern the moving and transportation of any hazardous materials via any mode of transport. Whether an item is being moved by land, sea, or air, the regulations do not change.
The regulations are strict and imposed by a collection of federal agencies to carry out standards that have been laid out by congress.
If you're transporting pharmaceutical products, you'll run into similar regulations to that of hazardous materials. If you need assistance, R+L Global Logistics is available to help you.
How Do You Comply With Chemical Shipping Regulations?
We should first start by saying that if you are found to be non-compliant with hazardous material shipping standards, you can find yourself hit with a rather large fine. In order to comply with the shipping regulations, you should at least be following three basic principles:
The Code of Federal Regulations Title 49

. This article addresses key points concerning the preparation, handling, and shipping of any dangerous goods.

Regulatory Illustrations. While there is much to take in when it comes to compliance with the regulations, you should be taking note of the regulatory illustrations, as pointed out in 49 CFR.

Training - Finally, no matter how many employees you may have, make sure they know the ins and outs of 49 CFR. While it may seem laborious, it WILL protect you and your company.
There are certain pieces of legislature voted into power that affect how a business is expected to act in accordance with.
The Hazardous Material Transportation Act of 1975 (HMTA) is how 49 CFR came into existence in the first place to list materials that pose a threat to the public if they are not handled and transported correctly. It also disallows state or local governments to enact their own rules that would be in direct conflict with what's listed here.
HMTA, unfortunately, was not as comprehensive as it should have been in some areas. This led directly into the passing of this next act 15 years later to add better regulations surrounding the actual safety measures that should be used during transportation.
The Hazardous Materials Transportation Uniform Safety Act of 1990 (HMTUSA) was passed by the United States Congress to untangle the webs woven by the various stages of government at lower levels. The whole purpose behind this act was to look at intrastate, interstate and international commerce and lay out regulations to ensure safe transport. It also gives the Secretary of Transportation the ability to impose regulations as well if any other problems arise and give a layer of uniformity between states.
Also, there are certain containers that are deemed suitable to hold and transport hazmat. Those containers include drums, tanks, boxes, jerricans and gas cylinders, to name a few of the most common types.
Chemicals and hazardous materials aren't the only goods on the road today that come with shipping regulations. Learn more about nursery stock shipping rules and regulations.
Hazardous Materials Shipping Training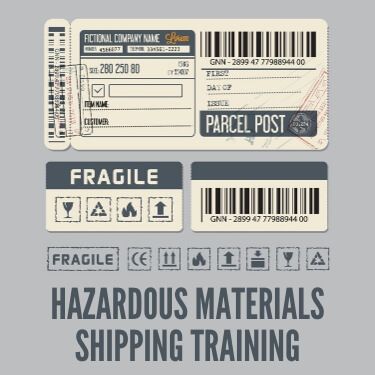 When it comes to training, there are five types of training that you and each individual employee must complete:
Awareness Training

- This gives an

overview of the regulation

and will give the employees the ability to identify any hazardous materials.

Function Specific Training

- These lessons will often be customized to the requirements of the tasks the employee carries out.

Safety Training

- Possibly the most important, but this training includes emergency response and self-protection methods.

Security Awareness

- This training helps the employee come to terms with a plethora of security risks that may be attached to hazardous material transportation.

In-Depth Security Awareness Training

- This will be detailed training that takes care of the companies security procedures and objectives.
Common Mistakes Regarding Chemical Shipping Regulations
With all of the complications that are involved in the shipping of hazardous materials, it's not uncommon for some companies to find themselves making a mistake or two. Some of those common mistakes are:
Use The Correct Bags When Shipping Liquids by Air

— When any liquid is shipped, special bags must be used in conjunction with durable containers.

Make Sure You Declare Everything

— Whatever the consignment may contain, an airline will need to know every detail of the shipment.

Training

- One of the biggest mistakes made when it comes to shipping regulations is down to training. A lack of training will often cause a domino effect. If you want to avoid common mistakes, then make sure your training is up to date, and everybody is on the same page.

Follow Closing Instructions

— Another common mistake often made when it comes to chemical shipping regulations is something that most would presume is simple. Most packaging systems are created and tested to work properly to function with a specific torque. Not following provided closing instructions will often compromise the integrity of the whole system.
Chemical Shipping Regulation Symbols
On the chemicals' packaging and labeling, it should be abundantly clear. Each of the following symbols correspond with the specific way items must be dealt with for proper shipping. These symbols are:
+: This plus sign designates that the hazard class, packing group and shipping name must stay the same. This is regardless of if the hazmat doesn't meet the actual hazard class definition.

A: This is a regulated class that says the item must be transported by air unless it is a hazardous waste or something that DOT classifies as a hazardous substance.

D: Only identifies requirements for the domestic shipment of hazmat.

G: This letter indicates a generic shipping name, although the technical name has to be added next to it in parentheses

I: This points out the requirements that need to be met for domestic and/or international transportation of hazmat.

W: This is a regulated class that says the item must be transported by water unless it is a hazardous waste or something that DOT classifies as a hazardous substance.
These symbols clearly denote how items should be shipped or handled and need to be heeded.
Chemical Warehouse Storage and Fulfillment
If you're trying to sell hazardous chemicals and meeting federal regulations and those of DOT are too much of a hassle, you can always employ a third-party logistics company to handle the final pieces of the fulfillment puzzle for you.
The building it is stored in has to meet a laundry list of regulations, first of all. Hazardous chemicals generally can't be stored next to other common items and must be stored in such a way as to limit the impact that a chemical spill, leak or — worst-case scenario — fiery explosion could have should the unthinkable happen.
The warehousing solutions needed to house these items are customized to prevent the previous scenarios from ever unfolding. Construction is usually available for both fire-rated and non fire-rated structures.
Internal climate control is used since most chemicals need to be kept at certain consistent temperatures to prevent an unwanted reaction. In fact, buildings housing hazardous chemicals are made from durable, non-reactive materials.
There is proper ventilation installed and also drains, with fans also commonly built in as well. The building is also outfitted in a particular way to account for drastic weather changes outside so that the chemicals inside are not affected.
There is also an enhancement added called a sump, which is basically a reservoir or pit that is in place for an added level of containment should there be a chemical spill.
There should also be chemical wash stations, in the off-chance an employee inside comes in contact with a hazardous chemical. In actuality, the workers inside a chemical storage warehouse should be wearing gloves at all times and protective eyewear like glasses or goggles would be a pretty good idea.
When filling orders for a customer, a pick and pack system can be an organized, fast way to accomplish this.
Pick and pack refers to the act of a worker or group of workers navigating a warehouse and picking items from pallets, shelves or cartons and packaging them to then be shipped directly to their destination, usually for an eCommerce business.
Depending on how large your order volume is or how many workers you employ, this system can help your order fulfillment excel by being speedy, accurate, organized and leading to great customer satisfaction.
It is also a positive in the sense that a logistics company likely already has vast experience in filling orders and shipping them in this manner. Also, there are different variations of the pick and pack system and if you're shipping huge quantities of chemicals, one worker in a warehouse can fill multiple orders during the same run through the building, which really helps to maintain an efficient operation.
There are four major types of pick and pack systems and the type you decide to implement or request should be based on what you feel like best suits your business needs.
Zone Picking
This type of picking comes into play in the form of workers being assigned to a specific area — or "zone" — within the warehouse and work on a single order at a time. Should an order require items from multiple zones, it can be handed off to another employee or via a conveyor belt for further fulfillment.
Batch Picking
When multiple orders are picked at the same time, this is called batch picking This could involve a long cart pulled by a scooter that has, for example, 16 different boxes of different orders to fulfil. An employee might go up and down the aisles to grab items off of shelves for each order. A warehouse inventory system, if available, would pick the best route for the worker and help all the orders get efficiently filled
Wave Picking
This is a mixture of zone and batch picking in that a worker will pick more than one order at once, but will be confined to a zone while doing so. This improves organization, accuracy, speed and efficiency, making it a great solution.
Piece Picking
This type of fulfillment is when a single order comes in and is fulfilled as soon as possible by an employee who handpicks each item for the package. This is best deployed for smaller warehouse setups with less employees.
How Many Gallons Of Oil Can You Haul Without A Hazmat?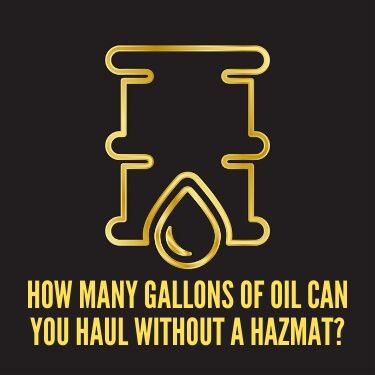 In order to comply with regulations, you can haul below 119 gallons of oil without a hazmat. The normal measurable unit for solids of HAZMAT are 440 pounds or less to not need a hazmat but this does not apply to oil.
This is important to note the distinction since a gallon of crude oil weighs about 7.2 pounds per gallon. That would be about 856 pounds at 119 gallons of crude oil.
There is also a 1,000-pound water capacity for a gas that needs to be minded.
Shipping Chemicals With R+L Global Logistics
If you are looking to find a company that is in the know when it comes to shipping hazardous materials correctly, then R+L Global Logistics have years of experience transporting everything from hazardous waste to medical materials and beyond. We only work with the best hazmat carriers on the road today.
When it comes to moving hazardous materials, you want to be using a company that you know you can trust, and more than that, you will want a company with an outstanding reputation.
Even more than just shipping your chemicals, we offer warehousing solutions and can also employ a pick and pack system to take care of order fulfillment for your company so you no longer have to worry about it.
The most important thing to ask yourself is this if you have taken the time to come to terms with the regulations and you have put your team through the necessary training, why would you leave your consignment with a company who may not handle your shipment properly?
If you want peace of mind and your shipment to reach its destination safely and on time, then R+L Global Logistics should be your first and only choice. Get a freight rate quote or call us at (866) 353-7178 to get your chemical fulfillment and shipping started today.