You've raised the chicken and are about to process them into meat. But before that happens, you need to think about transporting raw chicken and what that actually entails as far as the different agencies that will be involved and the best way to keep your chicken safe.
The United States Department of Agriculture (USDA) will come into play, as well as the Food and Drug Administration (FDA) but transporting raw chicken isn't difficult as long as you adhere to safety and handling regulations. Read further for tips on how to transport your chicken.
How Should Raw Chicken be Transported?
When shipping raw chicken, there is one important factor to consider: the meat can spoil quite easily. The best way to keep the raw chicken safe to eat is by maintaining a tight supply line and getting it from the processing plant to retailers as quickly as possible.
When raw chicken is not kept properly cold, bacteria growth ramps up and can easily make the meat unsuitable to prepare for a meal. Keeping the cold chain intact is the top rule for poultry overall.
The trick is to limit the amount of time the chicken is unrefrigerated during loading, shipping, unloading and storage. If this is done properly, then your chicken will make it to the other side nicely.
How is Meat Regulated?
Meat is regulated in part by two national organizations: the USDA and FDA. But each has different roles in making sure consumers are educated about what they are eating and the actual chicken being deemed safe for humans to eat.
The FDA regulates a myriad of things about chicken and provides crucial information about:
Nutritional value, including labeling
Verifying the content on labels is correct
What ingredients are in the meat and if they are acceptable
Additive information
Acceptable levels of potential hazardous pesticides, chemicals or metals present in the food.
The USDA's role, which is larger than the FDA's as far as meat goes, is more hands-on with the actual production and safety of the meat being processed on a day-to-day basis:
Making sure plants are clean, safe and in compliance with all regulations
Making sure the actual meat being processed is high quality and fit for human consumption
Grading the meat, which is voluntary, but indicates to consumers that the poultry in question looks and tastes good.
So while it is a bit complex in terms of which organization oversees what, the USDA is in the driver's seat as far as meat goes.
Does Meat Have to be USDA Inspected?
The short answer is yes. All chicken produced and processed in the U.S. must be inspected by the USDA.
One thing that needs to be pointed out is the distinction between inspection and grading. The USDA inspects the poultry to make sure it is safe for human consumption and that is mandatory. The USDA doesn't let any unsafe meat out the door — if it doesn't pass inspection, it will be discarded.
USDA grading, on the other hand, is voluntary and speaks only to the visual defects, appearance and meatiness of the chicken in question.
For instance, a Grade A piece of poultry is plump and has clean skin. It is also free of visible bruising, any feathers, broken bones or discoloration. In the U.S., this is the grade that will predominantly be sold by retailers and restaurants. Grades B and C are not usually raw chicken cuts and are used for further processed chicken-based products.
Temperature for Shipping and Storing Raw Chicken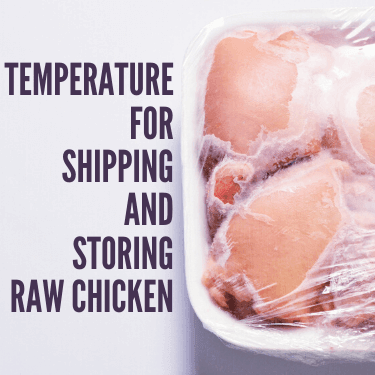 There are two temperature ranges that raw chicken can be held at during shipping and in a store and it depends on your objective.
Both of the following chicken types still classify as raw poultry, but are labeled differently in stores.
To get a labeling of fresh chicken, the poultry in question can never have been stored below 26 degrees fahrenheit. So basically the chicken is never actually frozen. The recommendation for raw chicken to maintain its freshness is at 40 degrees or lower. So to have your chicken labeled at the grocery store as fresh, the ideal temperature to store it at is between 26 and 40 degrees. This needs to be consistent from the time the meat is processed, packaged and shipped to vendors to keep it at its peak freshness for as long as possible.
The second kind of raw chicken is frozen. This refers to poultry that has been stored between 0 and -25 degrees fahrenheit. In a supermarket, the chicken in question must be labeled as frozen or previously frozen if it is currently or was ever kept between those temperatures.
There is an extremely negligible nutritional value difference between raw or frozen chicken. In fact, the main difference between having raw chicken in your fridge or frozen chicken in the freezer is how long it can be stored. Raw chicken can only last 2 to 3 days in the refrigerator while frozen chicken will last many months.
Frozen meat is actually safe to eat for an extremely long period of time, but if it is not properly packaged, freezer burn can cause its taste to be worse.
Transporting Raw Chicken with R+L Global Logistics
Now that you know about the best practices for transporting raw chicken, it's time to let R+L Global Logistics be your preferred partner. We have a multitude of experience in shipping meat over the course of our 30-plus years of experience and can provide a comprehensive experience for your business.
R+L Global Logistics has a global presence and partners with a bunch of freight haulers in order to easily pair you with a truck capable of getting your chicken quickly and safely to its destination. With raw chicken, refrigerated trucks will be required and we can help you with that too.
Other reasons why you should choose R+L Global Logistics as your poultry shipping partner include our 99.5 percent on-time delivery rate and real-time freight visibility so you know where your load is at all times. We also offer expedited shipping for those times that your poultry needs to get from point A to point B as quick as it can. The cherry on top is our readily available customer service to address anything you may need.
So when you're ready to begin transporting raw chicken or learning how to ship lemons or other freight shipping food, let the experts at R+L Global Logistics help you out. For a free freight quote, visit our website or call (866) 353-7178. You'll learn about the R+L difference and how we can help make you money.