If you're in the market for wine transportation services from California, you're not alone. According to Wineinstitute.org, over 240 million cases of California wine were shipped across the U.S. in 2018. Whether you're a winery, commercial distributor, retailer, or a private wine collector, transporting wine can be stressful. A considerable amount of risk is involved and if managed improperly, financial loss and loss of goods can occur.
When utilizing wine transportation services, you'll need to work with carriers that have active alcohol transport permits. This will require multiple permits and/or carriers, as each state has different laws regarding alcohol transport. Freight brokers often arrange this due to the complex nature. Additionally, general guidelines regarding packing and shipping need to be followed to ensure wine isn't damaged while in transit.
Packing Your Wine For Shipping
The delicate nature of wine makes it a fragile commodity to ship. Whether it's already been bottled or it's being shipped in bulk containers, wine is prone to damage during transport. Not only can wine be damaged through contact, but its flavor can also be negatively affected by improper temperature. Planning appropriately in advance of your wine shipment can ensure its safety and flavor.
If you're shipping bottled wine, you'll need to protect the bottles from contact damage. One of the easiest and most efficient ways to do this is to use cardboard boxes with dividers. Dividers are typically made out of foam or cardboard and are sometimes specifically sized for standard wine bottles. The thicker the divider, the less material you'll need to use to fill the empty space in between.
Regardless of the container that your wine is in, it's recommended to be transported on pallets. Palletized products are generally preferred by freight carriers for a number of reasons.
The benefits of shipping your wine on pallets include:
No special equipment needed to handle the products

Loading and unloading time is quicker than non-palletized products

Able to move larger quantities at one time
Failure to palletize your shipment properly, however, could result in damages like cracked bottles, broken crates, or even entire pallets falling apart. That sounds scary, but palletizing freight doesn't have to be complicated. In order to palletize your shipment in the safest and most efficient manner, you should follow a few best practices.
First, you will need to ensure that your pallets are a standard size, otherwise, it might cause complications for the carrier when packing the trucks or storing the shipment.

Next, you will need to ensure that the individual boxes that contain the wine are sturdy enough to be stacked on top of each other. If they do not seem sturdy, the boxes on the bottom may get crushed in transit.

In order to make the pallet more stable, the layers of boxes should be staggered so they form a single unit, instead of several single stacks next to each other. Be careful, though. Damage can happen to any box that is hanging off the edge of the pallet or stack.

Ensure that the weight is equally distributed on each layer, so the pallet is not unbalanced. Failure to do this could make it difficult, or even dangerous, to move with a forklift.

Place large sheets of cardboard between the layers, to help hold the pallet together and give it a little more integrity.

Do not stack the pallet more than five feet tall. Any higher than that, and it could be at risk of tipping over and damaging itself, equipment, or other pallets.

When shrink-wrapping your finished pallet, don't just stop after two layers. Use four or five layers of shrink wrap to make absolutely sure that the shipment won't come apart. It'll cost a little more money and effort to do this with every pallet, but when dealing with a fragile shipment like glass bottles, it pays to play it safe.

In addition to layering it several times, it is important to attach the shipment to the pallet with the shrink wrap as well. This will prevent the boxes from detaching from the pallet and causing damage. Be careful not to cover the gaps in the side of the pallet, though, since those are necessary for forklifts to move the shipment.

As an added layer of security, you could also attach the shipment to the pallet with nylon straps. This is likely a good idea, especially if the wine is high-value and you really want to ensure that it doesn't get damaged.
Palletizing freight seems like a hassle, but it is really important for ensuring the safety of your wine. The carrier is not responsible for palletizing your shipment for you, and you may actually end up paying more for your shipment if your wine isn't contained on pallets.
Moving Wine by the Truckload
The easiest way to ship a large quantity of wine is with a temperature-controlled freight truck. It is a fast, affordable option, that can get fragile wine shipments to their destination safely and on time. Once your wine is palletized, it would be easy to transport and load without much fear of damage. Pallets can stack, and fit comfortably into the back of a truck.
For several reasons, it would be in your best interest to utilize a Full Truckload (FTL) service, rather than the cheaper Less than Truckload (LTL) option:
LTL shipments are handled often, increasing the likelihood of damage. Because of the delicate nature of the bottles, it would be better to have them handled as little as possible.

LTL shipments make many stops along the way to their final destination. This could be problematic if your wine is high-value, and at risk of being stolen. Each stop provides an opportunity for thieves to intercept the delivery.

LTL trucks are packed with other commodities, which if packed incorrectly, could damage your wine.

LTL trucks cannot consistently keep a specific temperature since they are opened many times to unload and rearrange freight. This could be detrimental to the flavor of the wine.
Even if your shipment isn't large enough to fill the entire freight truck, you should consider using FTL services anyway. This can ensure greater protection for your wine, and even speed up the delivery process.
There are many occasions in which LTL shipping is a great option, but when shipping wine, FTL is the best choice.
License for Shipping Wine
For a winery that wants to ship wholesale to a brick-and-mortar store, the regulations are relatively simple for shipping out-of-state, if you take the time to understand the rules.
For starters, in order to be able to ship wine, a winery will need to be Federally licensed by the Alcohol and Tobacco Tax and Trade Bureau (TTB) in the U.S. Department of the Treasury. In order to do this, individuals licensing their winery must complete all the TTB Forms in the wine application packet, or submit documentation from their Permits Online system.
All distributors and retailers wanting to receive and distribute wine must also become Federally licensed. Licenses are required for any entity involved in the manufacture, bottling, distribution, storage, and sale of wine.
Once both entities are licensed properly by the TTB, you should be able to ship into almost any country. However, be aware that each state has different regulations that can put a halt to your operation if you aren't aware of them. You may be required to get additional licenses from the state of origin and the state of destination, some states only allow a certain volume of wine shipments, and some states don't allow any wine shipments at all.
In general, there are fewer regulations for shipping to a licensed entity than there would be if you were shipping directly to a consumer, but you should still be aware of the regulations that are in place. Do your research on individual state regulations, so you don't end up making costly mistakes.
Wine isn't the only regulated commodity USA Truckload Shipping, powered by R+L Global Logistics, can help you move. Learn more about complying with tobacco transportation laws.
Managing Wine Transportation Temperature
Arguably, the most important detail to be mindful of when shipping wine is the temperature in the cargo area. On both ends of the temperature spectrum, overheating and overcooling, damage to the wine can occur during transport. To ensure your wine doesn't fall victim to temperature damage, you need to be aware of best practices.
In general, the ideal transport temperature when shipping wine is near room temperature which is around 70°F. This will require climate-controlled trucks. There are exceptions to the standard temperature. If you want your wine to be chilled immediately after being unloaded, the shipping temperature should match the storage temperature. Moving wine from a wine cellar to a storage facility will require a lower transport temperature around 55°F.
Whatever temperature you want your wine to be shipped at, be sure to communicate this when arranging your transport. If you don't specify the proper temperature for your wine shipment, the carrier will not be held liable if it spoils.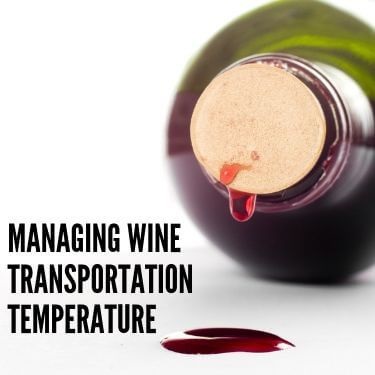 The damage that results from incorrect transport temperature can sometimes be more troubling than broken bottles and spilled wine. Not only does it often go unnoticed until it's too late, but the financial consequences can be more harmful.
A possible scenario of temperature damaged wine can go as follows:
Wine overheats during transportation but doesn't leak through, so the damage isn't noticed.

Distributors or retailers sell the wine not knowing that the flavor has been compromised.

Consumers purchase the wine, but don't like the taste and don't buy again in the future.

Low sales volume leads to fewer orders from distributors and retailers.

Overall revenue declines.
Of course, this chain of events won't happen every time, but it's a blunt illustration of the importance of transport temperature when shipping wine. When arranging your wine shipping services, be sure that your carrier and their temperature-controlled vehicles will properly handle your wine.
Sometimes, if a wine bottle gets too warm, it will experience something known as "cork push." When the wine inside the bottle gets too hot, it will begin to evaporate and expand, increasing the pressure inside the bottle. This will push the cork up, and sometimes make it pop out completely. If you're concerned about whether your shipment has been exposed to heat, look for signs of cork push. It can indicate neglect on the carrier's part, and could prove as helpful evidence if you need to file an insurance claim.
Moving High-Value Wine
Even if you've packed your wine correctly and ensured that the right temperature controls are in place, that might not be enough. There's a lot more on the line when your shipment is high-value, and uninsured damages could wreak havoc on your business or investment. Shipping expensive and valuable wine creates a greater financial risk if damage occurs. If you're shipping wine with a higher than normal value, you should seriously some additional wine transportation services to better protect and monitor your shipment.
Shipping Insurance
When you're shipping valuable freight, damages to the shipment could be catastrophic to your business. In addition to that, you aren't in control of your shipment after you hand it off to the carrier, so you have to trust that the carrier is going to treat your freight with care. With so much on the line, you'll want to insure your shipment, so you don't end up in a bad situation if something happens to your freight.
Fortunately, all carriers are required to at least carry liability coverage, under the conditions of what's known as the Carmack Amendment. This coverage comes automatically with every shipment, and should be negotiated before the carrier accepts the freight.
In the event that the freight gets damaged, the shipper would need to file a claim in order to get paid for those damages. This claim needs to show:
That the goods were in good condition when they were handed off to the carrier

The damages or delays that were incurred after the carrier got possession of the freight

And the cost of the damages that the freight sustained
Unfortunately, there are limits to what the carrier is liable to. If the carrier can prove that the shipment was never neglected, or the damages were outside of their control, then they will not be obligated to pay the claim. The damages will not be covered if they were incurred as a result of:
Uncontrollable natural forces

An act of the public enemy

Mistakes made by the shipper

Intervention from an authority

The inherent nature of the product being shipped
In addition to that, the value that the carrier is liable for is based on a dollar amount per pound for the specific commodity. For something like expensive wine, the true value of the wine may be far more than the coverage, in which case, additional shipping insurance should be purchased to cover the rest.
Shipping insurance can typically be purchased directly through the carrier or through an independent insurance company. This can provide customized coverage for the specific shipper, commodity, and distance. Shippers can rest easy knowing that no matter what happens, even if the damage cannot be linked back to a specific cause, the costs will be covered.
When an insurance claim is filed, it must include the value of the shipment and proof of the damages it sustained, but there is no need to show evidence of who is at fault for the damages. Assuming there are no issues with the claim, shippers can expect to be paid within 30 days of issuing a claim.
Temperature Monitoring
Another important thing to consider when shipping high-value wine is advanced temperature monitoring. Although not a new concept for carriers, temperature monitoring for shippers is becoming more common. Some carriers will now offer the option for shippers to know the temperature of their wine shipment throughout the entire transit. It is continuously monitored, so precise data can be recorded about the temperature in the container at all times.
If it is particularly hot or cold out, it might be a good idea to include this service, just in case the outside air gets into the container and changes the temperature of the wine. Remember that fluctuations in temperature can negatively impact the flavor of the wine.
This added service often comes at an increased cost, so you'll just need to decide if it's necessary for you. If you really want to know exactly how your wine is kept for the entire shipment, and not just when it arrives, then you should seriously consider this service to ensure the utmost quality in your wine when it reaches the consumer.
Freight Tracking
When your freight is valuable, it can be tremendously important for you to know where your freight is at all times. If your shipment is damaged or delayed, you need to know when and where those instances occurred. If you don't have tracking services for your shipment, however, you are left completely in the dark about where your freight is up until it reaches its destination. This can leave you anxiously awaiting news of delivery, and if it doesn't come when it is expected, you are the one that will have to deal with the potential consequences of the delay.
For the most part, tracking services are going to cost more money, but they can be helpful in alleviating the anxiety associated with shipping valuable goods. The extra information this service provides can also be helpful when making insurance claims for damaged freight.
There are many methods of tracking a shipment, but here are just a few:
Driver Check-ins

GPS

RFID Tagging
One of the most fundamental methods of freight tracking is also the simplest one: driver check-ins. At the shipper's request, drivers can check in every two hours to notify the freight broker, carrier company, or shipper of where they are in transit. This is a simple yet effective way of making sure that the shipment is on track to get delivered at the correct time, and keeping the involved parties informed.
Another slightly more technical method of tracking a shipment is through the use of GPS technology, and something known as RFID tags. GPS is something most of us are familiar with already, thanks to navigation equipment in cars and cellphones. GPS allows for real-time tracking with the assistance of satellites, often on a display like a map. This allows carriers to monitor where their drivers are going, and if they are deviating from the controlled route that was assigned to them. RFID tags, however, might be a little more unfamiliar to the average person.
RFID stands for Radio-Frequency Identification. It consists of a tag that goes on the shipment, and a scanner that can scan the tag and transmit the data to a database to be recorded. Any time your freight is handled or moved, each crate can be accounted for by scanning the RFID tag specific to that container. Warehouses often have built-in scanners in doorways and loading docks, so anything that enters or leaves the warehouse can be instantly updated.
Even if you do not intend for your product to be stored in a warehouse, RFID tags can be helpful if you ship LTL, have many FTL shipments at once, or if you know your shipment has to be handled a lot. By scanning the individual RFID tags specific to each crate or container, carriers could instantly know if a package or container is missing, and know exactly where it was last accounted for.
Effectively tracking where your shipment is can not only be a weight off your mind, but it can also be a reliable asset for determining where a shipment got delayed, damaged, or otherwise held up. No matter where in the supply chain it is, you can rest easy knowing exactly where your shipment is and when it should arrive.
Escort Services
Although buying escort services to accompany your wine shipment might seem like overkill, you might want to seriously consider it if you're in the business of shipping cult wines. Cult wines are wines that private collectors and wine enthusiasts are willing to pay huge sums of money for. Many of these wines are Cabernet Sauvignon crafted in Napa Valley California, and just one bottle can sell for $4000 or more. Imagine the value of several crates!
When dealing with a shipment of such a rare, expensive commodity, you might want to take all possible opportunities to protect it from theft or tampering. If you really want to keep your cult wines safe, consider keeping them under the watchful eye of an escort, who will follow the freight carrier all the way from departure to destination.
Escort services can notify the carrier immediately if the truck or trucks deviate from the route, or make any unauthorized stops. They can also protect the freight whenever the trucks are stopped, and are constantly on the lookout for thieves. If you really want the best possible protection for your freight, you should consider getting escort services to guard your shipment.
Expedited Wine Shipping
Sometimes, you just can't wait around forever for your freight to arrive. If your shipment is time-sensitive, either to get your wine to customers, restock retail shelves, or even just ship something in last-minute for a big event, then you're going to need to utilize expedited shipping.
When you think about the term "expedited," images of air carriers are probably what come to mind. However, expedited truckload shipping is a more affordable option, and can prevent the cargo from being handled as it is loaded onto and off of the air carrier and onto a truck to finish the journey. And, it can still cut down on the delivery time considerably, and even offer overnight and 1 or 2-day shipping.
Trucks can often be coordinated with several different drivers, who can keep the freight moving 24 hours a day until it reaches its destination, seriously cutting down on the time it would take ordinary deliveries to travel that distance. Expedited deliveries are also given priority over ordinary deliveries, to eliminate any extra time that the freight would be just sitting around in a warehouse or truck.
No matter what your shipment requires, there is a flexible expedited service available to meet your needs. Of course, this service would cost extra, for all the additional attention and prioritization that the shipment receives. However, if you need your shipment delivered on a tight deadline, the only way to make absolutely sure that you'll get it on time is with good expedited service.
Shipping Grapes for Winemaking
If you're interested in transporting grapes from California to make your own wine, the process is a lot different. You will need to follow many different regulations and processes, to ensure that your shipment is handled safely, reliably, and legally. All food shipments are inherently more difficult to manage than non-perishable shipments, because of the various rules for packaging, fumigating, and refrigeration.
If you don't know where to start, getting a freight broker to help you handle everything could be the best way to get your shipment on the road. You wouldn't need to worry about any unfamiliar regulations then since your freight broker would handle everything for you.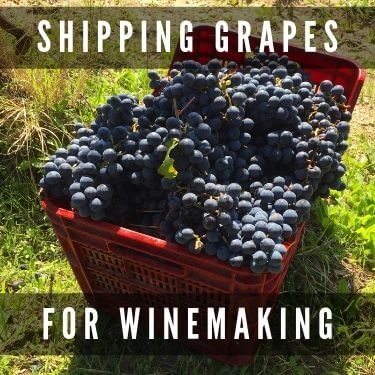 If you intend to sell your homemade wine, remember that you will still need to apply for a license. Without that license, you cannot legally sell your wine to anyone—even friends and family!
For more information on shipping wine grapes and table grapes, check out our article How are Grapes Transported?
Popular Wines from California
Although California produces countless different types of wine, there are a few that stand out with widespread popularity. Cabernet Sauvignon is by far the most well known of California wines, but there are several other California wines that are treasured throughout the U.S. and the world.
The most popular wine varieties produced in California are:
Cabernet Sauvignon

Cabernet blends

Chardonnay

Merlot

Petite Sirah

Pinot Grigio

Pinot Noir

Sauvignon Blanc

Syrah

Zinfandel
Finding a Wine Shipping Company in California
Considering all of the details covered thus far, you should be adequately equipped to find the right company to handle your wine shipment. However, that still doesn't mean it will be easy. In reality, the more complex your shipment is, including how many states it will travel across, the more time it will take to arrange your transport. With so many other responsibilities demanding your time, you might want to offload this project. This is where a freight broker comes in.
A freight broker typically acts as an intermediary, connecting shippers and carriers. The services offered by a freight broker saves time for shippers since the broker is doing the research instead of the shipper. Some carriers also operate as freight brokers and can provide both services.
The benefits of using a freight broker include:
Possible access to bulk rates that you might otherwise not receive

Industry experience and knowledge

More options; some carriers work with freight brokers rather than directly with customers

Can save significant time and money
If you're just starting your search for wine transportation services or you're on the brink of giving up, it's worthwhile to consider going through a freight broker.
Freight Broker Services Through R+L Global
While we don't directly transport wine, we can coordinate wine transportation services from California for you, no matter how complex your freight needs are. We ensure that your shipments are in safe hands by only working with vetted, high-quality shipping partners. If your shipments require warehousing or customs brokerage, our experienced team is ready to assist you.
When you're ready to move forward with freight shipping from California to New York or other freight shipping in the USA, fill out the form below or give us a call. We'll handle the heavy lifting for your wine shipments so you can focus on other important areas of your business.