The constant ebb and flow of goods occurs primarily via commercial freight shipping. In certain cases, it may be confusing to figure out when commercial freight shipping is needed, for what types of freight and how to go about contracting for the service. Just think about all the items found on store shelves, boxes of items arriving on doorsteps or mailboxes around the country; all of this is considered commercial freight. When shipping everything from boxes of household cleaning products, apparel or even computers, it is quite an undertaking to organize the logistics from production, distribution warehouse to the retail checkout line.
If you are unsure of when commercial freight shipping is needed, take a look at all the items which appear on your grocery store shelves. The one thing that should be quite apparent is that the vast majority of retail and other sectors depend on commercial freight shipping to keep goods in stock on a consistent basis.
Here we will discuss when you will need commercial freight shipping, what it all means, and how to maximize services to get your goods to consumers. The freight, ranging from a truckload of laundry detergent to time sensitive expedited freight, all gets the stamp of commercial freight shipping.
What Is Commercial Freight Shipping?
So just what is commercial freight shipping? Well the answer to this question is quite simple. Commercial freight shipping involves transporting goods for consumption typically in bulk loads requiring a full truckload or a smaller batch shipping by a pallet.
Some of the terms in commercial freight shipping includes:
Truckload
LTL (Less than a truckload)
Refrigerated
Expedited
Freight carriers point out that if a consumer purchased an item in a store or an online shopping spree, a truck was involved at some point getting those goods to store shelves or to the front door. And while the illustration of retail goods from everyday life makes the topic relevant to most wallets, commercial shipping includes a wide variety of goods.
As freight ships around the clock to all points of the globe, documentation is required before anything can be loaded on a truck. There is a list of basic information needed to produce a Bill of Lading or BOL detailing the point of origin, destination, and shipper contact to start.
Additional details about the freight will be required if it contains hazardous material. Here's a bit of advice when it comes to freight that is deemed a hazard; make sure the carrier has a HAZMAT endorsement to transport these goods.
When providing the required documentation, the freight class of the goods must be selected for each shipment. There are 18 freight classes established by the National Motor Freight Classification (NMFC). The intent of freight classes is to create uniformity for weight and dimensions which can ultimately impact pricing. Utilize the Freight Class Calculator by R+L Global Logistics to get started and learn more about how goods are calculated.
Factors to determine Freight Class includes:
Density – the weight of the goods per cubic foot. A lower density on the scales means a lower price to ship.
Stowability – big and awkward or has hazardous materials means more attention to the details and that can cost the shipper more money.
Handling – accounts for how many times the freight has to be touched before delivered. The more touches, the higher the shipping rate.
Liability – considers the risk of transporting fragile, at risk of theft or perishable goods. Any of these situations raises the freight class and overall cost.
All of these factors are important so make sure to use accurate information about your freight to maximize your budget for commercial freight shipping.
Commercial Freight Shipping Covers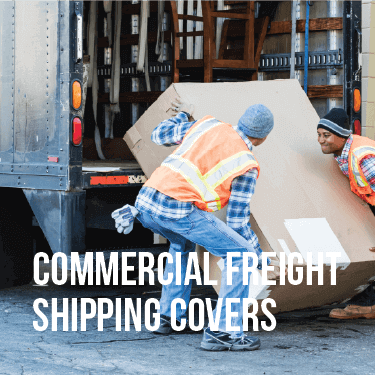 Since commercial freight shipping covers a lot of categories, such will be the case when it comes to transportation solutions to handle the load. The world of commercial freight shipping covers a variety of goods and confirms why it's necessary to work with a logistics expert who knows the industry and how to navigate an array of commodities.
Household goods: food, clothing, electronics and the list could go on to fit in all the items falling into household goods for commercial freight shipping.
Furniture: A new bedroom suite of furniture, or hutch for the family heirloom China will fill a truck headed to the warehouse. The furniture found in commercial shipping is typically in bulk right off the manufacturers production line.
Hazardous material: These are the chemicals used for cleaning or painting. It is critical to outline any hazardous freight to ensure safety in case of an accident.
The bulk of commercial freight shipping occurs via ground transportation with trucks traveling a network of lanes to keep supply chains moving flawlessly. In addition, air freight and additional intermodal shipping options are utilized to move shipments as well. The type of goods and destination will determine how the freight is shipped and the timeline.
A good rule of thumb is to plan ahead in hopes of avoiding any last minute problems when it comes to loading freight for shipment. Working with a logistics expert who is knowledgeable about the entire process and understands the importance of ensuring commercial freight arrives on time. Make it a priority to secure shipping solutions early so the freight is ready to roll when the truck arrives.
If the shipment will cover an in-state route, regional miles crossing state miles or will travel coast to coast, commercial freight service is the best option for professional and safe delivery. Regardless if the shipment is a one-time route or a dedicated route, the right logistics expert can make the process seamless.
Commercial Freight Shipping Lanes
In figuring out when you need commercial freight shipping, one of the main pieces of information that will be needed is the destination. Companies like R+L Global Logistics have a vast network of shipping lanes, in partnership with trusted carriers, covering the United States so that means we can deliver freight anywhere. You name it and either we have an existing lane or we have the flexibility to create a new lane.
The massive amount of freight that moves on a daily basis is hardly noticeable to most until something puts a kink in the supply chain that prevents products from being stocked on store shelves or delays in manufacturing because parts are stuck on a dock.
Ground service involves freight moving by trucks from the point of origin to delivery in a matter of hours or days depending on the destination. There are popular freight lanes across the country and others are expanding as manufacturing and demand shifts.
Top shipping lanes include:
Florida to New York
Missouri to Illinois
The Mid-Atlantic region, Southeast region, South Central region have some of the most extensive domestic regional shipping routes in the country. Expanding routes can be found in the Pacific Northwest and the New England region. A route from Atlanta to Dallas is a dedicated route for commercial freight shipping in the Southeast and South Central regions. However, routes in the Mountains and Plains region may not be as extensive outside of Denver, Colorado or Salt Lake City, Utah.
In working with logistics experts, one who has the flexibility to create a shipping lane in regions with room for growth can be vital when it comes to getting your freight to places less traveled.
Need to move commercial freight around the country? Start with the freight routes map to get started. It's easy to start charting the trip.
Navigate the route map:
1. Select the region the freight will originate.
2. Pick the state.
3. Choose the delivery destination.
4. Identify the state.
The map will provide an overview of the route and a list of popular commodities that are shipped. Remember this is just a sample to get started. A logistics expert can provide more detailed information and answer the list of questions from shippers.
How Brokers Work with Commercial Freight
One of the main things to remember when you need commercial freight shipping is that you are not alone. Companies like R+L Global Logistics have a team of freight brokers who are able to assist shippers with an array of transportation needs.
So instead of trying to fit into pre-determined services, find a broker who can customize freight shipping based on what's best for the shipper in the long-run. Good brokers listen to the details of the shipment and then work to find the best delivery solution.
Information needed by brokers:
Origin of freight
Delivery destination
Freight category
Deadline for delivery
Once the broker has this basic information, they can begin to research freight routes and equipment to provide commercial freight shipping. The more information the broker has the better they can work for shippers from the start.
The broker is there to handle the details of freight shipping that can include completing required paperwork, filing required documentation and acting on behalf of the shipper when requested. A good broker is familiar with the rigors of commercial freight shipping. They can do the heavy lifting to make sure the right equipment is in place and ready to load.
Regardless of whether the shipment is a truckload of goods or LTL freight (less-than-a-load), brokers become the shipper's partner to get the job done hassle-free. There is a lot to know about commercial freight shipping and your broker should be well-versed and able to tackle the tough spots and get your goods from the warehouse to the end consumer.
When to Partner with Commercial Freight Shipping Companies
Now that you understand the impact of commercial freight shipping and the process, the next step is partnering with the right carrier to get the job done. One of the most important factors is deciding on a freight carrier to transport the shipment. This is where a freight broker can guide you through the process.
Make sure to team up with an experienced company, not just someone looking to fill up a truck and make some extra money. Getting a load of goods from Texas to New York requires close attention to detail, and the broker's job is to handle all those details so you don't have to stress.
According to Yahoo Finance, recent shipping woes driven by the global pandemic and delays in transporting goods has brokers advising customers about ways to be proactive to avoid problems and keep up with demand. As the holiday season approaches and buying trends increase this will be pivotal to bottom-line success.
Almost before the freight rolls off the production conveyor, the question of how it's going to ship needs to be answered with a carrier in place and ready to go. Nothing stops forward motion than having to freight sit on the dock wasting time which eventually is wasting money.
Commercial freight shipping is a big undertaking regardless of the commodity. It takes the right partnership to make it all come together. The team at R+L Global Logistics has the knowledge base and network of carriers with the right equipment to suit a wide variety of requests for shipping services.
Shipping Services
Just about anything you can think of will need some sort of commercial freight shipping service. R+L Global Logistics provides a wide variety of options to securely transport freight along regional routes or cross country.
R+L Global Logistics services include:
Truckload shipping
Less-than-truckload shipping
Heavy haul trucking
Refrigerated shipping
Expedited freight
HAZMAT carriers
Flatbed carriers
White glove delivery
A freight broker will help figure out which service category is best for your shipment. In addition, shippers are able to track their freight from pickup to delivery without wondering if the goods will arrive on time or at all. R+L Global Logistics takes pride in a 99.5 percent on-time delivery. Experience reliable freight shipping with an industry leader.
The focus at R+L Global Logistics is to provide seamless, quality commercial freight shipping throughout the country. We take shipping your freight seriously. Regardless of where freight has to go, rely on us to get it there. Working with commercial freight shipping is what we do all day, every day.
If there is a special request for service, let us know and watch our team of experts customize shipping your freight. Taking a load of produce from the warm growing fields of the Southeast region, the farmers markets of the New England region will utilize a refrigerated truck or a dry van for shipping. Produce is a delicate and perishable commodity so time is ticking to ensure customers enjoy fruit and vegetables at peak freshness.
Sorting through all the options for shipping services can be easier with the help of a logistics expert who prioritizes the best interest of the shipper rather than forcing something they don't need. The team takes pride in providing excellent customer service from start to finish. If you are a shipper searching for the right fit, you are in the right place.
Commercial Freight Shipping Quote
When it is time to prepare a shipment of commercial freight for transport, one of the first things most seek to find out is how much it will cost. The logistics experts at R+L Global Logistics are able to promptly provide competitive quotes for freight costs.
Take a moment to fill out the freight quote form, submit it and someone on the team will reach out and prepare a freight quote to suit your shipping needs. It takes just a few minutes to fill out to obtain the best quote for commercial freight shipping rates.
(suggest a photo sample of the form from website)
The information needed on the form includes:
1. Shipment Type
2. Freight Route
3. Freight Cargo Specs
4. Contact Information (special instructions)
5. Delivery Date
A number of details are used to determine a freight quote. Logistics experts use the information provided by the shipper to create a quote so that information must be the most accurate available.
Calculating a freight quote includes:
Origin and Destination
Timeline of Delivery Service
Availability of Vehicles
Services Needed
The availability of vehicles is the one item that impacts a freight quote calculation that the shipper has no control over. All the other factors the shipper determines such as where the freight will be picked up from and the delivery location, how fast it needs to arrive and the services required to successfully transport.
However, if an available truck is not within a close proximity, the shipper in some cases will have to bear the cost to get the truck in position to pick up the load. The extensive network of carriers in partnership with R+L Global Logistics ensures there is always the right equipment available when goods are ready to ship.
Commercial Freight Shipping Available with R+L Global Logistics
With R+L Global Logistics, shippers can trust that our logistics experts at R+L Global Logistics will professionally handle the freight details and get all the details in place and have everything ready to go. Commercial freight shipping is the transportation bottomline that keeps the supply chain operating efficiently.
When you combine exceptional customer service with an excellent on-time delivery rate, the result means customers are in good hands during the entire process. R+L Global Logistics makes the process easy to access a variety of services to meet your shipping needs.
Contact R+L Global Logistics by phone at (866) 353-7178 to obtain a freight quote. We're ready to align our services to your business needs and build a strategic partnership to accommodate shipping your commercial freight from coast to coast.