Drayage is a trending term in today's transportation landscape. This essential service is what fits in-between the long hauls of intermodal transport. Do you understand what container drayage is and when this service comes in handy? Get answers to these questions and more with the information below.
Container drayage is the transport of containerized shipments. It usually takes place on a truck over a short distance, like from a port to a rail hub or a warehouse to a final destination. It fills in the gaps between methods of intermodal transportation.
There are literally thousands of drayage movements each year across the country. Learn more about what is container drayage, moving freight in containers, how it impacts the shipping and logistics industry.
What is Container Drayage Shipping?
Container drayage shipping is an essential freight service the facilitates the transport of goods over short distances and in between other modes of transportation. It plays a huge role in the supply chain and keeps goods moving.
Before you understand container drayage, you need to understand intermodal shipping. In the most basic terms, intermodal shipping refers to freight movement over multiple modes of transport. This means a shipment might be loaded into a 20-foot container at a warehouse, trucked to a terminal, loaded on a boat, shipped to a port, then travel by trail to a terminal, where it is then trucked to its final destination.
Drayage is a very important part of the container shipping process. Container drayage shipping fills in the gaps you'll find between intermodal shipping long hauls.
Shippers find that container drayage comes in particularly handy when shifting from one mode of transportation to another. For example, a container coming off a ship might need drayage to get to a train. Or, a container coming off a train might need drayage to get to a warehouse.
How do You Define Drayage?
In the simplest terms, drayage is a move over a short distance, generally between a port or cargo terminal to a customer facility. It is usually part of a longer move. You might use drayage to get a container from a ship to a terminal, from where it will be transported over a greater distance.
Container drayage is usually done by truck. It might include delivery or pickup from an intermodal terminal, border crossing point, or seaport. Most container drayage moves are within the same metropolitan area or region.
Classifications of Drayage
There are multiple kinds of drayage. In fact, the Intermodal Association of North America has identified 6 different classifications of drayage that shippers can use in a variety of situations, depending on their cargo transportation needs.
Let's define drayage a little further. The six types of drayage are:
Door-to-door drayage: This drayage classification involves over-the-road transport of a container from the port or terminal right to the customer's location. This is sometimes also called retail drayage.
Expedited drayage: You might need expedited drayage when your container freight needs to move fast. It usually involves time-sensitive goods.
Shuttle drayage: No room for your container at the hub? Shuttle drayage will take the container or intermodal unit from the hub to another yard.
Inter-carrier drayage: Sometimes called cross-town drayage, inter-carrier drayage will take an intermodal unit from one railroad to another so it can continue its journey.
Intra-carrier drayage: Also called IMX drayage, intra-carrier drayage moves containers from one port, terminal, or rail hub to another owned by the same carrier or brokered for the same shipment. This might be the longest drayage move and might reach beyond the intermodal hub.
Pier drayage: Just as it sounds, pier drayage involves moving a cargo container or intermodal unit from a rail hub to a port or pier.
Equipment for Container Drayage
Shipping containers come in different sizes and can serve different purposes. For the most part, the containers used for shipping are 20-feet, 40-feet, or 45-feet. They might be 6-feet or 8-feet high.
The containers used to transport goods are usually made from corrugated steel. They are designed to be shipped on a boat, by rail, or even on a truck, so most shipping containers are versatile enough for intermodal transportation.
Types of shipping containers might include:
Refrigerated or reefer
Open top
High cube
Flat rack
Standard or dry
Not sure whether you need your freight shipped in a container or trailer? Check out our article Shipping Container vs Semi-Trailer: Which is Better for Freight Shipping?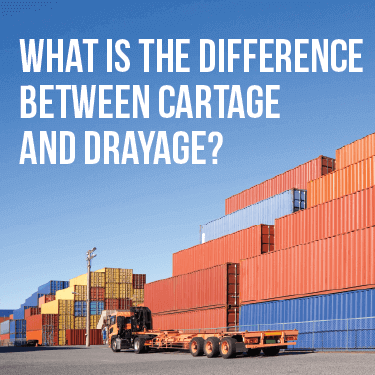 What is the Difference Between Cartage and Drayage?
You might hear the terms cartage and drayage used interchangeably. While both usually refer to the short-distance transport of goods between intermodal shipping legs, the similarities might end there.
Drayage involves moving an intact container from one point to another. Cartage, on the other hand, involves breaking the cargo down into smaller units and them transporting them from one point to another.
To learn more about the differences between drayage and cartage, check out our article on drayage vs. cartage.
Are Intermodal and Drayage the Same Thing?
Intermodal shipping is a big deal. The volume of freight shipped via intermodal transportation is steadily rising in the U.S. Intermodal freight volume is up more than 33% according to year-over-year comparisons according to the most recent data available from April 2021.
The rise in intermodal freight shipping is creating an increasing demand for drayage movement. However, it is important to note that intermodal and drayage are not the same thing -- even though the two services depend on each other.
Are intermodal and drayage the same thing? No. Intermodal and drayage are quite different. As noted above, intermodal refers to freight that is moved with more than one mode of transportation. Drayage refers to short-distance movements that connect the modes of transport when more than one shipping method is used.
Do you need an intermodal trucking company to make your next move? See how the right partner can help.
Why Is Container Drayage So Important Now?
Container drayage is a bid deal on today's freight landscape. A perfect storm of considerations is coming together to put drayage in demand for all kinds of intermodal shipments.
Why is container drayage so important right now? Let's look at a few of the factors making drayage an essential service on the freight market in late 2021.
Tight truck capacity
Freight capacity issues are impacting the shipping scene in big, big ways. Simply put, there aren't rough trucks on the road right now to handle all the shipments that need to move over the road.
As a result, many shippers are opting for rail movements rather than sending truckloads of freight. The increasing demand for rail shipments is creating the need for more drayage movements to connect terminals and rail yards.
Increasing volume of intermodal shipments
As noted above, intermodal freight volume is on the rise. Container drayage is essential to getting cargo from port to terminal to warehouse and even beyond.
The volume of intermodal shipping is increasing for many reasons. Tight truckload capacity, driver shortages, growing fuels costs, and even ongoing problems with freight delays are encouraging more and more shippers to opt for rail and intermodal transport to keep their supply chains moving.
Ongoing container shortage
It's a fact: the supply chain needs shipping containers to stay strong. Global and even domestic trade can't happen without shipping containers, and right now these corrugated metal vessels are in very short supply.
For the past 16 months, the shipping world has been dealing with a shortage of shipping containers. The coronavirus pandemic, blockage of the Suez Canal, and ongoing port congestion have all put shipping containers in tight supply. Drayage movements are important to freeing available containers for the next shipment.
Port congestion
Port congestion is a big deal in 2021, too. In fact, as many as 2 dozen ships might be waiting in the San Pedro Bay to berth at ports in Los Angeles and Long Beach at any given time. This bottleneck is slowing imports, disrupting supply chains, and causing sky-high demurrage charges.
Drayage is important to alleviating port congestion as it can get containers off the dock and on the move.
All these factors make container drayage an important part of the logistics landscape as 2021 inches closer to 2022.
Book Truck Drayage and Get Freight Moving Now
What is container drayage? These short-distance moves are essential to the transportation world and domestic supply chains for a number of different reasons.
Are you looking to book power-only shipping for container drayage? This is just one of the many services USA Truckload Shipping, powered by R+L Global Logistics, is ready to offer shippers.
As a full-service 3PL partner, we can help with each mile of the journey. Work with import experts when you need to move a container of goods from overseas and navigate customs clearance. Book port to terminal container shipping for drayage needs. Get space in a warehouse to store your goods until your customers' need them. Plan railroad movements, too, all with the same strategic partner on your side.
Freight services offered by USA Truckload Shipping, powered by R+L Global Logistics, are diverse and ready to meet your needs. Count on us when you need:
FTL and LTL shipping
Heavy-haul trucking
Expedited freight
White-glove delivery services
And many other full 3PL services
What are you waiting for? Reach out now for a hassle-free, no-pressure freight quote or speak to one of our friendly agents by calling (866) 353-7178. We'll find a freight solution for you now.