Wood and lumber are indispensable items when it comes to the world of manufacturing and construction. Making sure this fundamental commodity is available when it's needed is an essential. Critical supply chains can experience severe delays if the necessary wood and lumber isn't on hand or arrives damaged. To avoid needless delays it's important to understand the ins and outs of shipping wood and lumber.
Wood and lumber are shipped in a variety of different ways thanks to their versatile nature. When shipped on trucks, a flatbed trailer is typically used. The main concerns when shipping wood and lumber are avoiding excess moisture and managing the often hefty weight.
There are many details to consider when shipping wood and lumber in order to get it done successfully. Our in-depth guide below provides you with all of the information you need to make an informed decision when shipping wood.
How is Wood Shipped?
As noted above, wood and lumber are versatile when it comes to being shipped as freight. They're able to easily be shipped through multiple modes of transportation and in a variety of containers and trailers. This is due to the fact that most wood and lumber is very durable and less likely to experience damage during transport.
What is cargo lumber? You'll find wood and lumber are almost always transported by truck during at least the beginning or end of their shipping journey. Below, we take a loot at how wood is shipped by truck.
Truck
Along with shipping by rail, transportation of wood and lumber via truck is also very common. Freight trucks are almost always involved in at least some portion of a wood shipment. Even if at the beginning and end of the transportation journey, trucks are essential in wood shipments. Typically, trucks carrying flatbed trailers are the go-to choice over other trailer options.
Flatbed trailers offer some useful benefits when shipping wood. These include:
Ease of loading and unloading. Since flatbed trailers are open on all sides, they can be easily loaded and unloaded without needing a loading dock. When delivering wood or lumber to a construction site or other location without a dock available, this is a huge boost.
Protection from outside elements. Despite the fact that flatbed trailers are open, they can still protect their cargo. Most companies that utilize flatbed trailers offer a tarping service. Tarping involves securely wrapping a durable tarp around the cargo being shipped. This protects wood and lumber from a significant amount of moisture in the event of rain or snow.
Capability to handle oversized loads. Once again, the open aspect of flatbed trailers offers another benefit. Unlike closed containers or trailers, open flatbeds have the option to extend freight beyond the normal limits. These limits include freight that's too long, tall, wide, or heavy. When it comes to wood and lumber, oversized shipments are most often too long or too heavy. Thankfully, flatbed trailers can handle this job and get this important material delivered no matter the size.
Wood and lumber is also shipped in other types of trailers including dry vans, side lifters, and even dump trailers.
If you're shipping an oversized load of wood and timber, R+L Global Logistics can help you. Visit our heavy haul trucking page to learn more about how we can help you.
Looking for a solution to move truckload freight?
R+L Global Logistics handles truckload shipping. Let us know when and we'll handle the rest.
How to Ship Wood to Construction Sites
If you're shipping wood and lumber to construction sites, you're not alone. As noted above, wood is a foundational piece of building material used across a wide array of industries. Getting this to construction sites when it's needed is vital for meeting important deadlines. Not having the needed lumber will have a negative impact on achieving construction objectives.
Properly utilizing demand planning strategies can ensure that you have the necessary wood on hand at your construction site.
Demand planning for lumber feight incorporates the following processes:
Examining the necessary amount of resources (wood) that will be needed for each project.
Forecasting how many projects are going to be completed over a given time period.
Arranging for the production of the needed wood and lumber.
Coordinating the transportation and logistics of all of the wood in advance. This includes setting up a delivery zone that doesn't interfere with construction. It's also important to schedule deliveries appropriately to avoid bottlenecks in loading or unloading.
The above steps may seem elementary, but they're often skipped over. When proper planning isn't in place, mistakes are far more likely to occur. Even with the best plan in place though, last minute need demands can arise. If you find yourself in need of a quick shipment, be sure to utilize an expedited freight service. Using an expedited freight shipping company to fulfill your last minute needs will ensure you're still able to get the job done.
R+L Global Logistics is equipped to handle both your long-term and short-term shipping needs. If you've already finalized your demand planning for your construction projects and just need shipping services, we'll get the job done. Need help with demand planning and more? Our supply chain experts can work with you to craft a customized plan and ensure that your materials are delivered on time, every time.
Need to book flatbed freight?
R+L Global Logistics has the equipment you need.
How Much Does it Cost to Transport Wood?
The cost to transport wood is average or low compared to many other types of freight. This is due to a couple of factors. First, wood tends to carry less liability thanks to its high level of durability. There is a much smaller chance of wood being damaged during shipping vs expensive electronics. Second, wood can typically be loaded and unloaded with ease. Whether with a piece of equipment or by hand, wood is easy to handle.
With that being said, shipping wood between states will typically be under $1,000. Many interstate shipments of just a few hours will also be under $1,000. Coast to coast wood and lumber shipments will cross the $1,000 threshold and beyond. These estimates are based on standard shipments (not oversized or expedited) and don't include additional insurance.
Shipping Oversized Wood & Lumber
Oversized freight comes with its own special set of challenges and wood and lumber are no exception. Similar to the additional preparation needed when shipping wood internationally, the same is true for oversized wood and lumber. To further complicate the situation, each state has its own set of guidelines when it comes to shipping oversized freight. This means that when you have an oversized load moving across multiple states, even more planning and attention to detail is needed.
Most wood that falls into the oversized category does so based on length. Extremely long pieces of wood can be used for large construction projects including bridges. Stretch, or extendable flatbed trailers are most often used to transport this long wood. Lumber can also pack a significant amount of weight, either in the form of one massive piece or numerous heavy individual units. Standard flatbed trailers and trucks can typically handle these heavier loads.
No matter what way your wood is oversized, accuracy is extremely important. Providing precise dimensions guides your shipping partner to making the right choices for your freight.
When shipping wood and lumber, a freight company must:
Secure the correct type of trailer
Choose the proper route that accommodates the dimensions of the freight
Hire a pilot or escort vehicle as needed
Ensure that the proper signs, flags, and lights are used
Giving incorrect details about your shipment can lead to your shipping partner securing resources that aren't correct for your shipment. This can cause delays and additional charges for your shipment.
Shipping Pressure Treated Lumber
Shipping pressure treated lumber is a popular load to move as well because all of the ways in which pressure treated lumber is used. So what is pressure treated lumber? It's a wood that has been injected with chemical properties to protect wood from rot and insects. It's also surprisingly durable.
Pressure treated wood is used to:
Attach framing lumber directly to concrete and other masonry walls
Build fences and other outdoor items because it can hold up better against mold and wood rot and has moisture resistance qualities
Resist against fire
Keep insects out
Build durable structures at affordable costs
What Type of Wood is Pressure Treated Lumber?
Pressure treated wood is a soft wood that typically comes from southern yellow pine wood that is chemically treated to resist all the elements we outlined above.
Pressure treated lumber is easy to ship and deliver across the country on flatbed trailers that are open on all sides. Tarping can protect the wood until it reaches its destination.
Challenges of Shipping Wood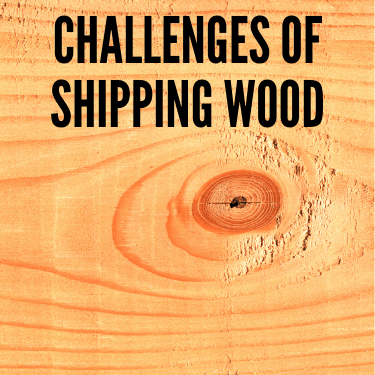 When it comes to the challenges of shipping wood and lumber, thankfully, there aren't many. As noted above, wood is a durable and strong material that doesn't face many of the challenges that more fragile freight does. With that being said, wood and lumber aren't indestructible during shipping and do face a couple of challenges that need to be accounted for.
1. Protect Against Moisture
Depending on the stage that wood is at when it's shipped, moisture can have a significant impact on quality. Unprocessed wood or lumber will have more time to recover during the processing phase from excess moisture. Wood that is needed for a construction project isn't so lucky. For example, using wet wood in the construction of a house or other building can lead to mold or warping of the wood. These are obviously major issues that must be avoided.
Avoiding all moisture during shipping isn't really possible. Wet roads naturally evaporate and that moisture can come into contact with freight. Thankfully, this is minimal. However, avoiding massive moisture from rain and snow is possible by implementing some basic protection protocols. When shipping via flatbed trailers, it's always a good idea to utilize a tarping service. With a securely placed tarp, wood will be protected from the outside elements and moisture will not be an issue.
2. Excess Weight
While wood and lumber are certainly stable and strong, this also comes with a hefty weight. Shippers can often find themselves in the situation of having to pay for a heavy haul shipping service. It's also a possibility that a shipment of wood too large for a standard load is instead split into two loads. Whatever the solution, an experienced freight partner will provide you with effective options and help you decide what's best for your situation.
3. Speed of Delivery
It's natural for tight deadlines to pop up in the manufacturing and construction industries. With wood and lumber being a major component in many cases, there is often a need for expedited shipments. Similar to shipments with excess weight, expedited orders shouldn't be a problem for an experienced shipping partner.
Many shippers choose to work with a truckload freight broker that has established partnerships with multiple freight carriers. These brokers are quickly able to find the best carrier for your shipment that can meet your need for speed without sacrificing quality. R+L Global Logistics offers a freight broker service using only qualified and vetted carriers that meet strict, rigorous standards.
Need Help Shipping Wood & Lumber?
When you need help shipping wood and lumber R+L Global Logistics is your go-to partner. We ship wood, lumber, and many other commodities for our clients each and every day. We work with the best flatbed carriers on the road today. Our top-notch customer service and 99.5% on-time delivery rate are just a couple of the reasons our clients continue to choose us.
If you're importing wood into the U.S., no need to worry. Our customs brokerages services will help you navigate all of the import regulations. We'll ensure that your shipment arrives smoothly with no delays or unnecessary fees. From there, we'll take care of warehousing, shipping and any other logistics services you need.
Contact our transportation and logistics experts today to get a hassle-free, transparent freight shipping quote. You can give us a call at (866) 353-7178 or click freight quote below and complete our short form.