If you're looking for high-quality fruit, then you can't get much better than fresh Georgia peaches. The state of Georgia is well-known for its ability to produce exceptional fruit. As such, it's earned the nickname 'The Peach State.' A hand-picked peach in Georgia is believed to be far more flavorful than any other peach you're likely to find. So, if you're interested in shipping Georgia peaches to markets around the US - and beyond - then there's plenty you need to consider.
One of the primary considerations is the shipping conditions. You must store your fresh Georgia peaches at the correct temperature, so they don't spoil before arriving at the end destination. Additionally, the packing process is vital too; it helps protect the peaches from damages. Choosing the right shipping service and complying with shipping regulations is also key to shipping Georgia peaches.
Facts About Georgia Peaches
Georgia is known throughout the US for producing the best peaches around. But, how did peaches come to this state, and why are they so famous? In this section, we'll provide some key facts about Georgia peaches that explains why they're so special in this part of the country.
Georgia has two different commercial peach-growing regions within the state - the central region, and the southern one. The majority of peach production comes within the central part (83%), while the southern portion is responsible for around 17%. Production is believed to be approximately 2.6 million peaches per year.
According to the Agricultural Marketing Research Center, Georgia is ranked as one of the top four states for peach production - this is out of a total of 20 states that produce fresh peaches. Peaches were first introduced to this region back in 1571 by Franciscan Monks from Florida.
In 1851, Georgia peaches first reached the wide US market. Before this time, other states would ship peaches in pulverized charcoal. However, an orchard owner in Georgia decided to change things by shipping them in champagne baskets. This resulted in better preservation, which allowed the peaches to be shipped out of Georgia to states across the country. In 1858, we saw the first introduction of Georgia peaches in New York City. From here, the peach industry took off!
Types of Peaches Grown in Georgia
The state of Georgia can boast a wide variety of peaches that are ready to be shipped during peach season. If you have a look around the region, then some believe you'll find over 40 different commercial varieties available. However, peaches in Georgia are commonly divided into three different types based on how the fruit clings to the stone inside. These types are:
Freestone: A freestone peach is classified by the flesh not clinging to the pit - or stone - inside the fruit. It falls away with ease, making it very easy to eat. This type of peach is commonly used for canned peaches as well because it's easy to take the stone out without damaging the flesh.

Clingstone: This type of peach features flesh that really clings onto the stone inside. As a result, it's not the best for canning or slicing up. However, it is arguably better for eating because the flesh sticks to the stone and doesn't fall away as you eat the peach.

Semi-cling: These peaches are rarer than the other two, and they blend the features of both. Here, the flesh somewhat clings to the stone, but it's not as strongly attached as a clingstone.
Generally speaking, most peach farmers will look to produce either freestone or clingstone peaches as these are the most popular. Of course, your peach of choice will depend on your purpose. If you want to produce canned peaches using hand-picked Georgia peaches, then freestone suits you best. If you want to sell the peaches - as they are - to be eaten fresh, then clingstone or semi-cling may be more appealing.
Alongside these types, you also have separate varieties of peach that are categorized by their size and taste:
Flavorich peaches are popular in the early weeks of peach season. They're clingstone and have a dark red color.

Rubyprince is a semi-cling peach that's dark red with yellow fresh - perfect for eating.

Georgiabells peaches are popular amongst bakers because they're freestone. The flesh is bright yellow, but the skin is more of an orangey/red color.

Suwanee peaches are some of the most versatile around. While the flesh is freestone, it's still perfect for eating right away - as well as working perfectly for canning or baking.

Juneprince is local to the southern part of Georgia commercial peach growing regions. As the name suggests, they're normally ripe in June, so there's only a four-week window to get them.
Other types of peaches are available, but these are the most common and popular in Georgia every year.
Where are Peaches Grown in Georgia?
In general, peaches can be grown throughout Georgia. However, a lot of the peach farms are private rather than commercial. Locals will grow their own peaches, but they don't always sell them or ship them.
As we mentioned earlier, the commercialized areas of peach growing are split between the south and central parts of Georgia. The main providers of peaches in the central area are Macon, Taylor, Crawford, and the aptly named Peach counties. If you were to look at a map of the state, then the central region of peach production would be found more or less along the Fall line. This area is considered by many as the best place to grow peaches, which is why so much of the trade is dominated here. The reason for this is that it sits in a fantastic location for fruit growing. This area is just far enough north to get a nice bit of chill during the winter, but south enough to avoid any late frosts. As a result, it sets up the conditions for an early harvest every year. Of course, the area will see lots of sunshine and produces very sandy soil - both of which are perfect for growing peaches.
The southern region sees less peach production, mainly because the harvest tends to be slightly later due to late frosts in long winters. However, you will still see millions of pounds of peaches grown and distributed from this area every year. The main counties here are Brooks and Pierce.
When is Peach Season in Georgia?
Georgia's peach season is relatively short. Depending on who you consult, it lasts anywhere between 12 and 16 weeks. Times vary depending on the weather conditions and where the peaches come from. Fresh peaches grown in the central region are more likely to be around for longer than those in the south.
Here are some more detailed facts about the peach season in Georgia that you need to know:
Most experts agree that peach season begins in the middle of May each year

Clingstone peaches are the first ones to ripen and are grown from the middle of May to the beginning of June

Semi-cling peaches are the next to come in, starting on June 1st. They are available through to the latter part of June.

Finally, freestone peaches are the last ones to develop. These ones are grown in the latter parts of June up until early August.

The peach season usually concludes before the first half of August is over. Typically, this is any time between August 10th and 15th.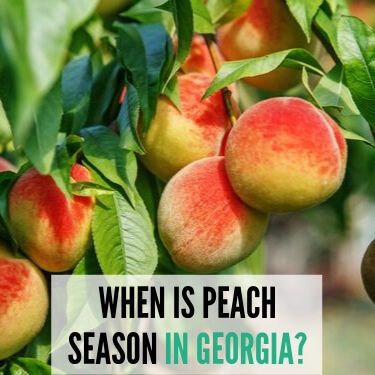 Before shipping peaches in Georgia, it helps to understand which variety you would like. As a result, you need to consult the different growing times in the peach season to figure out when you can ship your chosen variety.
How to Ship Peaches
Naturally, you must understand some of the critical things about shipping peaches. A peach is a perishable item, which means it can turn bad if the right conditions aren't provided. Not only that, but they're delicate as well. Many peach farmers will tell you to avoid squeezing peaches to tell if the fruit is ripe. This is because squeezing leads to bruising, which effectively damages the flesh and makes part of the peach inedible. So, when a peach is packaged and ready for shipping, it needs to be protected to avoid the products from banging against one another and bruising.
Below, we'll cover the two main things to think about when shipping Georgia peaches:
Shipping Temperature
Temperature is the biggest factor in slowing down or speeding up the peach ripening process. The higher the temperature, the quicker the fruit will ripen. As such, it can become overripe, making it inedible. This is a crucial concern when shipping Georgia peaches - particularly across vast distances.
Ideally, refrigeration techniques should be used to lower the temperature of the peaches. It's widely suggested that the best way to store your peaches is at a temperature of around 32F - which is approximately 0C. As you can imagine, the peach season in Georgia is especially warm. So, think about how much warmer it will be for the peaches inside of a shipping container. If you don't take action to refrigerate the peaches and get the temperature close to 32F, then your peaches will deteriorate before they reach their destination.
Packing Peaches
Of course, getting the correct shipping temperature is only one part of the process. Alongside this, your peaches need to be packaged safely. Typically, peaches are packaged in plastic crates with lids on top of them. They are tightly packed together, which prevents the peaches from rolling around in the crates and banging against the sides. As such, this helps minimize any bruising through the shipping process.
By having lids, it means the crates can be stacked on top of one another without crushing any peaches below. This makes it easier to ship multiple crates full of peaches all in one go. Some type of protective material is often put underneath the peaches in their crates as well. Normally, this is either packing paper or straw.
If you're shipping in Georgia, you may have to go through the Port of Savannah. Check out our article on the port's expansion to learn more.
Which Type of Shipping Service Should be Used?
Various shipping services are available when you're looking to ship Georgia peaches. So, in this section, we'll discuss some of the different options and why they might be beneficial for you.
LTL vs. FTL
First of all, you have LTL (less than truckload) and FTL (full truckload) shipping options. LTL is typically used if you don't need to fill up an entire truck with your peaches. Conversely, FTL is for people who will need a whole truck for their peaches.
Each option comes with pros and cons, and these are the main differences between them:
LTL splits the cost of shipping between multiple companies. You only pay for space/weight you use, and other companies pay for any space they use. FTL means you pay for the entire shipping costs.

FTL typically accommodates shipments that exceed 15,000lbs. If your shipment is below this, then LTL may be better.

FTL is the faster delivery option as all the shipment is picked up in one go. With LTL, other stops are needed to fill up the truck with shipments from other companies sharing the load.

FTL can also lead to better handling as the truckload gets loaded once, then unloaded at the end destination. With LTL, your shipment may be moved around or re-loaded as other shipments are put on.
There's no right or wrong answer; different people may find either option more appealing. It mainly comes down to the size of your shipment, how much you can afford to pay, and the speed with which you need your peaches to be shipped.
Expedited vs. Standard Shipping
Expedited shipping is a faster method of delivering your peaches compared to the standard option. This is primarily used in cases where you're desperate for your peaches to be provided by a specific time. Generally speaking, the fastest you will receive standard shipping goods is 3 working days. It could be longer than that, but it will rarely be shorter.
By contrast, expedited shipping can be done on the same day, the next day, or even a specific day and time. It will be more expensive, so it really depends on how urgently you need the shipment to be delivered. If you have time to spare, then a smart way of saving money is to pay for standard shipping. But, if you want to ship your peaches as quickly as possible, then you should opt for expedited delivery.
Alongside this, you can also get guaranteed time delivery shipping too. Normally, this comes as part of the expedited shipping package. Here, your shipment is guaranteed to be delivered by a certain time, and you can claim money back if it doesn't. This is again valuable if your peaches need to be shipped by a specific time.
Regulations for Shipping Peaches
The shipping of Georgia peaches comes under different regulations to help prevent the spread of diseases or certain species of bugs. A key thing to be aware of is the Country of Origin Labeling (COOL) law. This dictates that you must use product labels that identify the source of your food. As such, your Georgia peaches need to be clearly labeled, so people are aware of where they came from.
The US Department Of Agriculture may also put restrictions on some fruits and vegetables being shipped to other areas of the country. They won't allow you to send peaches that don't meet the highest quality standards as it could lead to bug infestations. As such, you must ensure that your peaches meet all the necessary quality requirements before you ship them off.
Need Help Shipping Georgia Peaches?
If you want to ship your Georgia peaches, Georgia poultry or even Georgia red clay, then you must work with an experienced shipping & logistics company. In doing so, you guarantee that your peaches reach their end destination as quickly as possible, while in perfect condition. At R+L Global Logistics, we offer shipping and logistics services that are perfect for you in all regions of the country, including Southern California.
We operate both domestically and internationally, providing you with the means to ship Georgia peaches wherever you want. Our service goes above and beyond what's expected as we offer both FTL and LTL shipping, along with expedited service. We also cater specifically to the consumer goods industry, providing a range of tools tailored to your needs.
No matter your specific needs or budget, we work hard to make sure that shipping Georgia peaches are both easy and cost-effective. Contact us today to receive a quote for your shipment.