Rail drayage is a service that shippers often overlook when transporting goods into and across the U.S.. While port drayage and OTR shipping are more common, shippers are finding that there are benefits to shipping freight by rail and having those goods drayed to their next location.
Rail drayage is a shipping service used to transport goods a short distance from a rail ramp to a nearby warehouse or distribution center. Using a combination of rail and drayage options can help save on shipping costs by only using truck or chassis transport for a small portion of the shipping process.
Rail drayage will be easy for you to use once we've explained how this great service works.
What Is Rail Drayage?
Rail drayage is a short haul service that moves freight by truck from a rail yard to a nearby destination. Typically, the nearby destination is a warehouse or distribution center. This service is completed using a few simple steps.
A cargo container arrives at a rail terminal
The container is loaded from rail to a truck
The truck transports the cargo container to a nearby facility
The container is unloaded at the facility
After unloading, the container is taken back to the rail terminal and placed back into circulation
These steps make rail drayage an efficient way to move freight out of a ramp in a short amount of time.
Is Rail Drayage the Same as Intermodal?
Rail drayage is a type of intermodal shipping, but not all intermodal shipping utilizes rail or drayage services. When freight is shipped intermodally, it means that multiple modes of transportation will be used to deliver the freight to the final destination. Intermodal shipping is a service that's become extremely popular over the last few years.
Intermodal Loads by Volume (2018-2022)
| | |
| --- | --- |
| Year | Volume |
| 2018 | 18.2 Million |
| 2019 | 18 Million |
| 2020 | 17.7 Million |
| 2021 | 18.1 Million |
| 2022 | 17.7 Million |
Providing by the Intermodal Association of North America
Because rail drayage utilizes truck transportation to move freight that has come off a rail, it is considered a form of intermodal transportation. While the truck used to take freight from the rail yard might not be dropping it off at the final destination, multiple modes are still being used to move the shipment through the supply chain.
What sets these services apart is the distance they transport freight. Intermodal shipping encompasses the entire journey of a shipment. Rail drayage only takes up a small part of the shipping process since it's used only to move freight a short distance. Therefore, rail drayage is a service that can be used within intermodal shipping.
Our article on intermodal drayage will give you more information about this type of service.
What Are the Benefits of Using a Rail to Perform Drayage?
Having an efficient supply chain is extremely important for shippers. Rail drayage has a few benefits that will give shippers the supply chain they require.
These include:
Reduced fuel costs
Efficiency
Speed
We'll explain each of these benefits and how they contribute to a more efficient supply chain.
Reduced Fuel Costs
Trains are much more fuel efficient than trucks. Therefore, the less fuel that's used, the cheaper costs will be for the shipment. Another reason truck shipping is so expensive is due to the fact that gas prices can fluctuate greatly.
The cost of fuel can also fluctuate depending on factors like:
Supply and demand
Cost to drill for oil
Cost to refine oil
Cost to transport
Fluctuating fuel costs combined with less fuel efficiency makes truck shipping more expensive than rail. With rail drayage, any freight that arrives at the rail yard has already traveled most of the journey to the final destination. A truck will only be transporting freight a short distance, which means fuel costs won't be high.
Learn more by checking our article on Truck vs Rail shipping.
Efficiency
Shippers of extremely large quantities of freight will find rail drayage especially useful. Rail cars are lined up behind one another sequentially, making the loading and unloading process easier.
Another reason why rail drayage is efficient is because more freight can be transported by rail at once. This means that freight arrives at the rail terminal all at the same time instead of waiting for shipments to arrive one after the other.
Speed
Rail drayage can also be much faster than port drayage. Freight traveling by rail isn't quite as susceptible to many of the logistical challenges that plague port drayage services.
Some of these logistical challenges include:
Weather
Traffic
Congestion within the port
While rail ramps can be affected by these issues as well, the level of congestion at many terminals has yet to reach the levels that many of the country's most popular ocean ports have.
When Should Rail Drayage Be Used?
Rail drayage is a beneficial service for shippers to use. However, this service might not always be useful depending on the circumstances that shippers are dealing with. It's important to be able to identify when rail drayage will be useful and when another service should be used instead.
Find out how to keep your supply chain moving even during crises like a Rail Strike.
Rail Drayage vs Port Drayage
The best time for shippers to use rail drayage is when they have multiple containers of freight that need to be transported far distances. Rail transport is much more fuel efficient, which makes transporting large quantities of freight a bit cheaper. Freight will only have to travel a short distance once transferred to a truck.
Port drayage can still be beneficial for shippers as well. This drayage service works best when the final destination is already close to the port. When the final destination is already close, port drayage is the better option to use.
Have freight arriving from overseas on the Atlantic Coast? Check out our article on east coast drayage if you need to get your freight out of a port.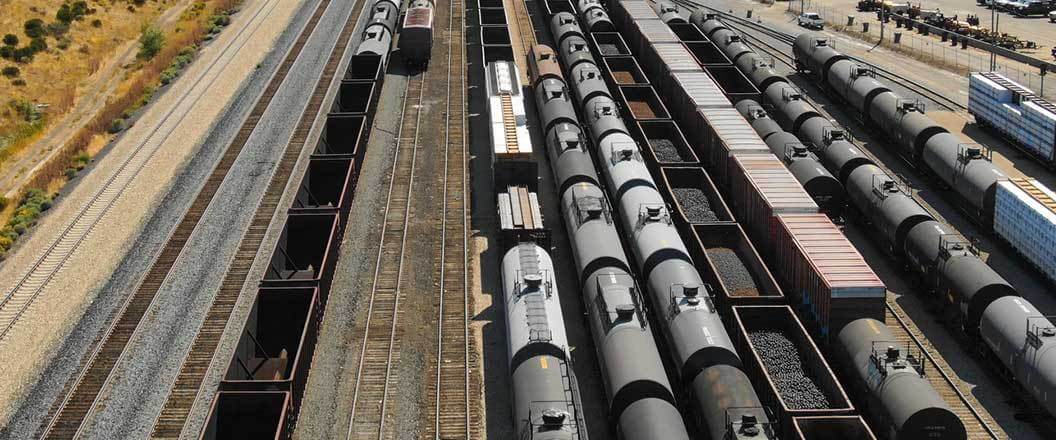 What Types of Freight Can Be Moved Using Rail Drayage?
There are many kinds of freight that shippers will need to move using drayage services. Fortunately, rail drayage can accommodate just about every kind of freight that a shipper could have.
This includes:
Standard containerized freight
Refrigerated and perishable goods
Hazardous goods
Bulk cargo
When rail drayage is performed, different kinds of equipment will have to be utilized. Specially designed chassis are used to transport any type of containerized freight. Bulk cargo will have to travel in one of two types of trailers.
These are:
Tanker trailer
Pneumatic trailer
Liquid bulk cargo will travel within a tanker trailer while dry bulk cargo will travel within a pneumatic trailer. Thanks to these types of trailers and equipment, shippers can use rail drayage services regardless of what type of freight they have.
Some shippers get drayage and cartage services mixed up. Our article on drayage vs cartage will show you the difference.
Ship Your Freight With USA Truckload Shipping
Whether you need rail drayage, port drayage, or another other type of ground transport, USA Truckload Shipping can find you a reliable carrier to transport your freight. Our network of carriers spread throughout North America gives us the ability to accommodate the needs of our customers.
Our carriers are able to transport the following type of freight:
Standard truckload freight
Hazardous goods
White glove delivery
Expedited freight
Drayage
With these services, customers won't be restricted in the types of freight they need transported. Fill out your truckload quote, a rail services quote, or contact our team at (866) 353-7178 for more information about the services we provide.