Like any vehicle, boats and other watercraft need to be repaired from time to time. So if you're a hardware manufacturer, it stands to reason that freight shipping marine fasteners is on your radar. Doing so isn't very hard whatsoever but making sure you have the right partner will go a long way toward success.
To avoid making the process harder than it has to be, pairing with a logistics company that is aligned with your values and treats your load as valuable while you're freight shipping marine fasteners can be the answer to your problems. Read more to learn about the products your customers will expect and the best ways to get them there.
What Are Marine Fasteners?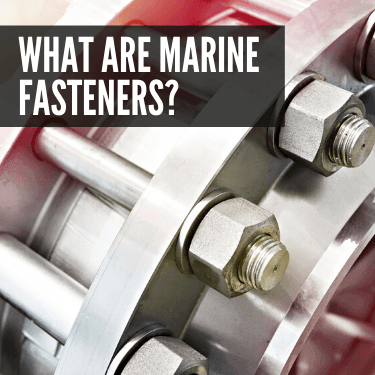 Sometimes, the name really does say it all. A marine fastener is anything — metal, plastic or wood — that is used to secure parts of the boat to one another. There are many different kinds, even within a single category, so being able to offer a large variety to customers is a big advantage.
Some of the different marine fasteners commonly used include:
Screws
Bolts
Washers
Nuts
Pins
Nails
Brads
Hex keys
Drill and driver bits
Rods
Studs
Rivets
Cable ties
Even listing the different pieces of marine fasteners doesn't quite do justice to the differences that exist among the same kind. For instance, stainless steel fasteners come in three separate types: 18-8, 304 and 316. This is to denote the corrosion resistance each kind offers, with 18-8 being the lowest and 316 being the highest. However, even that comes at a small price — 316, while offering the best corrosion protection, has the lowest tensile strength. So it is good for customers to know about the nuts and bolts of their marine fasteners.
This is just one example of the nuances that will need to be properly relayed to customers so that they have confidence they're buying the right marine fastener for what they're trying to repair.
Preparing Your Marine Fasteners For Shipping
By their very nature, marine fasteners are often small pieces that are crafted to be extremely durable, so preparing the actual parts isn't the hard part. The boxes that the marine fasteners are packaged in, either to be sold in bulk or protected during shipping are normally regular cardboard.
So to make sure the product and boxes arrive on shelves in the best condition possible, you should consider putting the items on pallets only as high as they can be stacked without the boxes being crushed and shrink-wrapping them. This will greatly restrict the movement of the freight during transit and be a good practice for you to protect your own merchandise.
Shipping Your Marine Fasteners
If you're shipping marine fasteners in the continental United States, there are a few modes of transport that could potentially be used. All have their own positives and negatives but might be the best fit for you depending on your particular circumstances.
Truckload shipping is a great way to ship a full load at once and also offers one of the few door-to-door shipping options in the freight hauling industry. You can also buy a full truckload or just space on a load with other companies' merchandise. The drawbacks are trucks can't drive on water, so air or ship would have it beat as a primary method of shipping for going overseas. A truck is also not the most energy-efficient way to move a load, although the industry is making strides in trying to be greener.
Also, sometimes the sheer amount of miles can mean that a plane is much faster for a same-day shipment if over a vast distance.
Since we've already mentioned planes and ships, the drawback to using a plane for shipping is the high cost while ships are used more for coastal deliveries or for deliveries from overseas. The fourth option is by rail, but trains are often on a set schedule and rarely are able to ship from your factory to retailers, which still necessitates the need of an 18-wheeler.
Also, intermodal transportation exists, which is using two or more different kinds of transportation — i.e. truck and rail — to complete a single delivery. This is being used more often but to complete such a transaction almost always requires a truck for some segment.
How Can a 3PL Help Your Marine Fasteners?
The first and most obvious way a third-party logistics company (3PL) can help your business is by providing excellent freight hauling service. If the company in question cannot do that properly, you won't even consider the following ways they can also assist you.
A well-positioned, forward-thinking 3PL will also have warehousing solutions to offer its customers. These warehouses, set up in strategic locations across the country (and maybe even the world), can house your products close to where they will eventually end up at retailers or directly to a customer's door.
With these warehousing services also comes the ability to have the 3PL run the supply chain on your behalf. This would entail storing the marine fasteners, fulfilling the orders that come in and then shipping them to the final destination. While this would incur additional costs for your business, it might be worth the money so you don't have to make an extra, large investment in renting out an entire warehouse or building one if you already haven't.
USA Truckload Shipping, powered by R+L Global Logistics, can help you move marine hardware and more. We know how are oats transported, can help with shipping plants in bulk, and much more.
Freight Shipping Marine Fasteners With R+L Global Logistics
Once they are produced and ready to go out the door, consider freight shipping marine fasteners with R+L Global Logistics and make the nuts and bolts of your business' transportation as strong as you manufacture your nuts and bolts to be.
You might ask yourself what truly separates R+L Global Logistics from its competitors, and there are a few things. First of all, we boast a 99.5 percent on-time delivery rate, which means your goods will be to their destination early or at the agreed-upon time nearly every time. R+L Global Logistics also puts forth industry-leading customer service to make sure any inquiries are met with a positive attitude and appropriate response.
We also have a network of trucking partners so that you can find an available load whenever you need it, and offer the added option of expedited shipping when you require a shipment to get moved as soon as possible. Also, R+L Global Logistics can offer you other logistics services such as warehousing, and order fulfillment and distribution to your customers.
So when you're ready to begin freight shipping marine fasteners, contact the experts at R+L Global Logistics by calling us at 866.353.7178 for a free quote today.