The dairy chain supply chain can be a complicated process. Milk and dairy products need to travel from farm to plant, then from plant to store. Figuring out dairy logistics can be daunting, especially when you consider government regulations and more. Learn about dairy logistics and get your milk on the moo-ve.
Dairy logistics involves the transport of milk, cheese and other dairy products. The goal in dairy logistics is to keep the product clean, keep the product cold and keep the product moving. In most cases, milk is transported by the truckload in tanker trucks. These insulated, sealed trucks are an essential part of the dairy logistics process.
Dairy Logistics in California
California is a key piece of the ice cream pie when it comes to dairy within the United States. It has been the largest dairy-producing state in the country since 1993 and dairy is the top agricultural product in the state. This means that dairy production is big business in the Golden State.
California accounts for 18% - 20% of the United States milk production. Milk is the largest California farming commodity based on revenue (putting it slightly above almonds) and it ranks first in the United States for the production of milk, nonfat dry milk, yogurt, butter, ice cream and whey protein concentrate.
Dairy products in your local grocery store like milk, butter, yogurt, ice cream and cheese start out on California farms. Most California dairy farms are family-owned businesses, rather than big corporations. California milk and milk products from family-owned farms have generated over $63 billion in economic activity for the state.
Dairy Logistics in New York
Dairy products account for a huge portion of agricultural shipments from New York, and that plays a large role in their economy. New York has over 4,000 different dairy farms, both family-owned and large-scale operations, and is the 3rd largest producer of milk and dairy products in the U.S.
Dairy is the largest portion of agricultural shipments from New York, providing the state with $2.7 billion in sales each year. That makes dairy farming provide 45% of all agricultural sales in the state! New York is also the number 1 producer of cottage cheese (26.7%) and sour cream (19.5%) in the nation, with large market shares in yogurt, milk, and other cheeses as well.
Understanding dairy farm logistics, and how those products end up on your grocery shelf, means you need to know a little about how the dairy industry works.
Dairy Logistics in Pennsylvania
Dairy products are the most valuable type of agricultural commodity sold in Pennsylvania. The dairy industry in Pennsylvania produces annual revenue of almost $2 billion, making it worth roughly a third of the state's entire agricultural revenue! In addition to that impressive statistic, 99% of all Pennsylvania dairy farms are family-owned.
Pennsylvania is home to over 500,000 dairy cows on 7,000 different farms. Those farms produce an average supply of 10.6 billion pounds of milk each year! It is the 6th largest producer of dairy products in the U.S. and is known for selling ice cream, butter, and soft cheese. Some of Pennsylvania's milk stays in the state, however, to be used in the production of chocolate, cakes, and other processed foods.
The Dairy Supply Chain
The first step in the dairy supply chain starts down on the farm. Special equipment pumps milk right from the cow and into a storage tank. The tank is refrigerated and cools the milk quickly. This quick-cooling method is essential for product freshness and safety. The milk never touches human hands, which is an important safety precaution in getting your milk from the farm to the end consumer's refrigerator.
Testing is an important step in the dairy supply chain. Milk is tested for antibiotics on the farm and when it gets to the plant. Milk with antibiotics cannot reach the public. Farmers can face financial penalties if their milk tests positive for antibiotics.
From there, milk takes a ride on a tanker truck and goes to a processing plant. The milk travels in a sealed tanker truck. Large farm operations might need to move enough milk to fill a truckload, other times the truck picks up milk from a few farms before heading to the plant.
Milk trucks have a 40,000 pound weight limit in New York, and an 80,000 pound limit in California. This means a milk truck can move a lot of product. At the processing plant, milk is homogenized, pasteurized and packaged in cartons. After these processes occur, milk is ready to be transported to retailers and the end consumer.
Transportation of Milk and Dairy Products
The end goal of dairy products logistics is to implement a process that creates a high standard for qualified, fresh products with a limited shelf-life. Therefore, an effective strategy for logistics in the milk industry requires that certain critical issues are considered when transporting milk or dairy items. The following components should be assessed during the logistics process.
Hygiene:

Milk must be produced in a hygienic environment to maintain superior quality.

Hygiene

is based on three groups: physical, chemical and microbiological. Physical hygiene is determined according to density, freezing point and acidity of the milk or dairy product. Chemical hygiene stems from the product's transportation and storage. Microbiological hygiene is based on temperature which prevents microbiological reproduction.

Packaging:

The milk's packaging plays an important role in keeping the product fresh for an extended period of time. The packaging material should be easy to wash, clean, antiseptic, rustproof and no substance should get into the milk. This decreases the likelihood of microbiological reproduction.

Temperature:

The temperature of the dairy food must be controlled and kept cool or risk reproduction of bacteria. Bacterial spoilage can be safeguarded using cooling systems to control the ongoing temperature.

Humidity:

Moist or dry air can create a conducive environment for bacteria and other germs to reproduce. Proper air circulation within the transportation vehicle is needed to allow airflow and impede humid air.

Time:

Excess time of the dairy product can cause non-freshness or bacterial spoilage. Batch numbers and best before dates are used to prevent both issues. The batch numbers and best before dates should be cautiously scrutinized in order to avoid a poor product reaching the consumer.

Distance:

This component is supplemental to time, as the product has to be transported over the given distance within the desired time frame, or risk exceeding the best before date. The ability to cover the distance can affect cost if the product isn't delivered on time and spoilage occurs.

Transportation Vehicle:

the vehicle should have the appropriate equipment to keep dairy products fresh and safe for consumption. Any vehicle moving the goods must accommodate the short shelf life and delicate conditions in which dairy products must be kept.
Lastly, according to the critical issues listed above, transportation vehicles should be designed or chosen according to those properties' availabilities. The trucks should be able to provide needed equipment for making the existing properties remain from collection to retailing time, but those changes are expensive and the most cost-effective ones are always best for dairy firms.
Each factor needs to be considered and accounted for when dealing with dairy product or milk transportation. Dairy products are highly sensitive and even a short encounter in an extreme outside temperature can cause damage to the product. It is critical that the milk is moving at all times because milk has a high risk of expiring and spoiling.
Therefore, many problems in the dairy supply chain can be combated with cool and cold temperatures when transporting goods from location to location. The best way to ensure a high-quality product arrives at the retail store is to utilize cold chain logistics. This stops any issues caused by unwanted or extreme weather conditions, thereby reducing potential wasted product and loss of profit.
Need to know more about how to ship cheese? See how a strategic freight partner can help.
Dairy Logistics and the Cold Chain
Dairy logistics is a kind of cold chain logistics that works with supply chain management. Cold chain logistics refers to a supply chain that relies on the ability to keep cargo temperature-controlled.
An unbroken cold chain means the product never warms above a certain temperature. Raw milk needs to be stored and moved at 38 degrees and the cold chain makes this possible. This ensures the safety and integrity of the product.
The essential elements of a cold chain include:
Cold Storage:

Provides facilities for storing goods over a length of time while the goods are waiting to be sent to a further location for sale or an intermediary location for processing and distribution.

Cold Transport:

The ability to move goods while protecting the integrity of the product by maintaining a stable temperature and proper humidity conditions.

Cooling Systems:

Keeps products at their proper temperature for processing, storage and transportation.

Cold Processing and Distribution:

Supplying facilities that have sufficient sanitary conditions in order to transform and process the goods. Also used for consolidating and breaking down loads of crates, boxes and pallets for distribution.
There are several methods that can be employed with the dairy supply chain in order to make certain that the shipment remains within the specified temperature range for an extended period of time.
The type of container and the refrigeration method used as well as additional factors like the duration of transit, size of the shipment and outside temperature can influence the shipment. The key types of cold chain science that lead to a temperature-controlled environment during transportation include:
Dry Ice:

Made of solid carbon dioxide and stays around -112° F, dry ice is able to keep shipments frozen for a lengthy period of time. It does not melt, instead turning into vapor once it contacts air.

Gel Packs:

Packages that contain a substance that can change phases (solid to liquid, vice versa) in order to control the temperature environment. Packs can start either in a refrigerated or frozen state, depending on the shipping specifications. The melt to liquids while in transit and simultaneously maintaining the same internal temperature.

Eutectic Plates:

Also called "cold plates," these are similar to gel packs but are filled with a reusable liquid. They are often used in rolling refrigerated units and delivery vehicles to keep a consistent temperature for short periods of time.

Liquid Nitrogen:

One of the coldest methods, this substance stays around -320° F and can keep packages frozen for a long period of time. This is mainly used when moving biological cargo like tissues or organs. It is considered a hazardous material when used with transportation.

Quilts:

Acts as a buffer between temperature variations and helps to keep a consistent climate. Quilts are insulated and placed around the freight to keep warm air out and cold air in. They are able to keep goods frozen long enough that more expensive refrigerated devices are not necessary. Used often when outside temperatures are substantially different, such as the summertime.

Reefers:

Temperature controlled transportation units that are insulated and specifically designed to create temperature-controlled air circulation with a refrigeration component in each vehicle. Reefers are the generic term and can be a van, small truck, semi-trailer or a standard ISO, or intermodal, container.
Refrigerated containers, or reefers, can safeguard the freight against spoilage because it can adjust to a wide range of temperature settings and temperature-sensitive cargo. They are a common way to transport temperature-controlled goods when dealing with dairy transport logistics.
Specifications of a Refrigerated Truck
A reefer truck is versatile and able to transport around 20-25 tons of refrigerated or temperature-sensitive goods. The supply chain of the milk industry requires strict processing and handling requirements to guarantee that consumers receive the freshest and safest milk possible.
The FDA granted the Food Safety and Modernization Act in 2010 that allows them to right to mandate product recalls and established stricter requirements on sanitary transportation. This means that dairy transport logistics must place a heavy emphasis on the quality and safety of their product when it goes from the farm to the store.
Hence, the importance of a reefer truck. Reefers have gratings on the floor and cargo must be kept 15 cm from the ceiling in order to enable proper air circulation. The refrigerated unit must have an electric power source throughout transportation and delivery. This allows cold air to continuously flow out of the bottom of the reefer and circulate to the top and back down.
All reefers are painted white to increase the albedo, or diffuse reflection of solar energy. It should be noted that refrigerated units are used to keep the internal temperature within a pre-set range, not cool down the inside components. Therefore, the cargo should be at the required temperature before it is loaded which necessitates specialized warehousing, loading and unloading facilities.
The technology for refrigerated units has continued to improve. Some reefers now have sensors that monitor the temperature within the vehicle and if the inside becomes too cold, the cooling component will auto shut off and allow the correct temperature to resume. This makes the temperature control more reliable and allows the reefer to regulate itself.
The dairy industry is one of many that employs refrigerated units. The following products and industries necessitate reefers and the cold chain process:
Like milk and dairy, all of these goods must be kept at a low-temperature range throughout storage, distribution and transportation.
Additionally, there are many pieces that make up the cold chain process, not just refrigerated vehicles. The term is coined "cold chain" because there are several parts that make up the process, like links in a chain. It takes different types of transportation, facilities and storage places to keep the product at its mandated temperature range. Aspects include:
Refrigerated Warehouses

Commercial Refrigerated Warehouses

Refrigerated Production Areas

Refrigeration Transportation

Local Refrigeration Transportation

Refrigerated Equipment at Retailer and Wholesaler Locations
Linking all of the logistical elements together is what guarantees a fresh, safe product from the farm to the distributor to the store. Break one link in the chain and you risk loss of product and profit!
Cold Chain Technologies for Dairy Transportation
Technology plays a huge role in the dairy logistics cold chain process. Technology is necessary for efficient delivery, sanitary requirements and safe cargo. Cold chain logistics technology include:
Data Loggers:

Oversees the cargo temperature and sets off an alarm if a problematic issue occurs

Tracking Devices:

Tracks refrigerated freight with GPS technology in real-time

Bar Code Tracking:

Inventory tracking that monitors each individual item being shipped
Refrigerated unit technology takes it a step further by making sure the vehicle transporting the goods, not just the goods, has optimal equipment. This can mean:
Insulated containers

Proper venting of chutes for air distribution

Top of the line vehicle, or reefer, equipment

Emission compliant vehicle which inhibits cost saving
Evaluation and Control in Cold Chain Dairy Logistics
The cold chain for dairy logistics is a very controlled process. Factors in the process include:
Carrier data to assist shippers. Carriers can provide online tracking for real-time status updates.

Use of refrigerated or reefer trucks and refrigerated warehouse.

Specialized packaging and insulated trucks and shipping containers.

Temperature data loggers that keep track of a products temperature history.

Documentation that each step of the cold chain was followed precisely.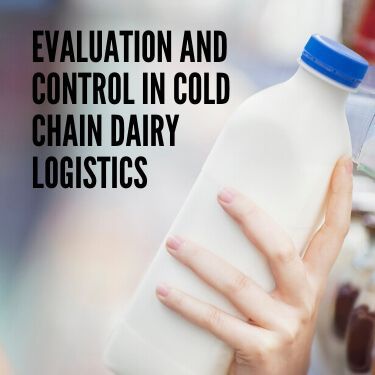 A breakdown in the cold chain process of dairy milk logistics can cause a loss of product and thereby a loss in revenue and profit. That is why it is imperative to constantly monitor the product and its best before dates, the extenuating factors that contribute to its freshness and choose the right transportation to move the milk and dairy product.
Freight shipping that needs refrigerated usually means an immediate turnaround to be loaded and sent to its intended location. Temperature-sensitive goods cannot sit around waiting for delivery!
Dairy Logistics with R+L Global Logistics
R+L Global Logistics can expertly handle your unique request that accompanies refrigerated shipping. We utilize state-of-the-art technologies to have a secure and smooth process for temperature-sensitive freight. Reach out to R+L Global Logistics today for additional assistance getting your milk on the move.
An experienced freight broker can help you move dairy and other freight shipping from California to New York and other states by the truckload with cold chain procedures in place. Rely on R+L Global Logistics' experience in dairy logistics to get your freight from the farm to the plant or the plant to the store quickly and efficiently. Reach out to R+L Global Logistics today for a freight shipping quote and get the help you need to get your milk on the move.