With the state of the world, it might seem difficult to get commerce accomplished with the variety of new difficulties that keep popping up. One of the most important aspects of getting business completed is making sense of freight capacity issues in 2021. If you can't get your goods into the back of an 18-wheeler, then you're basically stuck at a standstill.
So making sense of freight capacity issues — where capacity is the number of trucks available at a given moment — is absolutely essential in order to make sure your goods have a spot on a truck to get. Problems can range from lack of drivers and trucks to increased competition for those limited spots. Read more to learn how to combat these issues and secure capacity for yourself.
What Is Capacity In Trucking?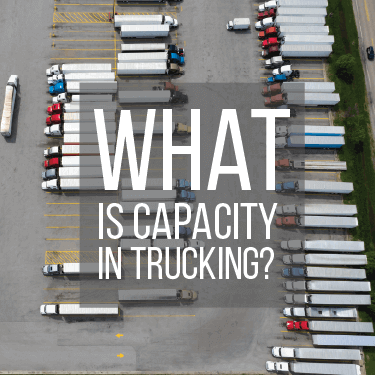 Trucking or freight capacity is the amount of trucks available at a given time. Trucking capacity definitely dictates what can be shipped in a timely manner. With millions of trucks on the road in the U.S. alone, capacity has been thought of as robust overall.
However, capacity challenges have turned trucking capacity on its head since the early parts of 2020. After an initial lull that actually saw the capacity greatly outstrips the demand, that dynamic has done a complete 180-degree turn where capacity is currently unable to keep up with the strong demand for freight haulers due to increased consumer spending.
Why Is Freight Capacity So Tight?
There are a number of factors individually occurring that, combined, can really put a giant squeeze on everyone's ability to freely have their products transported whenever they want in all North American freight markets. Each one individually would tighten the supply but all of them together can cause some real problems.
Lack of Truck Drivers
When the COVID-19 pandemic hit America full-force in 2020, it sidelined many truck drivers when the world temporarily ground to a halt. Once many of these drivers were sidelined with no timetable on when conditions would improve, they made the decision to either retire or pursue a different career path altogether.
Suffice to say, the number of drivers who came to this conclusion greatly outstripped the number of new drivers entering the industry. Frankly, this is an issue that the trucking industry as a whole is still trying to recover from. While there is nothing you as a customer can do to solve this problem while the number of truckers rebound to pre-pandemic levels, it's still important to understand what's going on.
It's also important to note that less drivers are completing their requirements and graduating from a commercial driving school since the pandemic began. This is basically a siphoning off of new labor that freight hauling relies on to replenish its ranks and keep its trucks on the road. Just over 100,000 new truckers would have to enter the industry per year over the next 10 years to meet the expected demand.
Lack of Trucks
This factor in the reduced amount of trucking capacity is directly related to the lack of drivers. Drivers who owned their own trucks have, in some cases, take them off the road for the time being. Even those that didn't make that choice may have been working for a trucking company that owned its own trucks. With the lack of drivers, it doesn't matter if the trucks exist or not. They're off the road in any case, further reducing capacity.
If trucks are not able to accept and deliver loads — regardless of the actual reason — that still alters the timeframe for retailers, wholesalers or businesses to have their freight moved in a timely manner.
This can be a further nuisance if you need a specialized truck such as refrigerated, heavy haul or oversized since there are less of those on the road than standard 18-wheelers.
Greater Competition for Available Capacity
We can start with a very simple math problem to highlight the issue. If there are 1,000 customers needing a full truckload delivered but only 900 trucks ready to go, what happens to the remaining 100 customers? In a best-case scenario, those 100 are in for an extended wait, if they're able to weather it from a timeline perspective.
If something is time-sensitive and you're one of the customers having trouble securing freight capacity, you're talking about losing money and even your own customers if you can't deliver. With about 2 million semi-trucks on the road and many vying to have their freight on those vehicles, you can see where this could be unsavory to deal with.
But the greater competition also comes from businesses (especially e-commerce outfits) recovering as more people shop from the comfort of their homes than ever before. This means that the need for capacity is ramping up but the actual capacity is not increasing at the same rate to match.
Issues at the Distribution Centers
Most freight goes through a distribution center or warehouse. Usually, the freight is stored and then loaded onto a truck once it's sold or ready to be sent to a retailer. Well, COVID-19 has also impacted this crucial aspect of freight shipping.
Because of the threat of a pandemic that hasn't left yet, many warehouse setups are either not able to work at full capacity, can see a slowdown in moving products with a COVID outbreak or now have to take more time in the form of safety protocols to minimize the impact of the coronavirus.
There's not much that can be done about this particular issue from the customer's standpoint. But it will be an ongoing struggle until the world returns to normal and one that affects trucking capacity.
How To Combat Freight Capacity Issues
Think about how popular rideshare services like Uber and Lyft work: they're meant for a single person or even a group of people to all get a ride to a single destination. In the same vein, what if you strategically made an effort to streamline your shipments so that you only shipped when you had a full truckload worth of freight?
This is one possible solution to being proactive in the face of the downturn in trucking capacity. If you can plan ahead and therefore need your freight to be on trucks less often, this can help alleviate a constant need to find a truck. The less you need a truck, the theory would stand that with planning, that you'd be more likely to be able to book one when you most need it.
The second thing to do to combat the lack of plentiful trucking capacity is to also give the third-party logistics company as much notice as possible to secure the 18-wheeler(s) or another mode of transportation you require for your freight. If a logistics company doesn't have the vehicle you need immediately, they should work hard to book something for you as soon as it comes available or just set a realistic timeframe on when you can expect the trucking capacity you want.
Solve Freight Capacity Issues With R+L Global Logistics
Making sense of freight capacity issues in 2021 is a great first step toward keeping your business running smoothly. The next step comes with getting an excellent, forward-thinking partner in R+L Global Logistics for all of your freight hauling needs. While absolutely excel at regular truckload shipping, we can help you with any part of the supply chain.
We'll help you deal with the freight capacity issues by planning with you on exactly how to secure a load when you need one. As a 3rd-party logistics service, R+L Global Logistics has multiple partners to turn to in order to secure the truckload you require no matter what the commodities may be.
Before thinking that R+L Global Logistics can help you with just standard truckload shipping, there are a variety of specialized kinds of transport available through us. For instance, you might require:
Oversized freight shipping
Heavy Haul shipping
Flatbed carriers
Refrigerated shipping
Besides being able to cover all your trucking needs, R+L Global Logistics is heavily focused on providing an exceptional customer experience at every turn. That's why we have customer service available 24/7 for any potential issue and also boast a 99.5 percent on-time delivery rate to show you we're serious about getting your freight to its destination quickly.
So once you've made sense of the freight capacity issues in 2021, give yourself the best chance of being successful by teaming with R+L Global Logistics for all your full truckload needs. Call us at (866) 353-7178 for a free, no-obligation price quote.