There are many ways to move freight. Ocean carrier, truck, rail, and even air freight all keep supply chains strong. Many shipments require multiple modes of transportation. The right intermodal trucking company will make the journey seamless. But how do you find the right freight partner to make it happen?
Choose an intermodal trucking company that offers outstanding customer service. Additionally, you'll likely want to work with an intermodal trucking company that carries the right certifications, has access to cutting-edge technology, offers dedicated support, and provides top-quality service.
Let's get moving and go over all the information you'll need to find the right freight partner to make your next intermodal shipment cross the country with ease. We'll cover the basics need-to-know info as well as the additional details you'll need to ensure you're working with a strategic intermodal transportation partner.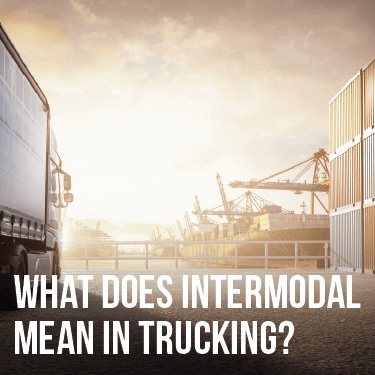 What Does Intermodal Mean in Trucking?
There are many ways to move freight. The four most common ways to ship freight include:
Over the road (by truck)
Rail or train
Sea or ocean freight
Air freight
Each mode of transport has its advantages. But if your freight is moving from overseas, across the country, or even just between regions, you might opt to use a combination of transportation services to get it there.
Moving freight via more than one mode of transport is referred to as intermodal shipping. You'll find that intermodal shipping has many moving parts.
The most important part of the intermodal freight equation just might be intermodal trucking. What does intermodal mean in trucking? Intermodal trucking refers to the parts of the freight journey over the road and on highways in trucks.
You'll find that intermodal trucking often comes into play during the first and last mile of a shipment's journey. Usually, the truck part of an intermodal freight journey is called drayage.
Ready to get down with the details on drayage? Learn more about what is container drayage and why it might be a good solution for your freight.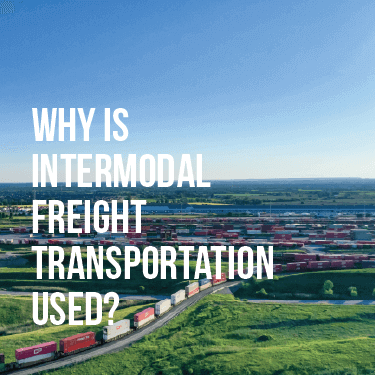 Why is Intermodal Freight Transportation Used?
There are many reasons why intermodal freight transportation is used. Intermodal service is used when a containerized shipment requires more than one mode of transport to get to its final destination.
Intermodal transportation is used across the United States to get freight on the move. It might involve truck, ship, rail, and then truck again. Your containerized cargo might be unloaded off a ship, moved by truck to a railyard, carried by rail to a terminal, and then transported by truck to a warehouse where the container is unloaded. From there, the container might be filled again with freight returned to the port for export.
The right intermodal trucking company will connect the dots on your freight's journey. Let's drive into the details on the advantages and benefits of using intermodal freight.
What Are the Advantages of Intermodal Trucking?
There are a handful of benefits to taking advantage of intermodal trucking and multiple modes of transport when moving a container.
Some of the advantages of intermodal trucking include:
Environmental benefits
Financial benefits
Operational benefits
Environmental Benefits of Intermodal Trucking
Intermodal transportation companies know that combining shipping methods pays off big for the environment. Shipping by rail reduces emissions and uses less diesel fuel than shipping by truck alone.
Financial Benefits of Intermodal Trucking
There are many financial benefits associated with intermodal transport. Because your shipment stays on the same container from pickup to delivery, you'll find it is handled less with fewer chances for damage. Your freight will move fast and won't have to stop on weekends. You'll also save on fuel surcharges and more.
Operational Benefits of Intermodal Trucking
Because intermodal shipments are always moving and stay in the same container, you'll likely see transportation times go down as your shipment travels. Additionally, weather-proof containers and reduced handling add up to a lessened risk of damage along the way.
Additionally, intermodal shipping is scalable, sustainable, can help avoid congestion and more. The benefits of opting for intermodal trucking just make sense.
What Sets Intermodal Trucking Companies Apart?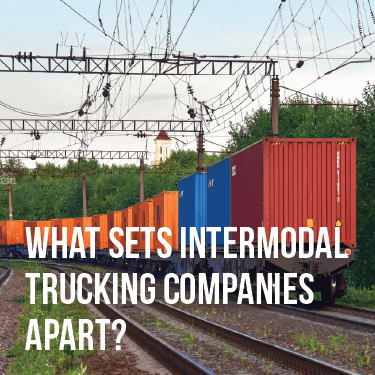 There are many transportation companies on the market today that offer intermodal solutions. But how do you know if you've found a good one? What sets intermodal trucking companies apart?
One thing to consider looking for when seeking intermodal trucking is a 3PL partner who can handle it all. What does this mean? Well, the right third-party logistics partner can take care of each leg of your container's travel. You might find a partner who can help get your cargo through customers, on a truck, on a train, or even stored or cross-docked at a facility.
This means the right 3PL partner has available capacity and truck drivers. Capacity and available drivers are part of a larger problem the shipping world is experiencing as 2021 rolls into 2022. Learn more about freight capacity issues.
Another thing that can set intermodal trucking companies apart is their access to facilities near where your shipment is located or traveling. Why is this important? Transloading or cross-docking can maximize the speed at which your shipment moves.
The right intermodal trucking company can transload or cross-dock your shipment to get it moving fast. These processes involve taking your container away from the port on a truck and then transferring it to another truck or railcar in a short amount of time to get it on the go. This can help eliminate driver detention at the port and clear up port congestion.
You can learn more about what sets intermodal trucking companies apart by asking the right questions. Let's learn a little more about what questions you should ask an intermodal trucking company to make sure you choose the right company drivers for your next shipment.
What Questions Should I Ask an Intermodal Trucking Company?
You'll likely want to get a few answers before you decide if an intermodal trucking company is ready to be your strategic freight partner. Here are a few questions you can ask to make sure you'll get the best service possible.
Question to Ask an Intermodal Trucking Company
Ready to book your next intermodal shipment? Consider asking your carrier, broker, or 3PL partner the following questions:
Is your intermodal service reliable?
What kind of visibility and tracking can I expect during transit?
Is there a peak season for intermodal trucking?
Are cross-border intermodal shipments an option?
How does your company deal with freight delays?
What is the difference between an asset and a non-asset intermodal trucking company?
Do you provide power-only moves, drayage, or full-service intermodal shipping?
How does the rail schedule work? When do trains depart?
What commodities are restricted?
What container dimensions do you accommodate?
What is the maximum container weight you can accommodate? Can you handle more than 42,500 lbs?
By asking the above questions, you can make sure that your intermodal trucking company is ready to get down to business and handle your shipment.
How to Choose the Right Intermodal Trucking Company
Choosing the right intermodal trucking company doesn't have to be a headache or even a hassle. Consider looking to a 3PL partner like USA Truckload Shipping, powered by R+L Global Logistics to handle all of your intermodal transport needs.
USA Truckload Shipping, powered by R+L Global Logistics, has access to all the services offered by a top 3PL partner, all with the customer experience only a family-owned company can provide. We're ready to do the legwork for each mile of your shipment's journey. We can provide drayage, power-only moves, rail, warehousing and storage, trans-loading, cross-docking, and other essential services for intermodal transportation.
It is easy to see why USA Truckload Shipping and R+L Global Logistics are ready to go to work for you. Our vast network of carriers, Class I rail providers, and access to facilities near major transportation hubs make it a smart choice when you need intermodal service.
In addition to intermodal freight and supporting services, USA Truckload Shipping and R+L Global Logistics are ready to provide all the domestic transportation solutions your business needs to keep the supply chain strong. Reach out to us when you need:
Truckload freight shipping
Refrigerated shipping
Expedited freight shipping
White-glove delivery
Hazmat carriers
Flatbed shipping
Heavy haul trucking
And more
No commodity is too delicate or too complicated for USA Truckload Shipping and R+L Global Logistics. This means we'll handle everything from freight shipping funeral caskets during times of need to making sure you have what you need to get primed on freight shipping paint.
See what it means to ship freight with a true ally on your side. Reach out now for a freight quote from USA Truckload Shipping and make sure you choose the right intermodal trucking company for your next shipment.