Because of their year-round nature, learning how to transport a 4 wheeler at any time is a great idea. Especially if you have a bunch of them raring to go and taking up space in your factory or warehouse. So learning best practices for shipping these valuable vehicles is a must.
Fortunately, learning how to transport a 4 wheeler is not even as complicated as the mechanics of building one. Knowing that all-terrain vehicles are overseen by the U.S. Consumer Product Safety Commission is a good place to start, as is knowing how to prepare for shipping and the different modes of transportation that can be used.
What is an ATV?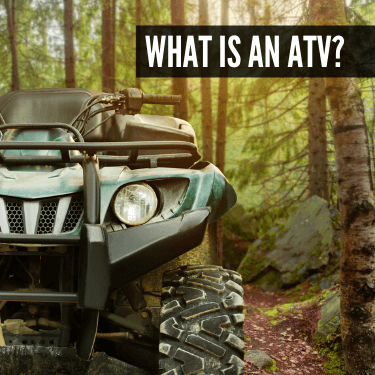 ATV stands for all-terrain vehicle and can be a number of different body styles, a different number of wheels or features. They are similar to a motorcycle in the sense that they're open air and the rider generally straddles a seat in the center of the motorcraft. While ATVs are not quite ubiquitous, there were a little over 210,000 ATVs sold in America.
But all ATVs do share some general characteristics:
Open-bodied
Low-pressure tires
Three, four or (rarely) six wheels
ATVs are used in a variety of different applications outside of just recreationally. They can be used for business purposes — like construction and oil exploration — or law enforcement, medical services and in the military, to name a few.
One other note is that ATVs, unlike motorcycles, cannot be legally driven on American roads.
Preparing ATVs for shipping
The biggest issue on the minds of ATV manufacturers during the shipping process is making sure (and hoping) there isn't damage done to the unit. So there is a big emphasis on making sure the vehicle is secure and not put in the position to receive dings, scratches — or worse — mechanical damage before it reaches a dealership.
On a truck or train, an ATV is usually secured with a soft-tie strapping system to help keep it from shifting while in transit. Another issue is making sure people are safe during the loading and unloading phases of shipping. While an ATV is not as big as a car, for example, a 4 wheeler still weighs between 350 to 700 pounds and can cause serious injury if loaded or unloaded properly.
Are you moving parts for ATVs or other vehicles? Learn more about shipping auto parts by the truckload.
Different Ways to Transport an ATV
A lot of the most popular ATVs have manufacturing plants in the country they intend on selling the vehicles to, and the U.S. is no different. So the best overall mode of transportation to get your new 4 wheelers from one place to another is going to be by truck, either a covered one or a vehicle carrier. With truck transportation, your rate should be affordable and include insurance coverage against the possibility of damage incurred in transit. Trucks can also reach anywhere in the U.S. except Hawaii without the use of a ship or plane.
For ATVs, shipping by plane makes no sense since you're shipping heavy vehicles whose average price is a bit south of $10,000. The cost to ship on an airplane would be thousands of dollars, quickly eating into your profits.
Furthermore, transporting the ATVs by ship would only make sense if your factory was already near water which connected to the retailers you'd be shipping to. Even then, ocean shipping is traditionally a slow mode of transportation, which can curb its effectiveness without very careful planning.
Rail is another possibility to use to ship ATVs but its biggest limitation is it often can't be used as the only type of transportation used. Like ships, for instance, there will still need to be a truck to at least get the vehicles to their final destination.
Transporting Your ATV with a 3PL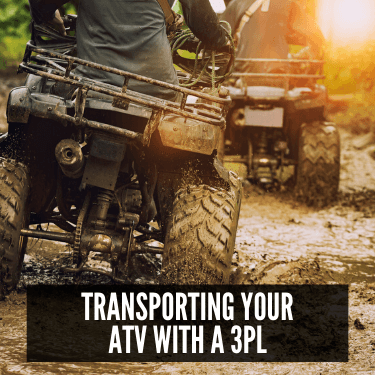 If you reached the point where you're seriously considering shipping your 4 wheelers, it's helpful to know how a third-party logistics company (3PL) can assist you in achieving your shipping goals and more.
If you're using an experienced, reputable 3PL, you'll have access to any part of the U.S. map. So if you want to ship your 4 wheelers from Georgia to Washington, that can be accomplished within a matter of days.
But you likely know about the transport services at this point and might be more concerned with additional service a 3PL can offer on top of simple transport. One thing a 3PL can do is warehouse your ATVs on your behalf and then ship them to retailers at a later date when demand is there, so that factories or dealerships' showrooms aren't overstocked.
Also if you find yourself in a time crunch to get the vehicles out of your factory and into showrooms, most 3PL companies can offer the option of expedited shipping. While this does carry an added cost, it can shorten the time a trip takes by a day or two depending on how long the route was in the first place. So when looking at 3PL companies to provide your shipping, it's a smart move to also explore added value they can give to you outside of its standard offerings.
Transporting 4 wheelers With R+L Global Logistics
Now that you know the ins and outs of how to transport a 4 wheeler, place a call to R+L Global Logistics to see how we can help your business grow and get these ATVs moved.
We take each delivery seriously, meaning you'll get a company and driver who cares about the speed and safety of transporting your recreational vehicles. R+L Global Logistics features an 99.5 percent on-time delivery rate and industry leading customer service so that you can rest assured that you'll be taken care of.
We offer full truckloads so you can ship many 4 wheelers at once and more cost-effectively. For those times when you need your shipment of ATVs sent faster, we can additionally offer expedited shipping, which is designed to cut up to 2 days off of standard shipping.
So once you have learned how to transport a 4 wheeler, call R+L Global Logistics today at 866.353.7178 for a free quote and to find out more the skills and experience we possess to be your featured freight hauling company.