Georgia's Vidalia onion season generates more than $90 million in revenue, adding a generous portion to the state's economy. These special onions have made it big on the national market. How to ship Vidalia onions is an important question to answer considering all of these onions are produced only in Georgia.
Vidalia onion season brings many trucks to Georgia to ship the coveted vegetable to the rest of the nation. Shipping and handling of Vidalia onions needs to be done carefully as these onions have a different texture than others. Many rules and regulations are applied to these trademarked onions by the Georgia Department of Agriculture as well as the FDA, which can make your journey difficult if you don't have the right carrier.
What Makes Vidalia Onions Special?
Apart from being one of the only onions that don't make you cry, three additional characteristics make Vidalia's so special:
The distinct flavor

They can only be grown in the south

The vegetable's name is trademarked
Sweet Onions
In the early 1900's, Moose Coleman, Toombs County farmer, stumbled upon one of the greatest discoveries in Georgia's history, the Vidalia Onion. Georgia soil has a low sulfur content, which allowed Coleman to harvest a light and sweet onion as opposed to the sharp and hot onions he had tasted before. He priced his hot commodities at $3.50 a bag, a high rate for the depression era, and they sold.
The combination of Georgia soil, weather and rain crafted the perfect amount of sweetness to raise the profile of onions on the market. The mild winters, rare probability for freezes and ideal amount of rainfall are a few of the sweet-inducing qualities building the unique flavor.
Where are Vidalia Onions Grown?
Vidalia, Georgia is where the first sweet onion was grown. At the time, interstates and highways were still under development, but Vidalia happened to be in a prime location. The state constructed the "Vidalia Farmers Market" at this busy crossroad to bring in profit, and farmers didn't hesitate to bring in their prized possession. Customers frequenting the market began referring to sweet onions as Vidalia onions, and the name was founded.
Although the production of these onions was rather slow initially, the rave spread like wildfire. Soon, Georgia farmers were competing with farmers around the world who were trying to market their products as Vidalia onions. Local farmers launched a national marketing campaign to protect the living this onion provided for them.
The marketing effort was nothing short of success, the state of Georgia passed the Vidalia Onion Act in 1986. This act prohibited any county, excluding the 20 counties surrounding Toombs County, from the production of Vidalia onions.
Need help moving Georgia onions around the country? Count on USA Truckload Shipping, powered by R+L Global Logistics, when you need freight shipping from Georgia to Texas, freight shipping from Georgia to California, or along any other busy route!
The Trademarked Title
Although most yellow onions are sweet, not each one is considered a Vidalia onion. The state of Georgia has owned the Vidalia trademark since 1992 forcing these vegetables to follow a strict list of requirements and qualifications including:
Shape - a special flat shape

Variety - grown from a yellow granex hybrid seed, which is tested continuously for three years to maintain consistent quality.

Identification - unique identification number of 4159 can be located by sticker in any grocery store

Location - Federal Marketing Order No. 955 allows only 20 Georgia counties to produce these, protecting the Vidalia onion's brand name
When is Vidalia Onion Season?
Farmers begin planting in the fall and harvesting in the spring. However, the pack date to initiate packing and shipping is a controversial topic among Georgia farmers. Under the onion act of 1986, the Georgia Department of Agriculture established a fixed date for when these sweet onions could be packaged and shipped. However, the act allowed farmers to ship some onions before this date as long as they passed federal and state inspections.
Many growers struggled with accepting that some onions were reaching consumers before they were fully ripe, downgrading the quality of the product. Agriculture Commissioner Gary Black decided to enforce a rule allowing farmers to send their vegetables only after the packing date was announced.
The rule was overturned in a court case with Bland Farms, who calls themselves the nation's largest grower and shipper of Vidalia onions, they claimed the Georgia soil should decide when onions are ready. The state appealed and won the appeal, giving commissioners back the power to announce shipping dates. To ensure the quality of the onion is maintained, the last week of April is the earliest any grower is allowed to begin packaging and shipping.
April 22, 2019, was the official start of Vidalia onion season, and the beginning of a new marketing campaign, The Sweet Life, pursued by the Vidalia Onion Committee. The goal was to enhance the brand as a signifier of good taste and living. Targeting individuals who like to cook, entertain, and use Vidalia onions in that process.
This campaign came after a two-year strategy aimed at elevating the Vidalia onion among food connoisseurs. Although growers are satisfying demands, the committee reported a ten-year low for the crop and, indicated they are actively focusing on ways to "spice" up the product.
Shipping During Georgia's Vidalia Onion Season
After a shipping date has been announced by the agriculture department, growers and manufacturers are granted access to begin packaging and shipping. The Georgia grown vegetables need assistance in getting from one pocket of the world to the rest of the nation. However, shippers and freight carriers must take into consideration the delicacy of these onions. Vidalia onions contain more water and sugar than normal onions, increasing the chances of bruising if they are not cared for properly.
These onions must be taken care of every step of the way from growers to retailers. Having an agile and proactive logistics partner could help make this process simpler.
Farmer Applications
Because the name is trademarked, shipping Vidalia onions can be stringent. First, the grower must apply for a license to use the registered certification mark. This application includes multiple documents:
Labeling - samples of all the labels on your product

Contents - no more than one percent of flavor enhancers may be used

Documentation - records on the grower and the intended receiver
After applications are approved and onions are harvested, some are packed into consumer bags and others are left loose and they are loaded into crates together. Other methods of packaging include plastic bags, boxes, cartons or baskets.
Transportation
Trade is a vital part of the Georgia economy. In 2018, Georgia set a trade record surpassing 40.5 billion dollars. The most popular way of transporting onions is by truckloads however, they can also be shipped by ocean, air, and railway.
If shipping your onions by truckload, you may be required to use a refrigerated truck for transportation. Onions that have been previously stored must stay in the refrigeration state until they reach the final destination.
In addition to keeping the product cool, carriers and loaders must follow the FDA Food Safety Modernization Act (FSMA) rule regarding Sanitary Transportation of Human and Animal Food. This regulation is one of seven guidelines implemented for food safety. Air and ocean are excluded from the rules.
The specific criteria includes:
sustaining a sanitized vehicle at all times

monitoring temperature control

separating raw materials from produce

carrier training using the FDA training module

Maintaining accurate and up-to-date records
Where Do You Store Vidalia Onions?
The best way to preserve Vidalia onions is to keep them separated, dry and cool. With more than 14,000 acres of crops, farmers have to store some of their production. In the late 1990's, when these sweet onions started booming, Georgia borrowed the technology used to maintain apples for its Vidalia onions. Controlled Atmosphere storage, otherwise known as CA storage, adds seven months to the life expectancy of Vidalia onions.
Before storing, it is important to make sure your onions have been thoroughly dried. CA Storage increases nitrogen and carbon dioxide levels, while decreasing the amount of oxygen.. These facilities also keep an average temperature of about 34 degrees Fahrenheit.
Under these conditions, the onions are essentially asleep until removed and placed into normal air conditions. The taste and texture is not compromised if Vidalia onions are stored properly.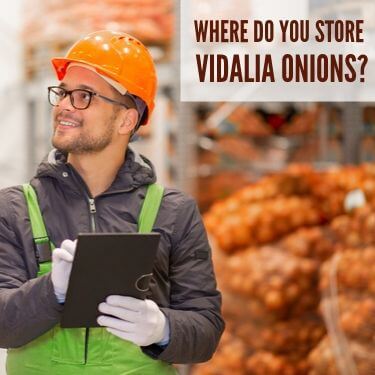 Shipping Vidalia Onions with R+L Global Logistics
The production and consumption of Vidalia onion season brings in an average of $150 million for the state of Georgia. With these crops only being produced in one place it's really important to have a proactive logistics partner to move these sweet onions all over the entire nation. This is where R+L Global Logistics comes in. We can help move your onions quickly and efficiently.
When you need freight shipping from Georgia, you need R+L Global Logistics. No matter whether you're shipping from Georgia to New York or moving onion freight from Georgia to Texas or anywhere inbetween, our truckload, refrigerated and expedited freight services can help you get it there on time and intact.
At R+L Global Logistics, we understand the complexities of supply chain and total quality management. Our experienced team will be with you every step of the way through domestic freight hauling, international services, and warehousing. We can help store your Vidalia onions in controlled temperature warehouses to preserve the quality. Once they're ready to ship, you can have the peace of mind knowing that we'll have them delivered safely and quickly to wherever they need to go.
Distributing products around the world has many challenges, including all the documents that must be provided. R+L Global Logistics knows how to overcome these constraints and take care of these processes. Give our top-notch customer service team a call at (866) 353-7178 to hear our competitive rates first hand.