During times of a construction boom, trees and shipped plants from commercial nurseries are as important as all of the construction materials and heavy equipment transport needed to get a job moving. Think about it. During the last phase of a heavy civil highway construction project, what's needed most? Typically there are large orders of mature trees and other landscaping bushes needed to beautify a project. This is when queries for 'how to ship a tree' and other landscaping materials start coming in. The same demand is needed for commercial and residential construction projects.
The last phase of a construction project can be the most important part but it's often the most overlooked. Construction companies and project managers need to remember how to ship a tree and other landscaping materials to a construction site for beautification when the construction is done. That's where you can count on a shipping company like R+L Global Logistics to handle all of your live mature tree shipping and other nursery stock shipping utilizing Department of Transportation (DOT) guidelines and the National Plant Board. We offer the truck trailers and heavy haul equipment needed to haul massive trees, mulch, dirt and other nursery products needed to make your project pop with landscaping color.
Who Regulates the Shipping of Trees and Nursery Stock Shipping Regulations?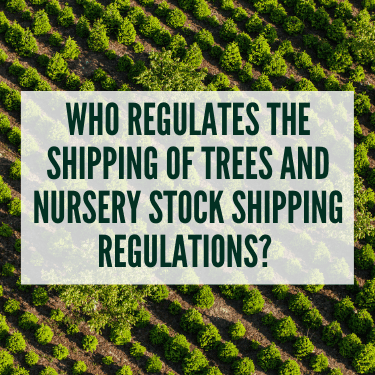 The following U.S. agencies have a hand in regulating a shipping company on how to ship a tree and other landscaping needed for construction sites:
U.S. Department of Agriculture
Animal and Plant Health Inspection Service
Plant Protection and Quarantine Program
Plant Health Agencies in all 50 states
All of these departments and services work together to:
Reduce the spread of insects
Reduce pests from overtaking potted plants and trees
Eliminate the spread of diseases
The Federal State & Quarantine Summaries have the information and rules required by each state for shippers of live trees and other nursery stock.
Looking for a solution for heavy or oversize freight?
Leave heavy haul trucking to the experts at R+L Global Logistics
How to Ship a Tree Across State Lines
You should know that a shipping company cannot ship plants and live trees. That's where shipping companies used to handle and ship mature live trees come in. You need expert shippers like R+L Global Logistics that have been there and done that when it comes to hauling oversized trees like a Japanese maple and nursery stock to construction sites on large trucks and flatbed trailers. Our cost of shipping services are the best in the industry.
How Do You Handle Shipping Live Trees and Plants in Soil?
Live mature trees and shipped plants that need soil to survive and keep their root structure intact must have tightly packed roots and pot structures that can withstand transport on large heavy haul transporters like flatbed trailers.
It's important to keep the root bases of trees and shipped plants safe and secure during travel so the trees can easily be re-transplanted into the ground of their new home when they arrive on the scene of their future home for years to come.
How Do You Transport Potted Trees?
The most critical part of transporting live trees like a Japanese maple and potted plants is keeping the soil moist. You should also use tarps on oversized tree loads to prevent wind shear from tearing a tree apart.
How to Transport a Tree on a Flatbed Trailer
The best way to transport large trees is to lay them down on a trailer or skid steer trailer and tarp them using a mesh tarp for maximum protection.
Transport a large tree by wrapping the trunk with a mesh fabric or carpet to keep the trunk safe and prevent scratching and scarring of the bark.
Utilize a Heavy Equipment Leader and Oversize Load Shipper
When you have big nursery stock shipments like trees, mulch and shipped plants in bulk, it's best to work with a shipper that knows how to handle oversize loads. It's important to get freight shipped on time to complete a landscaping project that typically signals the end of a construction job and allows invoices to get paid and payroll needs to be met on time.
Those that need large trees and bulk shipments of nursery stock can benefit from a shipper that handles all kinds of heavy construction job shipments. Using a logistics team that schedules the landscaping products after delivering the construction equipment helps to alleviate your scheduling concerns and makes sure everything arrives on time.
Looking for a solution for heavy or oversize freight?
Leave heavy haul trucking to the experts at R+L Global Logistics
What Types of Trees and Plants Can You Ship With R+L Global Logistics?
There is nothing that a oversize load companies shipper like R+L Global Logistics can't handle. You need a shipping provider that can handle the pickup and delivery of large, mature trees and nursery stock from commercial nurseries directly to construction sites and other customers. We handle the transport of everything related to your landscaping needs, including:
Trees of all shapes, sizes and weight
Bushes
Shrubs
Shipped Plants
Dirt
Mulch
Rocks
Landscaping pavers
Ground cover vegetation
Stones and more.
Are you shipping mulch by the truckload? See how a strategic partner can help.
Get a Shipping Tree Freight Quote Today
It's easy to get a freight shipping quote for your tree, plant and other nursery stock needs today when you use R+L Global Logistics. We handle the cost of shipping on all of your heavy haul needs, including large loads of nursery stock shipping. We can handle delivery of large live trees and their root structures. Let us handle everything from the permits needed to handle super loads requiring two or more lanes of highway traffic to the nursery stock shipping regulations required in each state we travel through to get to your destination.
When it comes to heavy haul trucking, R+L Global Logistics is the leader in the industry. Trust a proven shipper that knows the ins and outs of the heavy haul process from start to finish. We can handle everything from your oversize load rates to your permits. You have 100 percent visibility of the cost of shipping throughout your shipments and access to services such as expedited freight and refrigerated shipping for those potted plants and vegetation that require special freight shipping temperatures. 
Whether you are shipping a 1,400 gallon Oak tree, a Palm, a 100 gallon Magnolia, a Japanese maple or potted plants, we have you covered. Get a tree shipping freight quote today with R+L Global Logistics. Connect with us online today or give us a call at (866) 353-7178.