The way that consumers purchase cars has dramatically changed in recent years. While online auto marketplaces aren't new, a variety of factors caused their popularity to skyrocket. One of the details that many online car shoppers still struggle with is figuring out how to ship a car that they bought online. Thankfully, the process can be made simple by following a few basic steps.
Here are the steps that should be followed for shipping a car that you bought online:
Conduct research to find a reputable auto transport company (or enlist the help of a freight forwarder)
Decide whether you want open transport or enclosed transport
Select the shipping destination that works for you
Purchase shipping insurance for your vehicle
Each one of the above steps is critical to having success when having your car shipped to you. In the guide below, we explore each step in detail to give you the information you need to get the job done.
Looking for a solution to move truckload freight?
R+L Global Logistics handles truckload shipping.
Let us know when and we'll handle the rest.
Research Reliable Auto Transport Companies (or have a freight forwarder do it for you)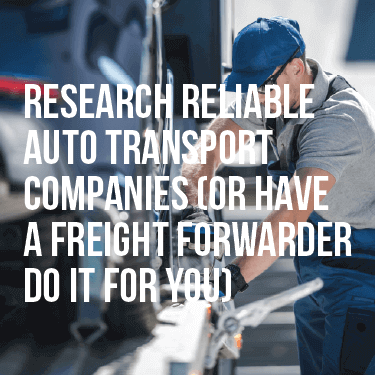 While many online auto marketplaces now use a model in which they handle shipping for their customers, quite a few leave this task to you. When you're left with this responsibility, you need to ensure you choose a reliable and trustworthy partner to ship your car. You're going to have two options available to conduct the necessary research to find the right company.
Do the Research On Your Own
Your first choice in finding the right company to ship your car is to do the research on your own.
To make it possible to conduct the research yourself, you'll need to:
Have an adequate amount of time to look through enough companies
Be proficient in utilizing search tools to find information
Understand how to spot unreliable or suspicious information and reviews for a business
Having enough time is straightforward; you either have it or you don't. Proficiency with search tools is a must. You need to know where to search to find worthwhile information about auto transport companies that you're considering. This goes for reviews and information about the services that companies offer.
For example, a business may have overwhelmingly positive reviews on one platform, but a large number of negative reviews on another. It's important to look at a company's reviews across multiple platforms (Google, Facebook, Yelp, etc.). Be especially cautious if the only reviews you can find are on the company website.
Even beyond finding information and reviews, it's vital to be able to spot suspicious information. Sadly, some auto transport companies will post fraudulent 5-star reviews to falsely build up their online reputation. If you're conducting research on your own and not able to spot fake reviews, you could end up choosing a less than reputable company.
With all that being said, if you're comfortable with the tasks discussed above and don't mind spending the time researching, this is a viable option.
Save Time (and money) With a Freight Forwarder
If you're not confident in getting the research done or simply don't want to spend the time doing it, there's a simpler option. Freight forwarders can research and obtain quotes from multiple auto transport companies on your behalf. They do this by acting as a liaison between buyers and sellers to organize and arrange shipments for all parties involved. This is possible because freight forwarders have a network of carriers that they work with to transport shipments.
In addition to the time that you'll save by working with a freight forwarder, you may also be able to obtain a lower cost for your shipment.
Freight forwarders often have access to lower rates for a few reasons:
Freight forwarders often coordinate a large volume of shipments with carriers. This enables freight forwarders to negotiate lower rates compared to a shipper with a one-time shipment
Each freight forwarder/carrier relationship is unique. In fact, some freight forwarders have exclusive agreements with carriers that allow for lower rates than other forwarders can offer or even going straight to the carrier.
Dedicated lanes may be available. Depending on the carrier resources that a freight forwarder has access to, they may have dedicated transport options for a given route. This will likely reduce rates since the forwarder doesn't have to secure new resources.
All in all, working with a freight forwarder definitely has its advantages. The experience is typically quicker and simpler. The added bonus of the potential to obtain lower rates makes this option even more viable.
R+L Global Logistics is a freight forwarder that can help you with this process. Our team of supply chain specialists and procurement capacity experts have the resources and knowledge to find the best company to ship your car. We have established partnerships with top-rated carriers that ensure you receive high-quality service at an affordable price, along with our unmatched customer service.
Looking for a solution to move truckload freight?
R+L Global Logistics handles truckload shipping.
Let us know when and we'll handle the rest.
Choose Between Open Transport and Enclosed Transport
When it comes to how the car that you bought online is going to be shipped, you're going to be choosing between two options. Each one presents specific advantages and disadvantages. Thankfully though, the decision should be fairly easy to make after taking a look at a couple of factors related to your car shipment.
Open Transport
The most common method by which cars are transported is what's called open transport. In this approach, a semi-truck hauls a large, open (where the name comes from) steel trailer that's specifically designed to hold multiple vehicles. If you've driven on any major highway in the U.S. or even driven past a dealership receiving a delivery of vehicles, you've likely seen open transport in action.
Some of the key characteristics of open transport are outlined below:
Most open trailers hold between 7 to 10 vehicles
Due to the open nature of the trailer, the cars being transported are exposed to the outside elements (rain, snow, road debris, fluid leakage from vehicles on the second tier)
Typically the cheaper option when compared to enclosed transport
Cars usually need to be washed once they're delivered
Shipments are often quicker due to the large volume of open transport carriers; you won't be waiting for availability for an enclosed trailer
If you don't need your car delivered in pristine condition, an open transport service is the way to go. This isn't to say that your car is guaranteed to be covered in dirt, scratches, or other visual blemishes; it's simply a possibility.
An optional way to get the affordability of open transport with some additional protection is to request a "top-load" for your vehicle. As you might expect, this means your vehicle will be placed on the top-level of the trailer. This placement reduces the chance that road debris will impact your vehicle and also ensures unexpected fluid leaks from above aren't a possibility.
It's worth noting that not all carriers offer this option, and those that do often charge a small additional fee for this enhanced service. Still, the cost of a top-load, open transport is almost always significantly less than an enclosed service.
Enclosed Transport
Undoubtedly, the upscaled option when it comes to auto shipping is enclosed transport. Similar to open transport, the description of the shipping method is in the name! Enclosed carriers ship vehicles on a smaller trailer that's enclosed on all sides. The enclosure that surrounds the vehicles is typically made of a strong, durable vinyl material.
The benefit that enclosed auto transport offers should be obvious: protection. With your vehicle protected from the outside elements, it's virtually impossible for it to be negatively impacted. Of course, the peace of mind afforded by this protection comes with a cost.
Enclosed transport for a single vehicle can range between $300-$1000 more depending on the vehicle. The higher end is typically reserved for shippers that reserve an entire enclosed trailer just for themselves.
At the end of the day, if added protection for your vehicle is a high priority for you and a few hundred extra bucks won't break the bank, enclosed transport is your best option.
Still not sure whether you want open or enclosed transport or simply want to see what your options are? No problem. Reach out to our logistics experts today. We'll listen and understand your situation to help you find the best option.
Looking for a solution to move truckload freight?
R+L Global Logistics handles truckload shipping.
Let us know when and we'll handle the rest.
Decide The Shipping Destination
In addition to choosing the type of trailer that your car will be shipped on, you'll also have a couple of options in terms of where your car will be delivered to.
Door to Door
The most direct method for your car to be transported is door-to-door. In this delivery scenario, your vehicle is shipped directly to you at your chosen location, typically your residence. In terms of convenience for you, this is the best choice. You just sit back and wait for your car to arrive. Unfortunately, convenience for you in this case, is likely to cause an inconvenience for your drive.
If the location you select for your car delivery is a residence, you're almost guaranteed to incur an additional fee. Most trucking companies refer to additional services that incur extra costs as accessorial charges. In this case, you would receive a residential delivery accessorial charge.
But why do carriers often charge an extra fee for a residential delivery?
Below are some of the reasons a residential delivery will cost you more:
There typically isn't a designated area to unload the vehicle. This situation means the driver may be blocking high-traffic areas which puts additional pressure on them to unload the vehicle quickly. When drivers have to move more quickly than they otherwise would, the chance for a mistake to occur increases.
Additional route planning may need to be done. While most highways can accommodate semi-trucks and their freight with no issue, some residential streets - or even streets leading to residential areas - have specified weight limits. If this is the case, the driver and/or dispatcher will need to rework a viable route which takes more time upfront and more time on the road.
Lower speed limits means more time and more fuel. Unlike highways with speed limits of 55 mph or higher, residential areas can drop to as little as 5-10 mph! For a semi-truck transporting multiple vehicles, this is a big deal. Not only are they spending less time on a faster road, getting to their next delivery quickly, but they're also using more fuel. Your residential delivery fee recoups some of this additional cost for the driver.
Just like paying a bit extra for enclosed transport for the added protection, you're going to pay a few hundred extra dollars for a delivery directly to your house. Again though, if you don't mind paying the additional cost just to sit on the couch with your feet up waiting for your car, the choice is yours.
Deliver to Terminal
The more affordable option that's available with many carriers is delivery to a terminal. A trucking terminal is usually owned by a specific carrier and is a place where that company's trucks come to load and offload their freight to be taken to additional destinations. Nationwide companies often have dozens of terminals scattered throughout the U.S.
It's important to note that not all carriers will offer this as an option. However, if the option is available to you, it will generally be cheaper than delivery directly to your home. The reduced costs are possible because the driver won't have to spend the additional time (and fuel) making the extra stop. Most carriers are happy to provide a small discount for this adjustment as it means they'll have more time to pick up other shipments.
Of course, a couple of factors need to be present for this option to be viable.
The carrier needs to have access to a terminal. Some carriers are small and don't have their own trucking terminals. In most of these cases, these small carriers can't offer a terminal pickup when they don't have their own terminal.
There needs to be a nearby terminal. Even if a carrier does own one or more terminals, they need to be close enough to you that it makes sense to drive to the terminal to pick up your vehicle. A terminal that's a significant distance away from you means spending more time and paying for more gas which defeats the purpose of picking up from a terminal.
You may be dealing with a tight pick-up window. Every company is different in terms of how they handle terminal pickups. Some are flexible with the timeslot that they want you to pick up your vehicle in, while others will limit their availability. If you want to capitalize on the possibility of a reduced cost terminal pickup, you need to be willing to meet some tight timelines.
When discussing your car shipment with a freight forwarder, carrier, or freight broker, discuss door-to-door and deliver to terminal options. Your freight partner should be patient with you and take the necessary time to go through all of your options.
At R+L Global Logistics, we respect your time and money. We don't just give you one option and say "take it or leave it." By listening to your needs, we can provide you with multiple options and answer all of your questions along the way. When we're finished and have scheduled your shipment, you can relax knowing that you made the best decision with the help of our experts.
Looking for a solution to move truckload freight?
R+L Global Logistics handles truckload shipping.
Let us know when and we'll handle the rest.
Don't Forget the Insurance
To say that insuring your shipment is important would be an understatement. No matter how clean a company or individual's driving record is, accidents are always a possibility. On the off-chance that your vehicle is damaged while in transit, you want to be sure it's covered and you recoup some or all of the loss.
While you can shop for freight insurance through third-party providers, many freight forwarders and carriers are able to offer the insurance along with your shipment. Similar to how forwarders have partnerships with carriers, many also have exclusive partnerships with freight insurance providers.
Once again, you reap the benefits of these partnerships. Many providers have access to discounted rates based on total volume of business conducted between the companies involved.
Regardless of where you obtain freight insurance coverage, just make sure you get it. The peace of mind you'll have knowing your car is covered in case of an incident is well worth the price.
Ship Your Car With R+L Global Logistics
Shipping a car that you bought online should be just as easy as buying a car online. With R+L Global Logistics we make this possible. Once you provide us with the details of your car shipment, we get to work. We compare the needs of your shipment to the services that our partners offer to find the best match for you.
Need help figuring out the details of your shipment and deciding between open or enclosed transport and door to door or delivery to terminal? No problem. Our team of experts will walk through the process and provide you with multiple options to help you make the best decision.
When you're ready, request a quote using our simple & quick request form or reach out and speak to one of our logistics specialists to learn more about how R+L Global Logistics can help you.