Knowing how to negotiate freight rates can help shippers save a lot of money. The cost to send bulk loads of freight can be very high. Fortunately, many carriers are willing to work with their customers and provide them with a cheaper rate.
The American Trucking Associations (ATA) says shippers can learn how to negotiate freight rates by:
Checking Operation Costs
Researching the Market
Preparing Shipments
Checking Load-to-Truck Ratio
Checking Fees and Spot Rates
Staying Flexible
Writing Negotiation Results
This gives shippers leverage when discussing terms with a carrier.
Understanding how to negotiate freight rates can be difficult. We'll provide the information you'll need to get the best price from a carrier.
How to Negotiate Freight Rates: What Is Rate Negotiation In Logistics?
Before a shipper can learn how to negotiate rates with carriers, they should know when to start the process. Senders of freight can discuss lower shipping costs with a transportation provider prior to booking a load. Once a shipment is booked, the price will likely be final, depending on the carrier's policies.
Freight negotiations can take place:
Over the phone
Via email
In-person meeting
Virtual meeting
Shippers frequently reach out to transportation providers for a cheaper shipping rate. To accommodate potential customers, carriers will conduct negotiations using a shipper's preferred method of communication.
What Causes Freight Rates to Change?
There are various factors in the transportation industry that can cause low and high freight rates.
Some include:
Fuel costs
Type of freight
Load weight and dimensions
Region
To illustrate how frequently freight rates can change, consider the fluctuations in diesel prices over the past three years.
The Cost of Diesel Fuel in the U.S. (2021-2023)
| | |
| --- | --- |
| Year | Average National Price |
| 2021 | $2.68 |
| 2022 | $3.72 |
| 2023 | $4.58 |
Provided by Statista
During this period, diesel fuel prices have sharply risen. The region where freight is being transported can affect these costs as well. Some regions have slightly lower or higher than average diesel prices.
The type of load and its dimensions will influence freight rates. Heavier commodities, for example, are more expensive to ship. Goods that are heavily regulated or high in value can increase the freight rates a business will have to pay as well.
While shippers can conduct freight negotiations with shipping companies, they shouldn't expect costs to be reduced drastically. Carriers have to charge prices based on factors impacting their industry.
If transportation companies charge too low, they could hurt their business operations. Shippers should be ready to compromise on a freight rate that's low enough to meet their budget needs, but still high enough for the carrier to make a profit.
Most bulk shipments of freight will travel in a dry van trailer. Our article on dry van rates will show you how much this ground shipping service will cost.
How to Negotiate Shipping Rates
There are many preparations that shippers can take prior to picking a carrier and discussing shipping terms with them. The information they find will help them negotiate the best price for their commodities.
Determine Operating Costs
Businesses should identify their operating costs before they start negotiating freight rates. Doing this will help a company determine what they can afford. If pallet shipping prices are too high, a business could end up losing more money than could be gained from a sale.
Therefore, senders of freight should try to find carriers that charge a rate closer to what they can afford. Shippers can negotiate an even lower amount that's within the budget of their operating costs.
Study the Market
Shippers that educate themselves on the transportation industry will have an easier time negotiating the best freight prices.
Topics to research prior to booking a load include:
The latest industry news
Current trends
Identifying carrier capacity constraints
Tracking weather events
Studying delivery times
The transportation industry is constantly changing. Despite this, shippers can identify market patterns with thorough research. If a carrier offers truckload shipping rates that are higher than the industry data suggests, shippers can use the information they've gathered to argue for a cheaper fee.
Prepare Shipment Information
Preparing a shipment thoroughly will give businesses an edge when they conduct freight rate negotiations with shipping companies. Readying a load means more than packing each commodity into a box and palletizing.
Businesses can prepare a shipment by:
Determining the volume of freight they have
Identifying their delivery timelines
Providing additional information for special shipments (HAZMAT, fragile goods, and perishable goods)
Shippers that provide carriers with detailed information on their shipments will have bargaining power when negotiating freight rates. Businesses that know how much their goods are worth, and the expenses associated with moving them, can determine the best freight rates for their load.
Senders who know the value of their goods can identify if they're being overcharged for transportation services. Additionally, carriers can provide a more accurate rate when they're given detailed information about the goods they've been hired to move.
Learn about the various regulations and preparations for freight shipping hazardous materials in our article on this important subject.
Check Load-to-Truck Ratio
Another significant concept to grasp when learning how to negotiate lower freight rates is load-to-truck ratios. This is a measure of the number of shipments that require transportation versus the number of trucks available.
There are two different types of load to truck ratios:
High load-to-truck ratio – When there are more shipments than trucks available.
Low load-to-truck ratio – When there are more trucks available than shipments.
Truck availability is scarce when the ratio is high. Therefore, carriers will charge more when they take on a shipment. This can make negotiating freight rates much more difficult for businesses that need to move goods in bulk.
When the ratio is low, carriers become desperate for customers. They will charge less to attract more loads. Businesses should try negotiating the best freight shipping rates when load-to-truck ratio isn't high. Carriers will be more likely to accept a lower rate if it means moving their trucks.
This may also be the best time to submit a Request for Proposal (RFP) if you know that you need routine freight services. With an RFP you have the chance to lock in a lower freight rate even when load-to-truck ratios are high.
Check Fees and Spot Rates
Knowing about carrier fees is very important when learning how to negotiate truckloads. There are many charges that a carrier might add to a shipment.
Some of these fees include:
Fuel surcharges
Accessory fees
Detention fees
Shippers who don't familiarize themselves with carrier fees will be surprised when their negotiated rate is higher than expected. A sender can ask their transportation provider about applicable charges. Once carrier fees have been determined, businesses can conduct negotiations to lower the amount.
Lastly, shippers should have a thorough understanding of spot rates. This type of charge is the amount a business will have to pay for a one-time shipment.
While it's best for businesses that send freight frequently to establish a contract with a carrier, there are occasions where sending a one-off load is necessary. That said, shippers need to look at contract rates and spot rates.
If a business finds that spot charges offered by a carrier are more expensive than contract charges, they can use that information to negotiate the best freight quotes.
Tender rejection rates can raise costs when you ship. Our article on this topic will show you how to keep these charges low.
Stay Flexible
When learning how to get the best rates, shippers should keep in mind that carriers will charge more when they have to fulfill rigid requirements. Transportation companies have many customers whose freight they need to move.
Asking a carrier to ship commodities within specific deadlines will require more manpower and higher expenses on their end. This results in higher rates for transportation services. Instead, shippers should be as flexible as possible when booking a load.
Shippers can do this by:
Offering longer lead times
Choosing a more convenient final destination
Using freight consolidation services
Sending freight during off-peak days
Offering longer lead times will give carriers more time to plan a shipment. This gives transportation companies the opportunity to pick the fastest route, thus lowering costs on the sender.
Receiving a shipment at a different final destination can be helpful as well. Some drop off locations are inaccessible for semi trucks. In other instances, a final destination might make transporting other loads difficult. Shippers that agree to have their load delivered to an area that's convenient for them and their transportation provider will have access to cheaper freight rates.
Senders can receive a more affordable rate by consolidating their load with another shipment traveling to the same or nearby locations. This reduces transport costs because a carrier won't have to send an entirely different truck to pick up their freight.
Businesses that need to ship in bulk can also get the best freight rates by making their commodities available for pickup during off-peak days. These are days when shipping volumes are lowest, usually Mondays or Fridays.
If a carrier offers an unacceptable rate, businesses can use their flexibility to negotiate a lower amount for their shipment.
Write Down Negotiation Results
Shippers should have the results of their negotiations in writing. Transportation providers provide services to numerous customers. There's a chance that they could forget what the rate confirmation was for a certain customer.
Shippers should always obtain a signed freight contract after negotiating with a carrier. If a business finds that their transportation provider is overcharging them, they can use their signed document as proof that a lower rate was agreed on by both parties.
If you're nervous about sending goods in bulk, check out our article on the five benefits of full truckload shipping services.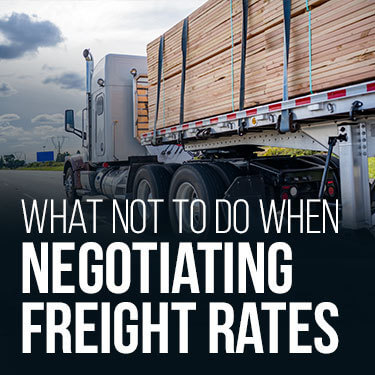 What Not to Do When Negotiating Freight Rates
There are many responsibilities that shippers will need to take care of when learning how to negotiate freight rates. That said, senders should also avoid certain mistakes that could raise the cost to move their freight.
Don't Judge Rates by Miles Alone
The first thing a shipper should avoid when negotiating the best freight prices is to judge rates by how many miles freight will travel. There are many factors that can influence the costs associated with sending freight to another destination besides distance.
This is why researching the transportation market and the commodities being sent are so important. Without the right preparations, negotiations could go very poorly for shippers who think their rate should be lowered based only on the distance their load has to travel.
Not Ask Questions
Another common mistake made by businesses when negotiating shipping rates is their failure to ask questions. Most shippers aren't experts on the logistics industry or the various factors that can cause freight rates to fluctuate.
Therefore, it's essential to ask carriers questions. While businesses that need to move freight should conduct their research prior to negotiations, there's always the chance they missed something important or a new concern has come to light.
A good carrier can address any question a potential customer asks. Obtaining as much information as possible can help a shipper negotiating freight rates.
Find Competitive Industry Rates at USA Truckload Shipping
USA Truckload Shipping can move your freight at an affordable price. Our vast carrier network gives us the ability to pair our customers with an arrangement that's right for them. The companies we work with can provide different transportation services based on a shipper's needs.
This includes:
White glove delivery
Expedited shipping
Refrigerated shipping
Hazardous materials transport
Standard truckload shipping
We can also offer you consulting services if you have questions regarding your load. You can start using our services by contacting our team at (866) 353-7178 or by filling out one of our quote forms.