Modular buildings have become a fast, modern, and innovative way of construction. In fact, sales of these buildings are on the rise. Prefabricated buildings are an easy solution for all kinds of situations, from housing to offices to even classrooms. But how do you get these buildings from manufacturer to placement site? A strong modular building transport partner can make light work of this heavy haul.
Modular building transport takes a special touch. From arranging for crane rigging to ensuring the proper permits and route for transport, there is a lot that goes into moving a prefabricated building. The right insurance is essential. Carriers should be ready to handle any bumps in the road, too.
Ready to see how R+L Global Logistics makes modular building transport easy and hassle free? See how working with a strategic freight partner can get your building on the road today.
What Is A Modular Building?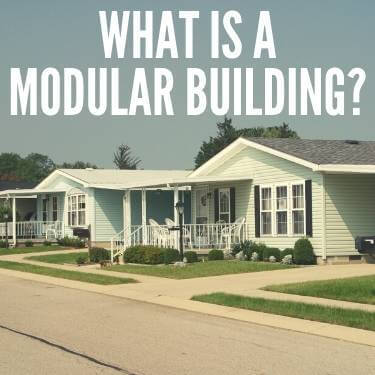 Modular buildings, sometimes referred to as prefabricated buildings or volumetric construction, are structures that have their parts manufactured in a factory and then transported to the construction site for them to be assembled. These modular parts include windows, doors, walls, ceilings, and many other components.
This method of construction is not a new one. Modular construction is said to have been introduced by a London carpenter named John Manning in 1830. In the United States, modular buildings became popular in the 1840s during the California Gold Rush. The modular construction method was used in the construction of the Crystal Palace for Britain's Exhibition in the 1850s. However, after the Second World War, due to the rapid demand to replace houses destroyed and house the returning troops, modular construction and buildings became more popular. In fact, many of these homes still stand today. In more modern times, this method is being used for various construction projects, such as offices, educational environments- like classrooms, senior living communities, retails and residential homes.
The construction process predominantly occurs offsite under a factory-controlled environment. This allows for the use of manufacturing techniques that would create the individual prefabricated modules. These modules are then transported to the site locations where the process will be completed by putting the individual modules together in the agreed design- making the modular or prefabricated building.
The lifespan of modular buildings depends on whether it was meant to be temporary or permanent. Temporary, or relocatable, modular buildings are transported to a location when needed temporarily, like for disaster relief, temporary housing for workers, medical clinics or construction site offices. Once these buildings serve their purpose, they can be easily moved to the next location. The permanent modular buildings can last just as long as traditional buildings; some lastings between 25- 30 years. Permanent Modular Construction (PMC) involves the use of building material such as concrete, steel, and other materials that would give it a more durable structure. Additional features are then installed on-site. The PMCs aim at remaining in one location once they are built and can have as many storeys added onto it.
Looking for a solution for heavy or oversize freight?
Leave heavy haul trucking to the experts at R+L Global Logistics.
How To Transport A Modular Building
Before transporting the modular building from the offsite location, specific precautions are followed for transportation. The buildings are then locked and safely placed on the trucks using cranes. In some cases, some components are wrapped in weatherproof material. The right flatbed carrier will be able to handle modular building transport for you.
The weight of the modular building and the route that would be used determines the type of truck used in transporting it. If a course of rough and rugged terrain is used, for example, a truck that would be able to maneuver through safely would be used. If the load is more massive, a truck which can withstand such a burden would be used. This is where heavy haul trucking comes into play.
Once the modules are transported to the on-site location, the offloading process begins. The individual components are lifted off the truck using a crane. Depending on the foundation laid, the modular building may be permanent or temporary. If there is an on-grade foundation is for permanent modular buildings while a raised foundation could be for either a permanent or temporary modular foundation. The crane places the transported modules and arranges them in accordance with the design plan.
How Much Does It Cost To Transport A Modular Building?
The cost of transporting a modular building varies as it depends on factors such as load, distance, and so on. The best way to determine the price is by getting a freight quote. Since a freight quote helps you in determining the cost, it must be calculated accurately. There are several factors are to be considered when calculating the freight rate; these include:
The off-site location and the on-site location: If the area of on-site location has restricted access, this may affect the rate. Also, longer distances may add more to the freight rate than that of shorter distances. But it is not unusual for longer distances to seem cheaper than shorter ones- this would depend on truck availability and freight lanes.
The number of trucks available: The number of trucks available and where they are would also affect the freight rate. If you require four trucks to transport your modular buildings, but there are only three trucks available, there might be a need for one truck to either incur more load or repeat the journey- which would affect the price. The current location of the vehicle at the time you request it may also affect the price.
Looking for a solution for heavy or oversize freight?
Leave heavy haul trucking to the experts at R+L Global Logistics.
Modular Building Transport With R+L Global Logistics
Come to R+L Global Logistics to use our services to meet your modular building transport needs. With our exceptional customer service, our customers form strategic relationships with us,confident that we will satisfy our end of the deal. We make an effort to meet your expectations. Our reliable 99.5% on-time delivery service allows our clients to meet their deadlines with no stress.
You can also call us to make any inquiries about our modular building transportation services. We assure you that our team will answer all your questions and clear all your doubts. Get a truckload freight quote and get on the road today.
Looking for a solution for heavy or oversize freight?
Leave heavy haul trucking to the experts at R+L Global Logistics.