No matter whether you're a start-up, mom and pop shop, online retailer, or even a small sole proprietorship, you likely have freight needs. From getting inventory from the supplier to your warehouse to retailers, you have products to move. Freight costs can add up. How can small businesses reduce shipping costs? You are likely to find answers to this question and save your business money with our guide.
How can small businesses reduce shipping costs? Simple tricks like considering and negotiating with multiple carriers, making sure you have the right freight insurance, and packaging products properly can go a long way when it comes to keeping costs low. By saving on shipping, you can pass more competitive prices to your customers.
How Do Small Businesses Save on Shipping Costs?
There are many ways a small business might be able to save on shipping costs. Being smart about how you ship and the options you choose may involve some initial research hand planning; however, saving money and potentially passing these savings to your customers will greatly benefit your company.
Look around at different carriers, brokers and freight partners to find the best prices for your shipping needs. Doing your research into different freight modes and options and your shipping speed can all affect when it comes to lowering your shipping costs. Getting quotes by negotiating with different carriers and considering shipping at off-peak times or overnight can also reduce shipping costs.
Choosing online shipping options and using carriers' own packaging options can help you to meet their required parcel sizes and weights, thus reducing any excess shipping costs from using your own packaging. Remember, fortune favors the bold. You can always ask for discounts for your shipping. If you are making consistent and regular deliveries via the same or similar routes, carriers can often accommodate this and factor it into a lower quote.
Educating yourself can also help save money. Learn what FOB means in shipping.
What is the Best Freight Shipping Service for Small Business?
Choosing the best freight shipping service for a small business means looking at what freight services can offer your company, and they can deliver what you need to ship safely and on time. As freight shipments will generally be of a higher quantity than parcel deliveries, knowing the freight shipping service for your company will help you to determine a more efficient shipping service for your customers.
The different shipping options available for small businesses are;
FTL - Full Truckload. Choose this option when your shipment is likely to fill a full truckload.
LTL - Less than truckload. This option is more suited for those shipping less than a full truckload and being cheaper.
Intermodal Shipping - Intermodal shipping is shipping freight via train.
Air - shipping via air can be the best option when it comes to international deliveries.
To choose the best freight shipping option for your small business, you need to look at how far you need your freight shipped, the frequency of your shipments, and the quantity you will be shipping.
No matter what product you're small business is moving, an expert ally can help. From helping you determine the best way to ship roasted coffee to Florida tomato shipping by the truckload, we're here to make the freight shipping process simple.
What's the Difference Between Freight Shipping and Parcel Shipping?
Understanding the difference between freight shipping and parcel shipping can help you make more informed choices about your small business's best shipping option. In a nutshell, parcel shipping is when individual boxes are packed, labeled, and shipped individually. Freight shipping is when a pallet of boxes are moved at the same time as one.
Parcel shipping, also known as package shipping, rings a bell for most people. Companies package and label the item itself and then hand it over to the shipping company to deliver it. Most companies have a max weight limit of 150lbs. This is when the item is deemed too large for parcel shipping, and you need to ship it by freight. You can also encounter size issues with parcel shipping, too, with some carriers introducing a limit of 108 inches by 165 inches.
On any given day, parcel companies could have many vans delivering parcels in any given area in the country. Freight deliveries are much less frequent. Why is this? Freight shipments are determined according to how much space they take up in a dry van. Specifically, a full truckload shipment will fill a full truck trailer. A dry van truck trailers are generally about eight feet wide, 13 feet high, and between 40 and 53 feet long. Weight limits are typically higher than your parcel shipments coming in around 35,000lbs and 45,000lbs. The exact weight limit is dependent on local regulations. Freight shipping is generally used by companies with bigger shipping needs or needs to transport larger packages or quantities.
Shipping by rail is an option, too. Learn about shipping by rail vs truck.
What is the Difference Between Truckload and LTL?
LTL shipping is less than truckload shipments. Typically this means that the load does not require the full use of the truck transporting it. This frees up space for other shipments in the truck. LTL shipping can be more cost-effective to ship than full truckloads. When in transit, shipments are protected by consolidating them into large crated or palletized boxes. This option is ideal for businesses that don't need the services for full truckload shipping. Delivery times aren't as accurate with less than truckload shipping as full truckload due to different variables involved, including multiple drop-off locations and loading and unloading times.
If LTL shipping doesn't meet your business needs, then truckload shipping could offer your best option for shipping solutions for small businesses. When choosing truckload shipping, you will be the sole business using that specific tailor space. Unlike with less than truckload shipping, no other shippers will be using the same trailer.
How do you know if you should choose full truckload shipping? Many different factors can help you to decide if full truckload shipping fits your shipping needs. If you are looking to ship large quantities of items, multiple pallets worth freight or packages, or the freight weighs more than 15,000lbs; then truckload shipping is your best option. There is less freight handling at multiple points, meaning fewer chances for items to get damaged during transit. Another benefit is that typically, truckload shipments travel on the one truck to one destination giving your faster, more accurate delivery times in comparison to less than truckload shipping.
Resellers might benefit by using truckload drop shipping. Learn more about this process.
How Can I Reduce My Freight Costs?
There are many ways you can reduce your freight costs. By employing various tricks and tactics for your shipping options, you can effectively reduce how much you pay for freight. Most of the ways will seem pretty easy and straightforward but can be overlooked by customers.
Plan ahead and know exactly what you will need to ship and when. Last minute shipping is always more expensive and as such, you should look to avoid this scenario if possible. Knowing your vendor availability timescales will also help you to avoid having to spend more on last minute shipping costs.
You might find other options for short deadlines. Planning ahead means less time and money wasted with a trailer sat waiting to be loaded up or additional fees for slower loading and unloading. Forward planning can help to reduce or even eliminate wasted money in this area.
Consolidation can help you to save on those small deliveries that incur additional charges. Group them all together to make larger but fewer deliveries. Utilize all the container space to make sure you have the correct dimensions and you are able to fill out the shipping container or truck fully to maximize on how much you can ship in one allotment.
Ship overnight or on off peak days to take advantage of lower shipping costs during less busy times. Look to ship on Fridays or Mondays when demand is lower or opt for night time routes when again demand is typically lower.
Develop longer term relationships with your freight partner. Be committed to finding the best shipping rates for your business and show you mean it by constantly reevaluating how you ship and working with your carrier to look at the best shipping options for your small business.
Reduce dunnage by working with your carrier to develop ways to make sure your items arrive safely and without damage and also reduce your shipping costs by reducing packaging sizes. Remember, they are experts in shipping and can help advise you on the safest way to prevent damage during freight shipping.
Get an inclusive freight quote by working with a partner who includes freight insurance with each shipment. This will save you from spending more on third-party insurance and will keep your goods covered in case of loss or damage.
If you're in need of equipment when seasonal demand increases, then check out our article on trailer repositioning.
What Determines Freight Costs?
For shippers, calculating the cost of freight can be one of the hardest expenses to work out. Many different factors can determine the cost of freight in much the same way you can reduce your shipping costs by being clever about how and when you ship. The three main variables to consider are the modes of transportation, the weight of your shipment, and how far you are shipping it.
Your chosen shipping method can also influence cost. Shipping via air is generally more expensive than transporting a product from A to B via a truck. Air is, of course, faster and a good option when you need expedited shipping.
Choosing full truckload shipping, FTL, can be another cost-saving mode of shipping compared to less than truckload shipping, LTL. If you can consolidate more FTL shipments into one FTL consignment, you can benefit from savings across unloading costs, fuel, and labor.
Understandably, the further you are shipping your freight, the more it will cost. Factoring in wear and tear on assets, fuel costs, and driving time, the longer you need the carrier's services, the more it will cost you. To get the most from your shipping, it is best to optimize each load you have transported to eliminate how many trucks are used and stopped. They need to take on the most direct route.
Available truckload capacity can also influence freight cost. Understand how truckload capacity works and learn more about the shipping market.
What is Freight Optimization?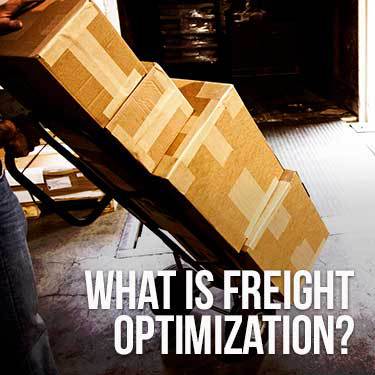 Freight optimization is essentially the product's movement to the customer while maintaining the desired service levels in your supply chain by determining the most efficient means of shipping. To maximize freight optimization, you need to be putting in the continuous effort to keep working on this area and improve how and when you ship to maintain service levels yet save money.
Review Available Modes - Freight optimization is getting your shipment to its destination in the fastest possible way. Review all of the options available to you regarding routes, modes, and rates to meet or even exceed customer shipments.
Diversify your Network - Unlock your shipping potential by increasing your network to cover more carriers outside the big three. Use smaller sized fleets to expand your options.
Assess Potential Risks - Run routing options to analyze the most appropriate routes to ensure all involved parties can have their specific needs and demands met via the best-optimized route.
TMS Automation Exception - A relatively new area in supply chain demand. Use artificial intelligence to make changes to shipment schedules based on different variables, including demand and external influences.
Eliminate Errors - Review all risks and opportunities before making a decision. This will allow shippers to do more with less, thanks to freight optimization.
User Experience - the end goal is to get the freight to its final destination on time. Adopting measures to allow for a more streamlined user experience with a higher satisfaction rate from all parties involved.
Avoid Over Complicating the Process - avoid making any changes that over complicated the freight shipping process.
While today's customers will undoubtedly choose the fastest delivery option given a choice, keeping them informed about the implications of faster delivery and shipping process via an integrated POS can help you incentivize them to opt for a different delivery option. Getting creative with how you choose to ship your freight and your customers' options can allow you to fully optimize your freight for a better experience for all parties.
How Do You Prepare Products for Freight Shipping
Freight should be palletized for shipment. Non-palletized freight can also be shipped, though this may present challenges for the carrier.
How do you know what products need to be palletized? Goods that must stay together, multi-piece items needing extra stability and protection must be palletized. Loose goods that don't fit this criterion can be non-palletized.
When looking to prepare your products for freight, below are some of the best practices to follow.
Choose an appropriately sized pallet, so items are not overhanging off the sides. Pallets must be sturdy, intact with no broken boards, and the deck boards must be closely spaced. Choose pallets with four-way entry points to allow for improved handling.
For stackable boxes or cartons, make sure to choose newer boxes that can withstand the weight placed on top of them without damaging the contents. Disperse weight correctly and evenly when stacking the pallet, avoid interlocking patterns or pyramids, and keep all the pallet cartons.
For non palletized freight, use sturdy containers then hold and support the weight inside. Double box if required. Strengthen edges and corners to reduce flexing and seal seams and closures with reinforced tape.
Label each box with complete addresses, telephone numbers, and zip codes and make sure each box or item is labeled.
Secure the freight to the pallet by binding or using straps before using stretch wrapping to keep contents together and stable.
Label each side of the pallet with complete and correct information.
When using freight shipping services, remember to follow the carrier's guidelines to ease transporting and safeguard your shipment when in transit.
Get a Freight Rate Quote from R+L Global Logistics
How can small businesses reduce shipping costs? By working with the best in the business. At USA Truckload Shipping, powered by R+L Global Logistics, all customers are assigned their own transportation specialists to calculate the best shipping options for their business. We are a family-owned company that takes truckload freight delivery seriously. Let USA Truckload Shipping, powered by R+L Global Logistics, take your freight over the distance. When you need freight shipping from California to Florida or beyond, we're ready to get down to business. We'll handle any route while serving as your strategic freight partner.
We understand the complexities involved in how your small business can save money on shipping costs. Our friendly freight experts have the capabilities to meet the unique requests of truckload freight shippers. To get a truckload freight quote from R+L Global Logistics, get in touch with us today. Call (866) 353-7178.