Get Freight Delivered Between Neighboring States
New York and New Jersey are neighboring states and freight flows freely between the two. In fact, shipping from New Jersey to New York is a big deal for many businesses. The right freight partner can make the journey over the state line simple. R+L Global Logistics is ready to partner with your business for freight shipping from New Jersey to New York.
Much of New Jersey is a bedroom community for New York City. Lots of products and commodities from The Garden State are shipped in to The Empire State, creating many opportunities for the movement of freight. Ports in New Jersey and New York also equal freight on the move. This means the highways and bridges connecting the two states stay busy. When you opt for shipping from New Jersey to New York with R+L Global Logistics, you won't have to worry about making the journey. We're here to help and ready to navigate any bumps in the road.
Freight on the Move from New Jersey to New York
New Jersey has a varied economy. Both agricultural commodities and manufactured products keep the state's businesses humming.
Manufactured products traveling from New Jersey to New York include: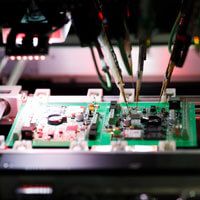 These products come from some huge national companies. Major manufacturers in New Jersey include Anheuser-Busch, BASF, Benjamin Moore Paints, Campbell's Soup Company, Crestron Electronics, Diamond Chemical, Konica Minolta, Lockheed Martin, Mars Chocolate, Panasonic, Sharp Electronics and Wenner Bread.
Agriculture is also a big business in New Jersey. The state's farmlands produce some serious cash crops. In fact, 95% of Ocean Spray cranberries come from New Jersey bogs. Other agricultural commodities coming from New Jersey include:
Regardless of what kind of freight you are shipping to New York from New Jersey, R+L Global is prepared to get it there on time and intact. We make more than 99.5% of deliveries on time and can make sure your freight shipping experience is simple and hassle free.
Freight Shipments from New Jersey to New York
There are many reasons why you might opt for shipping with R+L Global Logistics. We offer a strategic partnership and a top-notch customer experience that only a family-owned company can provide.
Advantages of shipping with R+L Global Logistics include:
No matter whether it's your first shipment or your 50th shipment, freight shipping from New Jersey to New York with R+L Global Logistics means you're getting more than great service. By working with our team, you're gaining a strategic partner who is ready to provide the solutions you need.
Reach out to R+L Global Logistics today to get your truckload shipping freight rate quote and get your goods on the move today.
Freight Shipments from New Jersey to New York
Shipping from New Jersey to New York means your freight passes through some of the busiest and most congested highways in the country. The route up I-95 into the City and upstate is well traveled and R+L Global Logistics only works with carriers prepared to make the haul.
Additionally, our carriers pay close attention to your Bill of Lading to make sure your freight gets proper treatment. Many goods, like farm-fresh produce and delicate electronics, require temperature-controlled shipping. Our refrigerated freight shipping services will help your products stay cool as you stay collected knowing your freight is in good hands.
R+L Global Logistics offers the following services for freight shipments from New Jersey to New York: