Freight shipping is an essential part moving products for most Ecommerce businesses. It's the process of getting the goods out to the customer. When it comes to freight shipping for Ecommerce, there are many benefits of using full truckload and LTL services. You might find that freight shipping is a cost-effective and efficient way to transport goods. It depends on the size of the load whether your business needs to use full truckload or less than truckload (LTL).
Freight shipping for Ecommerce is normally taken care of by a third party, like a 3PL company. These freight experts can serve as a strategic partner and more. They can also advise you on the best method of freight shipping for your Ecommerce needs.
What is Freight Shipping?
Freight shipping is essentially the transportation of goods by road, rail, ship, or air. It can also involve international shipping. For most Ecommerce businesses, the transportation of large shipments is often taken care of by a third party, like a 3PL company. The goods are traditionally loaded onto pallets or otherwise into large sturdy containers. The mode of transport used often depends on the destination. Freight shipping for Ecommerce can occur domestically or internationally.
In order to classify as a freight shipment, the package needs to either weigh over 150 pounds. Freight also typically measures at least 30 x 30 x 30. Anything smaller could be cheaper to send as a parcel, rather than shipped. Freight is loaded onto pallets and a standard truck can hold up to 26 pallets. The dimensions of the pallets are normally 40 inches by 48 inches and with a maximum height of 80 inches.
Typically, goods are loaded to be shipped from a warehouse. This is often done using a forklift, elevated dock, or other loading equipment. Freight shipping for Ecommerce is usually undertaken as part of a fulfillment service provided by a third party. It's usual for Ecommerce businesses to outsource their storage, shipping, and delivery. This makes it a lot easier and cheaper for them. There are also many different types of freight shipping, and the appropriate one for your business depends on the goods you need to transport.
Is your business shipping freight from Idaho to Nevada? See how the right freight partner can help goods move on this busy route.
What Does It Mean to Be Shipped by Freight?
The definition of freight shipping is the process of transporting commodities. The main types of freight shipping for Ecommerce are truckload, less than truckload (LTL), and intermodal. These are all via road. Freight can also be shipped train, ship, or plane. The main types of transport that carry freight are trucks, railroad cars, and large shipping containers.
There are many benefits to shipping by freight. One of the main advantages is that it's often the best method for delivering goods to their destination on time and safely. It's also fairly cost-effective and you can save even more money by working with a shipping company. Often business owners don't have the time or the experience to research carriers and get quotes in order to find the best rates. A shipping company can arrange the best solution for you.
Online freight service providers will work with the best contract carriers, meaning your goods will arrive safe and sound, and more importantly in a timely manner. If you need to get your goods out quickly, you can choose a timeframe to suit your needs. There are a variety of freight services available. Here is an overview of the standard freight shipping modes for Ecommerce.
Less than truckload (LTL)
As the name suggests, less than truckload (LTL) is designed for shipments that won't require all the space of a full truckload. These are typically packages that are too big to be shipped as parcels that weigh something in between 150 and 15,000 pounds. This is a good solution for an Ecommerce with smaller packages to transport, for example.
If you want to share the truck with another shipper, you can opt for partial truckload. This is a cost-effective option. It's ideal especially if your goods weigh over 5,000 pounds or take up more than 6 pallets. By sharing the truck space with other shippers, you can make considerable savings.
Full truckload is for larger shipments typically of at least 15,000 pounds. It involves the use of an entire semi-trailer. It's also a very cost-effective solution. It's also safer and lowers the risk of any damage being caused to your packages. Depending on the size of your business, full truckload freight shipping for Ecommerce could be ideal.
When goods need to be delivered quickly, it's known as expedited shipping. This is usually done by truck or air. It's for deliveries that need to be made in a short time frame.
USA Truckload Shipping, powered by R+L Global Logistics, is ready to be your freight partner. No matter whether you need freight shipping from Idaho to Utah to get goods across state lines or freight shipping from Alaska to Washington down the West Coast, we're here to help.
What is the Difference Between LTL and Truckload Shipping?
The main difference between less than truckload (LTL) and truckload shipping is the size of the load. LTL is the preferred method of freight shipping for Ecommerce when the goods only take up a portion of a trailer. Full truckload, on the other hand, is when an entire trailer is needed. Both are cost-effective solutions, depending on how much you need to transport.
If you have fewer or lighter goods to transport, you could opt for LTL. This is a cheaper solution because you can share the cost of the truckload with other shippers. This is often an option for small and medium-sized businesses. If you require more space, you could go for a full truckload shipment instead.
If you have a large shipment, it might be worthwhile opting for a full truckload, especially for long-haul journeys. This also often means that the goods will stay on the same truck and won't need to be transferred between trucks. Otherwise, you can opt to share a truckload which is often better for smaller loads and shorter journeys.
You can save money by shipping a smaller freight by LTL. It depends whether you have a shipment big enough to fill an entire trailer or not. If you have a full load it could cost you less overall, but if you have a smaller shipment you can share a trailer with other shippers.
Another difference is that often the price of full truckload is worked out by mile, whereas LTL is worked out by weight. This is because if you're hiring a full truckload the weight isn't important as long as it's within the capacity of the truck. With LTL, you pay for the portion of the truck you share in order to transport your goods.
Regarding the time frame, full truckload can be faster because the goods aren't usually transferred between trucks. You will be given an estimated timeline by your freight shipping services in either case. Both full truckload and LTL are very safe ways to transport your goods. In order to reduce the risk of any damage, however, you could try to package all your goods together and have the minimum number of parcels.
No matter whether you need paint, office supplies, or rubber shipped, we've got you covered. Check out our articles to learn more about how we can help your eCommerce business thrive.
Does Freight Shipping Deliver to Residential?
Freight carriers typically all offer residential shipping. Often an additional fee is added if any shipments are being picked up or delivered to a residence. It also can depend on the type of vehicle used. With LTL, sometimes larger vehicles are used such as dry vans and trucks, making it more difficult to enter narrow residential streets.
Pick up and delivery fees are usually charged separately with freight shipping for Ecommerce. The charge depends on the type of shipment, but all carriers should offer this option. It depends on the size of the delivery and the vehicle used. Online freight shipping services will be able to give you a breakdown of the different residential options they offer.
Even LTL packages delivered to a residence will be at least 100 pounds in weight. Anything smaller will be sent by parcel service, whether it's sent to a residential address or business. If anything is delivered to a residence it's normally done by appointment and it's important to inform the carrier first. The truck will also need a liftgate, for example, so it's vital to let your freight carrier know any necessary information.
How to Prepare a Freight Shipment
The most common way to pack freight is by using pallets. This helps put together multi-piece shipments to increase protection and reduce the risk of damage. Each pallet is then considered as one piece. Normally pallets are made from wood or plastic and they can weigh up to 70pounds. In general, they are a very secure way to package your freight.
It's important to select pallets that are large enough for your load, and don't exceed the capacity. You can then stack the pallets as long as they are sealed. Try not to leave gaps between the goods in the pallets so that they don't move around during the journey. This will help reduce the risk of damage.
Keep the pallets aligned and don't stack them into a pyramid, ensure the top layer is a flat surface. Use a slip sheet between each third layer to protect the items and help distribute the weight. Secure the pallets with a strap or banding. If you use stretch wrap, use a minimum of 60 gauge. This will prevent any pieces from getting lost or separated.
Ensure each piece is labeled with the address information of the shipper and the consignee. It's a good idea to also include the telephone number of both. Depending on the carrier, you might be required to label each pallet twice, with a label on the side and one on the top. Find out which is the correct way to label your pallets from your carrier.
How Do I Get a Freight Quote?
You can get a free freight quote quickly and easily online. Whether you're shipping something a short distance or in it for the long-haul, a friendly shipping expert will help you streamline the booking process. Your time is valuable and getting a freight quote should be quick and simple.
All you need to do is complete a short freight quote form and a transportation and logistics specialist will get in touch with your free shipping quote. They will be able to understand any other questions you may have about the freight shipping process or freight shipping for Ecommerce.
What Factors Impact Freight Costs?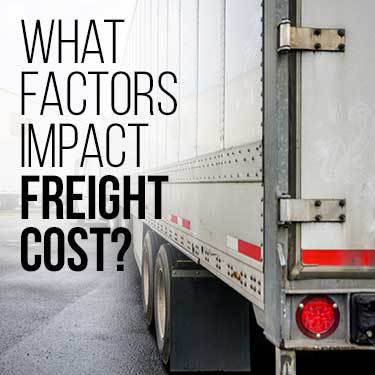 The rate for your freight cost will be calculated based on a number of factors. This will determine the cost of your shipment overall. Some of the factors include:
The distance between the origin and destination and the type of locations will be considered when calculating the cost of your shipment. Certain areas that might incur a higher charge are residential areas or places with limited access.
The availability of trucks will also affect the freight cost. Different carriers will have vehicles in different locations, so it's important there's one available near you.
The time frame or deadline will also have an impact on the rate. If you want your goods to be delivered quickly, then this will cost more. If you want to arrange a specific delivery time this could also affect the rate.
If you need any additional services this could also incur extra charges. Additional services may include a liftgate, B2B white glove, and high value/high-risk commodities could also cost more.
It's recommendable to give your freight carrier as much information as possible about your shipment, so they can work out a realistic quote for you. This can include the origin and delivery zip code, the dimensions and weight of your shipment, the replacement value of your shipment, and any additional hauling needs.
The commodity you're shipping can also influence cost. Hazardous materials can be more expensive as permits and precautions are required. Learn more about DOT hazmat classes.
Freight Shipping for Ecommerce Tips
Freight shipping for Ecommerce is an integral part of the business. If you're looking for help with your shipping, here a few tips for freight shipping for Ecommerce.
1. Define your shipping goals. These might include to increase conversions, increase average order value, expand your market, decrease costs, or to improve operational efficiency.
2. Choose the right shipping solution for you. This may be between full truckload and LTL for example. Speak to an advisor from online shipping services about your shipment and which shipping solution is the most appropriate.
3. Take into consideration any factors that affect cost. As mentioned before, these mostly include product size and weight, shipping destinations, and shipping options.
4. Consider all the shipping options. Some cost-cutting solutions can include free in-store pick up, LTL freight carriers, and free shipping.
5. Consider all the delivery options. If you run an Ecommerce you might want to offer the option for same-day delivery, for example. You could also offer different delivery options and charge accordingly for each.
6. Consider offering free shipping to your customers. This is very appealing to customers and many will often choose a company that they don't have to pay for shipping. Remember you'll need to cover the cost in your profits, however, as shipping won't be free for you.
7. Display shipping promotions on your website. You should include a banner or call-to-action on your website that advertises your shipping offers, particularly if you're offering free shipping. You could set a time limit for a shipping promotion, such as "free shipping until the 31st" in order to draw more business in.
8. Always inform your customers of the delivery time. Customers can get quite impatient and being informed of the delivery date can help to pacify them a bit. It's also a good idea to give an indication of the delivery time, particularly if you're delivering to a residence. Ideally, you want the recipient to know when to expect their goods.
Book Your Freight Today
If you're looking to book your freight shipping for your Ecommerce or other business, reach out to USA Truckload Shipping, powered by R+L Global Logistics. Our friendly experts understand freight shipping for Ecommerce and are prepared to help you move products efficiently and effectively.
You'll find USA Truckload Shipping, powered by R+L Global Logistics, offers services including:
Flatbed carriers
Heavy haul trucking
Refrigerated shipping
And much more
Booking your freight shipping couldn't be easier. Speak to one of our experts and find the perfect shipping solution for your Ecommerce. Our friendly team is always happy to help. We have expertise in a wide range of fields and have dealt with a number of different businesses. If you would like to know more about freight shipping for Ecommerce, get a free truckload freight quote today.