Sending fishing rods and other fishing gear can be troublesome and complex. Fishing gear can sometimes be awkwardly long, fragile and items that require care and attention. When you are a manufacturer of fishing gear you want the peace of mind that your stock is going to arrive at the warehouse and retailer safely and in the best condition. Generally, freight shipping fishing gear is the best choice when it's come to getting your stock from A to B in good hands.
There are many considerations that go into freight shipping fishing gear. Things to think about include:
Packing
Freight class for LTL shipments
Rate Quotes
See how working with a strong logistics partner can get your gear from factory to warehouse to retailer and into the hands of eager fishermen.
What Types of Fishing Gear Can I Ship by Freight?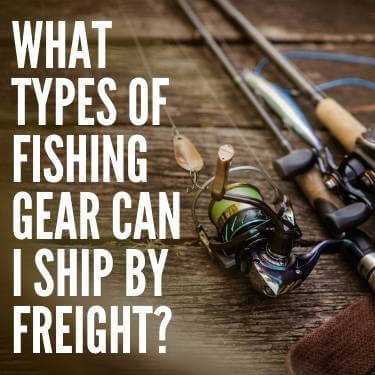 When it comes to shipping fishing gear there isn't really a limit to what you can or can't ship by freight. Therefore any stock that you need to be delivered can be handled. Even large boxes of tackle require freight service. We are on hand to make sure all your fishing gear is delivered where it needs to be.
Some of the fishing gear you can ship via freight includes:
Fishing Bait - The traditional and typical fishing bait that you think about is usually the worm hooked to the end of the hook, these are still one of the most prominent fishing baits used today.
Soft Bait - Similar to standard fishing bait, however, it is made former rubber and can be used multiple times. It is durable and pliable.
Fishing Lures - These are what are used to attract fish to the bait. There is a large variety of fishing lures. Spoons, jigs, crankbaits, and buzz baits, therefore you may have a large requirement for shipping these.
Fishing Reels - Fishing reels are attached to a fishing rod so that you can wind and stow the entire line. They can also help with accuracy and other elements. They are hugely popular items in the fishing world so you may have large requirements to ship these on a regular basis.
Fishing Rods - Perhaps the most common item that you associate with fishing. And it is probably the item that you will find most difficult to ship. However, you can rest assured that we can handle it.
Fishing Nets - These are commonly used for fishers who are both recreational and professional and they come in a variety of sizes. Under this category, you will also find items like fishing line, thing hooks, fishing angling accessories, and fishing flies.
Other Fishing Gear- This may include tackle boxes, accessories, clothing, chairs, umbrellas, etc. Although these are simple to pack and ship, you want to make sure they are arriving alongside your more complex stock too.
As you can see there is a wide variety of fishing gear that has the need to be shipped. We are on hand to ensure all your freight shipping fishing gear needs are met.
How to Package Fishing Gear for Freight Shipping
Packing fishing gear ready for shipping can be a little challenging.
Have a look below at a quick guide that can help you to ensure your fishing gear is packed properly ready for freight shipping:
Remove any reels from fishing rods including any other detachable parts. Place the fishing reel in a bubble wrap bag to help limit damages.
If the fishing line is foldable, fold it. Make sure there is no fishing line still attached to the rod for shipping.
Place the fishing rod in a shipping tube, or in a secure box that could later be put into a crate.
Make sure any tackle boxes are bound together. None of it should be loose. If it is loose there is a risk it could spill in transit. It may be a good idea to wrap tackle boxes in bubble wrap.
If you are shipping items in a cardboard box make sure nothing is just sitting loosely. They should always be packed and spaces filled using things like bubble wrap or peanut packaging.
All boxes need to be sealed before been bundled onto crates or pallets.
What Freight Class is Fishing Gear?
When you're shipping any goods via LTL, it's important for you to know and understand the freight class that is needed in order to get your product shipped using the correct procedures and to enable you to get the correct things such as prices and insurances. The freight class that your fishing gear falls under will depend on its freight density.
In most cases, the freight class of fishing gear ranges from Class 40 to Class 600.
The other factors that determine freight class are handling stowability and liability.
Handling - Most freights are loaded with mechanical equipment and therefore no handling difficulties arise, however, due to fragility, weight, shape, or hazardous properties some freight need extra attention.
Stowability - Some items can't be loaded together, and hazardous materials must be shipped in a certain way. If there is excessive weight, protrusions, or length some items may be impossible to load with other items.
Liability - Some loads are more susceptible to theft, others are more fragile, perishable, or more damaging to the actual freight.
How to Get a Rate Quote for Freight Shipping Fishing Gear
Understandably each load of fishing gear that you need a freight for may hold a different rate than you need to pay. This is because each load is likely to vary and no-load will contain exactly the same shipment. Some of the things you need to consider when looking for a rate quote include:
The weight/density of your load.
The fishing gear that you are shipping.
The value of the goods being shipped.
How many items you are able to ship in the freight?
How many pallets or crates are being used?
Are any of the items particularly fragile and need extra care?
Does the shipment hold a higher liability than usual?
We can help you to figure all of these out so don't worry. We can find you the right price for each freight you need to send.
Freight Shipping Fishing Gear with R+L Global Logistics
Once you have done your research for all of your freight shipping fishing gear needs, it's important to start shipping with a trusted professional like R+L Global Logistics. We have a dedicated list of proven truck drivers and partners to get your fishing gear shipped to your clients on time, every time.
When you are in need of shipping your fishing gear, get in touch with us for a free truckload shipping quote. You can reach us at (866) 353-7178 to speak with someone directly about why choosing us for your freight shipping needs is the right choice.