Many people have a sweet tooth, which is probably why you're looking to begin freight shipping confections across the United States. But you may be wondering how to get your freshly created or baked goods to a bunch of different destinations while still maintaining their freshness and integrity, and preventing unnecessary spoilage.
In reality, freight shipping confections isn't that hard as long as you keep two things in mind. Using refrigerated shipping for your goods will be a must in most cases and you also want to partner with a trusted third-party logistics (3PL) company that treats your confections like they are their own, you'll have nothing to worry about.
What are Confections?
Simply put, these are generally dessert or sweet foods that are high in carbohydrates and rich in sugar. The art of making confections is referred to as confectionery. The term confection can refer to a very diverse list of different sweets that range from simple lollipops and candy to baked goods such as cakes and pies.
For centuries, humans have made these foods that are understood to have little nutritional value but are pleasing to people. Most early versions of confections were made with honey since sugar was not nearly as available as it is today. Besides personal consumption, having confections on hand and offering them to guests is seen as a sign of hospitality in many countries, including America. Also, confections — for instance, cake or pumpkin pie — are used to mark special occasions or holidays.
All confections can be divided into two broad categories, although there is considerable overlap between them depending on what confectioners can dream up and create. These are bakers' confections and sugar confections.
Some examples of sugar confections include:
Chocolates
Puddings
Gum
Candies like lollipops, hard candies, jelly beans or cotton candy
Candied fruits or nuts
Fudge
Marshmallows
Licorice
Toffee
Taffy
Frozen treats such as Ice cream, frozen yogurt or sorbet
Baked confections include:
Cakes
Pies
Cookies
Donuts
Pastries
Scones
Although chocolate can be thought of as a sugar confection, it sometimes is referred to as chocolate confections in its own category.
Need to know how to transport candy? See how an expert freight partner can help!
Conditions for Freight Shipping Confections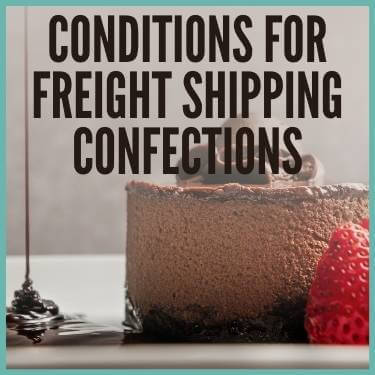 Confections describe such a wide variety of sweets that it is hard to pinpoint the exact conditions each need for shipping. However, there are a few general rules to live by to make sure there's no spoilage among these tasty treats.
Since confections are often made into specific shapes for presentation, you don't want them to warp in any way. The easiest way to do this is to keep the back of the truck relatively cool, at least room temperature (about 68 to 72 degrees). If you are shipping chocolate-based items, this will help them not melt or otherwise warp and lose their aesthetic qualities. While room temperature varies depending on who you ask, most standards agree that anything over 77 degrees fahrenheit is no longer considered room temperature.
Confections with high levels of sugar can often have an extended shelf life as long as they are kept sealed and in a dry environment. That would go more for things like hard candies and the like though, as baked confections like cakes, pies, donuts, etc. still have a limited shelf life because of its bread-like qualities.
Chemical properties of a particular confection can also determine how it should be shipped. As an example, the amount of water in the candy will dictate the best way to keep the confection. Candies with low moisture might not technically spoil but the subsequent loss of flavor, texture, shape or color will make it unappetizing to consumers at a minimum.
On the flip side, nearly any confection will go bad in environments with high moisture or humidity. Also, if one confection has ingredients that have different levels of moisture (such as nougat and marshmallow), you must be mindful of water activity. This is when a low-moisture candy takes some of the moisture from a higher-moisture ingredient. That can change how the confection tastes and it's unlikely going to be a positive shift.
Freight Shipping Confections With R+L Global Logistics
Once you've decided to look into freight shipping confections, give our team at R+L Global Logistics a look to handle all of your transportation needs.We've been in the freight shipping business for years and can make sure your confectionery creations reach customers or retailers in mint condition.
R+L Global Logistics offers standard shipping of freight but also several other kinds of transportation that could really boost your operations. First and foremost, we offer refrigerated shipping which can truly help keep those sweets at peak freshness during the journey. Our trucks are able to be customized to the temperature your confections require and we have experienced drivers who will check periodically to make sure the right climate is maintained and who are well-versed in making refrigerated deliveries.
Going down the list is the availability of our expedited shipping, either as a regular part of your shipment plans or during specific times when faster transportation is needed. This type of shipping — depending on the length of the route — can shave a day or two off a regular freight hauling.
With these different kinds of shipping to suit a variety of needs, don't discount the ways R+L Global Logistics can add value to your load with our business values. Speedy delivery is as important to us as it is to you, which is why your shipment will arrive on time at a 99.5 percent rate.
R+L Global Logistics also extends industry-leading customer service to anyone we partner with, as well as real-time freight visibility. We do these things because you should be able to have peace of mind when you entrust us with your valuable products. We'll give you a fair refrigerated shipping quote and take care of your confections.
So when you're ready to start freight shipping confections, give R+L Global Logistics a call for a free truckload freight quote by dialing 866.353.7178.