Excavator shipping is a heavy job and you need a strong transportation partner to get the job done. There are many unique challenges that come with moving a piece of machinery that can weigh in excess of 45 tons. From sourcing the equipment you need for your jobsite to arranging equipment transport to obtaining the right permits for the road, there's a lot that goes into excavator shipping.
The key to excavator shipping is working with a carrier experienced in transporting this kind of equipment. To make excavator shipping easy, you need the right rig and the right carrier. An excavator won't fit in an enclosed container and can't be hauled like a car. RGN trailers, flatbed trailers and step deck trailers can be used.
R+L Global Logistics is ready to be your heavy haul trucking partner when you need excavator transport. The expert team at R+L Global Logistics has the experience and knowledge needed to safely ship all kinds of heavy equipment, including everything from hydraulic excavators to mini excavators. From jobsite to disaster recovery, we've got you covered.
How to Ship an Excavator from State to State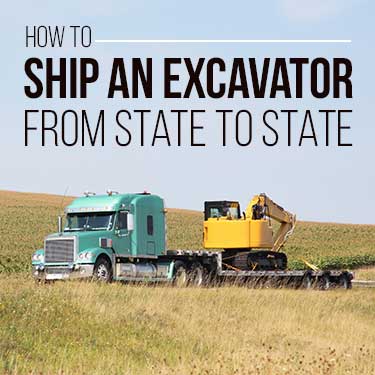 Increases in infrastructure spending are creating jobsite all across the country. Excavators are used for digging large holes, demolishing existing structures and moving/placing large, heavy objects. They can weigh as much as 45 tons, so it's best to leave transport services to the heavy haulers.
What do you do if you need to ship an excavator to a job site in another state? R+L Global Logistics offers the shipping services you need to move excavators anywhere, from across town to across the United States. We can make the process of excavator shipping easy and hassle-free.
Even with a strong logistics partner on your side, you'll need to do a little legwork to get your construction equipment and excavators on the road. Here's a handy guide excavator shipping you can keep in mind when you're ready to have an excavator hauled across state lines.
Looking for a solution for heavy or oversize freight?
Leave heavy haul trucking to the experts at R+L Global Logistics.
Get the Right Information Ready
The first step in excavator shipping is compiling the information you'll need to get a freight quote. You'll need to know:
The manufacturer and model of the excavator that you need to ship
Excavator dimensions, including length, height and width
The excavator's gross weight
If the excavator can move on its own
The above information will make it easy for R+L Global Logistics' friendly freight specialists to give you a transparent heavy haul freight rate quote to move your machine. We have the experience and expertise needed to move a variety of excavators, including:
Kubota Mini excavators
Kubota Diesel Engine excavators
Kubota U25 excavators
Caterpillar 305.5 excavators
Caterpillar 308E2 CR SB excavators
Caterpillar 303.5 excavators
JCB JS145LC excavators
John Deere excavators
Mercedes Benz excavators
Bobcat excavators
And more excavators
Research and Obtain Permits
Excavors are a heavy, oversize load. If you're arranging shipping on your own, you are responsible for pulling your own permits. Each state has different heavy haul rules and you'll need a permit for each state line you cross. Permit costs can vary, for example you might pay upwards of $150 in California or as low as approximately $25 in Iowa. The amount you'll spend on permits varies on your route.
You'll also need to plan your route. Heavy haul loads can't just go down any street, road or highway. Routes must be carefully planned to protect existing infrastructure.
You can skip this step by working with a strategic partner. R+L Global Logistics will get you with the right carrier, pull the right permits and determine the right route for your heavy haul excavator shipment.
Reach Out for a Hassle-Free Heavy Haul Freight Rate Quote
Here comes the easy part. After you have the information needed about your excavator, it's time to determine the cost to ship. The easiest way to handle this is to leave it to the professionals.
When you reach out to R+L Global Logistics for excavator shipping, you're gaining a strategic partner. Our freight rate quote for your excavator shipping needs includes it all: We'll get the permits, plan your route, book the right equipment and get the right carrier. This all adds up to a hassle-free experience for you.
Tips for Shipping an Excavator
Who do you reach out to when you need excavator shipping? You might consider vehicle transporters, but they likely can't get the job done. An excavator won't fit on a 10-car hauler and it won't fit in an enclosed carrier. You need a transport partner with the right equipment to get the job done.
You'll need a flatbed trailer to ship an excavator. Because excavators are oversize and tall, you'll likely need a lowboy trailer. Lowboy trailers sit closer to the ground than traditional flatbed trailers to accommodate the extra height of an oversize load. A 2-axle lowboy might be able to haul up to 40,000 lbs. Increasing the number of axles increases hauling capacity. In fact, you can haul up to 80,000 lbs in most states when you have enough axles.
Excavators can be secured to the lowboy trailer with chains and boomers. This will help keep the equipment secure during shipping. Your carrier will ensure the excavator arrives in great shape so you can ship with peace of mind.
Looking for a solution for heavy or oversize freight?
Leave heavy haul trucking to the experts at R+L Global Logistics.
Excavator Shipping Made Easy with R+L Global Logistics
R+L Global Logistics makes shipping an excavator easy. From handling all the permits and planning the route to finalizing delivery at your job site, we're ready to be your heavy hauling ally.
We understand that it takes a lot of coordination to transport excavators and we're ready to tackle all the associated challenges. Let R+L Global Logistics do the heavy lifting. You'll find that we have the equipment, expertise and services needed to offer solutions to your excavator shipping needs. Our construction equipment transport services are unbeatable.
Get a Free Excavator Shipping Quote
Reach out to R+L Global Logistics today for a hassle-free excavator shipping quote. No matter whether you're moving equipment from to a job site across the state, across the country or even to Canada or Mexico, we can provide solutions.
Reach out online or give us a call at (866) 353-7178 today and start the quote process now.