East coast drayage services are becoming a critical requirement in today's logistics market. Once much sleepier than their west coast counterparts, ports along the Atlantic ocean have experienced a massive uptick in business. Shippers hoping to avoid historic congestion in the west have turned to the east for solutions and made drayage services more important.
East coast drayage services have become more important as Atlantic ports take on more vessels from the Pacific. Vessels are using the expanded Panama Canal more often to avoid delays due to West Coast congestion. Extensive railways at most Atlantic ports also creates more opportunity for intermodal drayage transport services.
Get your east coast shipments moving with drayage services and avoid port storage charges.
East Coast Drayage: Why You Need It
The Covid-19 pandemic that began in 2020 has had far-reaching impacts on the shipping industry for many reasons. Widespread shutdowns both in the United States and in major shipping ports overseas created backlogs of shipments.
Combine these issues with an industry that was already struggling to retain workers and you get large-scale problems at nearly every level of the logistics business, but especially at the ports.
For most of 2020, major shipments were still coming in through west coast ports - namely Los Angeles/Long Beach, the biggest ports in North America. The combination of increased shipments and a reduced labor pool created the worst backlog of ships in the history of the port.
At one point, there were over 100 ships just drifting off the coast of California waiting for their chance to dock and unload. Shippers hoping to avoid that problem have re-routed shipments to the east coast.
This was made possible by a few different events.
The Panama Canal expansion allowed passage for the largest container ships from the Pacific
Completion of planned expansions to four of the largest ports
Many of these expansions are ongoing and many other ports have similar projects in the works. In the meantime, ships that traditionally went to the San Pedro ports of California are arriving in the east in ever-increasing numbers.
While there have been many benefits, the fact is that East Coast ports were ill-equipped to deal with the kind of volume that was suddenly coming in. The recent upgrades to ports, such as the Port of Savannah in Georgia, have helped, but ships and containers are still piling up at other ports.
To keep your supply chain intact, it's in your best interest to use short-distance drayage to keep your cargo moving.
How Does Drayage Help Port Congestion?
The cure for congestion is movement. Drayage services improve congestion because they keep containers moving and prevent supply bottlenecks.
The drayage process can ease congestion by getting containers out of port faster and clearing space for the next ship. You can get your goods quickly out of port and on their way to intermodal stations for transfer to rail yards, local warehouses, or to transload centers.
Drayage makes this rapid transport of goods possible because they aren't taking containers long distances. In fact, in some instances, they don't even empty the containers, just transfer them. This means a single truck with a container chassis can make multiple drayage runs in a single shift.
For shippers with multiple containers that need to be moved, drayage services can assist in avoiding demurrage charges.
Depending on what type of cargo you need to move out of port and where you want it to go, there are six different types of drayage recognized by the Intermodal Association of North America (IANA).
Door-to-door Drayage
Expedited Drayage
Shuttle Drayage
Inter-carrier Drayage
Intra-carrier Drayage
Pier Drayage
For more information on the different types, check our article, "What is Container Drayage?"
Many of these are known collectively as intermodal drayage because the two systems are so closely combined. Intermodal shipping, whether from port to rail, rail to port, or either one to a warehouse, does not work without the availability of drayage transport services.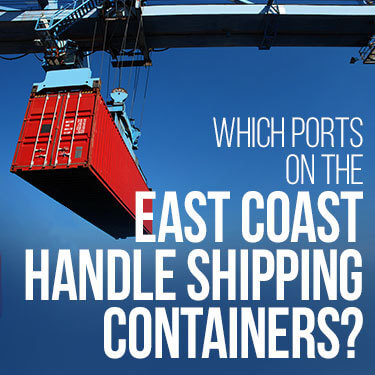 Which Ports On the East Coast Handle Shipping Containers?
Technically speaking, nearly every major port in the U.S. can handle shipping containers. The real issue is the ability of ports to handle large amounts of containers.
A port's container capacity is measured in terms of TEUs (twenty-foot equivalent units). Shipping containers measuring 20x8x8 are the most common worldwide to the point they are used as a unit of measurement.
While there are other sized containers, this creates a standard when objectively looking at a port's capacity.
In terms of capacity, these are the top contenders on the East Coast.
Largest East Coast Ports by Container Capacity*
| | |
| --- | --- |
| Port Location | TEU Capacity per Year |
| New York/New Jersey | 9 million |
| Port of Savannah, Georgia | 4.2 million |
| Port of Virginia (Norfolk) | 4 million |
| Port of Charleston, South Carolina | 2.3 million |
| Port of Jacksonville, Florida | 1.4 million |
| Port of Miami, Florida | 1.25 million |
| Port of Baltimore, Maryland | 1.05 million |
| Port of Philadelphia, Pennsylvania | 640,799 |
| Port of Boston, Massachusetts | 268,418 |
*based on 2020 estimates
A port's ability to handle TEUs is directly impacted by its ability to operate container cranes on the docks. These cranes are needed to load and unload the massive container ships that are the backbone of the maritime shipping industry.
The largest of these regularly hold 11,000 to 13,000 TEUs, though their max capacity is even greater. By replacing or upgrading existing crane systems, East Coast ports can begin competing once again with ports in the west.
New Growth for East Coast Ports
While ports have been installing these new cranes, the limited number of berths and the depths of the harbors do more to contribute to congestion than the actual services available at each port.
In terms of time, unloading 5,000 TEUs from two smaller ships takes longer than unloading 10,000 TEUs from one massive ship. With limited numbers of berths, ships might be stuck waiting at sea. Once further expansions are completed, East Coast ports should actually be able to move cargo out faster than their West Coast counterparts.
This is due to the availability of far more rail lines that can get cargo to more states in a shorter amount of time. Provided that the ports can improve their on-time vessel performance, improved drayage services can get containers to railyards and shipped out to markets in Kansas City and Chicago - locations previously serviced more by West Coast intermodal services.
Can I Use Drayage Services to Get Containers Out of Florida?
Many drivers and shippers are wary of Florida due to its notorious reputation for bad backhauls. Getting products out of Florida by truck tends to be pricey and some companies aren't willing to wait around for a good haul when they can get better ones further north.
Drayage services can be used to get containers from the port to one of the reliable rail lines getting products out of Florida.
If you have products coming into the ports of Miami, Everglades, or Jacksonville, then intermodal drayage services can improve the odds of them getting out faster. This is especially true for the many time-sensitive products that often enter through Miami, such as fruits and vegetables from many parts of Central and South America and the Caribbean.
Florida East Coast Railway
One of the best ways to get products off ships and out of Florida is through intermodal drayage services to the Florida East Coast (FEC) Railway.
The rail specifically serves the ports of Miami, Everglades, and Palm Beach. It's also connected directly with the national railway system in Jacksonville, the biggest container port in Florida. If your product destinations are for other places in Florida, the FEC also runs to Ocala, located in the center of the state. Many 3PLs have distribution warehouses and further drayage services for final mile deliveries at this centralized location.
How to Choose an East Coast Drayage Company
As the East Coast expands its ports and increases both import and export product movement, drayage services will become more necessary. Before choosing a drayage company, make sure you have a business plan outlining what your drayage needs may be.
As outlined earlier, not all drayage is the same. If you contract with a company that only moves full containers but you need unloading services at a warehouse, you're going to run into trouble. A similar situation may occur if you have special containers that have more specific requirements, such as reefer containers.
In other words, you want to make sure that the company can do what you need it to do, logistically speaking.
If you already use a 3PL system for your warehouse and distribution management, it's worth looking into them for further services. Many 3PLs have the ability to contract drayage services on your behalf. Since they are already familiar with your shipping and distribution needs, they are in a good position to select a service that meets those needs.
Make USA Truckload Shipping Your Drayage Partner Along the East Coast
There may be different reasons for you to be looking into East Coast drayage services. Perhaps you are one of the many shippers diverting your products away from the West Coast. Maybe you are looking for solutions as you face congestion problems in the East that were previously not an issue.
Either way, USA Truckload Shipping can help you get your goods moving once more. Our drayage services can handle shipping containers of multiple sizes and offer transloading services as well.
Partner with us and gain access to all the different shipping options we have to offer alongside drayage.
Work with a company that has you and your cargo's best interest at its foundation and see the difference a company powered by R+L Global Logistics can make on your business.
Get in touch today to speak with our transportation experts and get a quote for your shipping needs.