Dry van rates for shipping freight are the most cost effective shipping solution as opposed to other forms of shipping trailers like flatbeds or refrigerated trailers. These trailers haul all manner of cargo across the country and are the most common type of trailer in use today.
Dry van rates are calculated based on freight class, weight, and, sometimes, dimensional load to net a cost per mile. This cost per mile is based on a national average and is dependent on the commodity you're shipping. In FTL shipping, freight class does not affect dry van rates as it does in LTL shipping.
The guide below provides information on dry van rates and how they influence moving freight across the country.
Dry Vans and Their Rates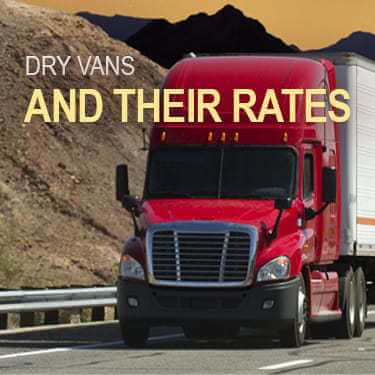 Dry van trailers are the most common form of transport in truckload, import freight, supply chain, and fulfillment. Through sites like DAT freight, you can get a good idea of the current prices pertaining to dry van rates around the country.
Various conditions change or influence daily rates. It is essential when considering the use of a dry van transport to understand dry van freight rates, areas of concern, additional costs, and the benefits of shipping with a dry van trailer.
Shippers are often confused about how dry van rates are calculated and how dry van freight through less-than-truckload (LTL) or full-truckload (FTL) functions. There are a lot of outside factors that can influence the rate of shipping with a dry van trailer as well.
When considering the rates and shipping methodology for your freight, it is best to consult with an expert. This expert will ensure that your shipment will be handled by industry professionals whose business is to see your freight arrive on time and intact.
What is a Spot Rate?
Spot rates are a short term shipping rate solution that is designed to facilitate the needs of a load that needs to be moved immediately. Typically a spot rate is a unique quote that is specific to the load that is being moved at the time based on current market averages.
Spot rates are commonly used by shippers. The main reason for this is that spot rates give shippers the ability to ship their goods without entering into a contract.
Spot rate shipping has multiple benefits that affect the shipper, such as:
A one-time line haul rate that is personal to the shipment
Complete coverage of a single load
Short term and up to date pricing
Accommodation for unforeseen and needed loads
When one carrier cannot accommodate, another carrier can facilitate a shipment
The use of an average spot rate scenario will accommodate the unexpected and any freight that requires unscheduled transportation or falls out of a contracted arrangement.
Spot Rates Average Per Mile (2022)
| | |
| --- | --- |
| Month | Rate Per Mile |
| January | $3.10 per mile |
| February | $3.09 per mile |
| March | $3.02 per mile |
| April | $2.81 per mile |
Source: dat.com
Naturally, spot rates are not always as cost-saving as contract rates. These rates also depend on the circumstances surrounding the potential use of LTL or FTL freight.
What is a Contract Rate?
In truckload dry van freight, a contract rate is a long-term rate solution that offers the shipper more stabilized pricing. Contract rates present an exciting proposal to any business looking to set up regular shipping lanes to and from their customers.
Contract rate shipping has multiple benefits that affect the shipper, such as:
An annual quote that is personalized to your shipping lanes
Complete coverage of shipping lanes
Long-term, stable pricing
Accommodation for stable, preplanned shipping lanes
Typically more cost effective than a spot rate
With a contract rate, shippers can have third-party logistics providers (3PL) or carriers bid on their proposed annual schedule to provide a fixed rate on shipping for the year. When a shipper secures a carrier or 3PL for contract rate shipping lanes annually, the rate for shippers is far more cost effective. This reduced rate is because a carrier or 3PL has guaranteed load to truck ratios in shipping.
Five Areas of Concern Related to Rates
When shipping freight via dry van, the rate is calculated using several factors. These factors are separate from spot rates and contract rates mentioned earlier. Listed below are five areas of concern related to rates.
However, other factors can impact your freight shipment. For starters, you need to ask yourself just how flexible you are willing to be concerning your load? Also, does the carrier or 3PL have adequate available dry vans ready to accept your shipment?
These two concepts of flexibility and availability are essential and something you need to look into before worrying about the rate of your freight shipment. National averages on rates are constantly changing, not to mention the varying factors specific to the load you are shipping.
Equally as important when looking at the areas of concern are both commodity and destination. The commodities within your freight help determine freight class, which affects the rate. Also, the destination of where your shipment is going will affect the price of the rate.
1. Freight Weight and Dimensional Load
One of the most influential aspects of the price of dry van rates is freight weight and dimensional load. It is imperative to note that freight weight and dimensional load only affect the rate for LTL shipping.
The dry van rates in FTL shipping are not affected by weight and dimensional loads. However, in LTL shipping, as mentioned prior, the weight itself plays a role in the dry van rate. Ultimately though, the freight class bares the most significant factor in terms of rate.
2. Freight Class
In LTL shipping, determining the freight class of your load is very important. You can use a freight classification tool to help determine what freight class your shipment is preparing your freight for a dry van load. Then you will input the dimensional load information.
In the following example, we will look at shipping a washing machine:
Item Being Shipped: Washing machine
Item Dimensions: The following are the dimensions of the appliance

Weight: 175 pounds
Length: 34 inches
Width: 28 inches
Height: 40 inches
Freight Class Assigned: The assigned freight class is 125
So, in other words, the commodity, plus the dimensions of your freight, will advise you as to which freight classification your load is for shipping. You can also use tools like the R+L Carriers Pallet Density Tool to find your pallets' freight rate.
Before shipping, the customer is expected to know their freight class, but that is not always the case. If the customer is unaware of their freight class, our experts can lend a hand to find out the customer exactly their freight class.
3. The Cost of Fuel
The cost of fuel surcharges is one of the most significant contributing factors that can and will dictate the dry van rate of your freight. Additionally, fees, surcharges, and taxes will also affect the load. These fees, surcharges, and taxes will change depending on your state or the state you are crossing over.
The fuel itself can and will fluctuate in price. The cost of oil per barrel is constantly changing, especially when situations erupt in foreign countries that have a decent to significant market share for imported oil into the U.S.
The United States imports the majority of its oil supply annually. The rise and fall of the imported oil supply along with the fees, surcharges, and taxes mentioned above are the principle factor in dictating rate. You will need consultation in order to find both the best rate and provider who can facilitate your dry van needs.
4. Supply Shortage and Demand Spikes
All manner of things happen in the logistics business that can influence freight rate and the availability of dry van trailers. The use of flatbed trailers or refrigerated trailers might be limited depending on the industry's current state.
When demand spikes or shortages occur, shippers are limited to whatever kind of trailers are available and how many of them are ready to transport loads across the country. Rates will typically climb as demand for all manner of trailers rises, with dry vans being the most cost-effective.
For other less common trailers, such as flatbeds, conestoga, and refrigerated trailers, the rate during a surge in demand is typically more than that of a dry van. This demand is primarily due to the availability of these trailers, except for a refrigerated trailer which costs more to operate in general.
5. Origination and Destination
The destination of a dry van load will undoubtedly influence what you pay in terms of rate. You can easily see the difference in the total dry van rate in terms of destination. When comparing the shipments of two independent loads originating at the exact location but with different destinations, you will get a difference in cost per mile.
The table below illustrates an entirely made-up scenario that takes all five factors into account, and the amount of $3.42 is the designated rate per mile for your load. As you can see, the distance is the one thing that will determine the total cost in the most impactful way.
Trying to figure out the dry van rate of your freight can be confusing and messy. If you get your freight class wrong, it will throw off your calculation completely. Not to mention if your freight class is incorrect, it impacts the rate from the carrier.
Rate Per Mile Differential
| | | | | |
| --- | --- | --- | --- | --- |
| Origination | Destination | Mileage | Rate Per Mile | Total Cost Per Mile |
| Miami, Florida | Atlanta, Georgia | 662 miles | $3.42 | $2,264.04 |
| Miami, Florida | Denver Colorado | 2,066 miles | $3.42 | $7,065.72 |
Always speak to a consultant to get an accurate rate without worrying about incorrectness. Using a trusted 3PL like R+L Global Logistics will not only ensure that your freight is on time, but has competitive pricing, and features 24 hour total visibility.
Are the Rates Different for Dry Van, Reefer, or Flatbed Trailers?
As mentioned earlier, shipping rates are in constant flux. However, an important question does come into play regarding rate. Does a dry van, reefer, flatbed, or any other trailer type influence or change shipping rates? The short answer is yes, they do. However, the reasons for this differ from trailer type to trailer type.
This altered shipping rate is due in part to many reasons:
Commonality: With dry vans being the most common and come in a standard and ventilated variety, they offer up the most possibilities at potentially the cheapest rate.
Availability: The availability of a trailer plays a significant role in the rate. Trailers that are not as readily available, like Conestoga or flatbed trailers, will demand a higher rate. Availability will affect average flatbed rates as well when shipping.
Cost to operate: Certain trailers like refrigerated trailers, also known as "reefer trailers," are costly to operate, which influences the reefer rate. The reefer trailer requires power from the tractor to energize the cooling unit. Then the trailer creates moisture and condensation, which needs to be cleaned before another load, unlike a dry van trailer where you load and unload cargo.
Essentially, the differences in dry van rate stem from whether or not your shipment is LTL or FTL. The cost of an LTL freight class volume quote is more expensive in general versus FTL. It is typically cheaper to use the whole truck in an FTL shipment. Of course, as mentioned above, the origin point to the destination will determine the overall cost; it is crucial to keep that in mind.
LTL freight shipments must make several stops before they reach their final destination. An FTL shipment has no stops between its starting point and last stop. Dedicated FTL freight will always be the faster alternative if you are concerned with speed.
These listed factors and many others most certainly influence the cost of the rate. Another viable option depending on the freight you are shipping, is rail freight. Rail freight can be shipped exclusively with rail siding, rail modal, and multi-modal. This freight shipping method is another viable option that will also offer a different rate.
Additional Charges
With all the available freight shipping options, it is best to speak to an expert than risk getting it wrong. Additional unknown charges can happen if you fail to handle and consider every detail and contingency regarding your freight.
Several issues can happen during the shipment of your freight that can most certainly impact the total cost of shipping. Delays in a pickup or the unloading of freight due to the shipper not being ready can result in dry run fees and detention fees.
Another charge to consider is freight insurance this fee is generally very minimal and is honestly a no-brainer when considering the value of your goods. Acquiring freight insurance is an absolute must when it comes to shipping. It protects you and your freight against any variable when shipping.
Benefits of Dry Van Shipping
The benefits of dry van shipping are many and represent the best and most viable option when transporting freight across the country. With dry vans, there are several benefits that shippers enjoy year-round.
These benefits include the following:
Cost of Shipping: A reduced cost for shipping freight due to commonality, availability, and overall operation cost as mentioned above.
Security of Goods: With lockable freight doors at the rear of the trailer and complete coverage on the sides and roof of the trailer, a secure environment is created to safeguard against theft.
The Impact of Weather: Protection from the elements such as rain, sleet, snow, wind, and any other form of elemental damage. In some cases, dry vans offer ventilation, adding an extra layer of protection for your goods.
Dry Van Trailer Sizes: Dry vans come in various sizes to conform to your desired load, deploying options related to your selected shipment.
These benefits for LTL and FTL dry van shipping are numerous and apply to every freight load on the road. The dry van rates that coincide with your shipment are most often the more cost effective alternative in shipping than other trailer variations.
As always, when shipping freight, it is best to consult an expert to minimize the total cost related to dry van rates. Our shipping experts at R+L Global Logistics are ready to go the extra mile for you.
Get Your Freight on The Move With R+L Global Logistics
Moving your freight across the U.S. is a snap with R+L Global Logistics! Our business is getting your shipment moved on time and in perfect condition. We at R+L Global Logistics enjoy a 99.5% on time success rate on all truckload freight.
We offer industry leading tools, services, and support to our shippers on a 24-hour basis. We provide complete visibility on all your shipping needs with friendly experts always ready to facilitate any of your shipping needs. We deploy scalable solutions for all business types with a pressure freight quote guarantee.
We understand that your time and interest are the most precious commodity. Our understanding of your needs is intricate in who we are and what we do, placing the customer and their needs first. Call us today at (866) 353-7178 or click here for a quote today so we can get your freight safely, securely, and on time!