The ability to take advantage of the benefits of Full Truckload Services is influenced by the type of cargo you plan on shipping. Weight, quantity, and dimensions are all factors. If you have been using LTL (Less Than Truckload) services for heavy freight over 5,000 pounds, you may want to check how FTL service and price may compare. USA Truckload Shipping has decades of experience in the industry and can assist in finding you the best solutions.
There are five benefits of Full Truckload (FTL) Shipping that businesses of all sizes should be aware of.
Rate Negotiations
Faster Delivery Times
Exclusive Trailer Use
Reduced Touch Points
Peak Season Capacity Space
FTL services can provide a variety of trailer options for customers to accommodate different types of merchandise.
Take a closer look at these benefits to find out if they can help improve your shipping practices and meet your specific needs.
The Greatest Benefits of FTL Shipping
Nearly every business in the United States relies on the vast network of trucks, drivers, and warehouses for supply chain services. More than rail or air cargo services, trucks ship over 70% of the total value of freight shipped around North America according to the U.S. Census Bureau.
To accommodate the variety of so many goods, multiple types of shipment services have evolved. The challenges that came with interruptions caused by the Covid-19 pandemic have created even more options.
Full truckload services provide a logistics solution for companies that need to move large amounts of freight. FTL services can usually provide a greater variety of services than Less Than Truckload (LTL) services or air freight services. With the ability to accommodate heavier loads and those with abnormal dimensions, FTL services are kept busy.
However, smaller companies may be overlooking FTL providers because they mistakenly believe that these are the only benefits provided. Let's take a deeper dive into these and other benefits that even small companies may be able to use.
Read up on our article about the differences between FTL and LTL shipping for more information.
What is Full Truckload Shipping?
It's important to clarify exactly what it means to use FTL shipping services. When an individual or business hires a truck for a full truckload shipment, they are getting exclusive use of the trailer space being hauled the truck's hauling capabilities.
Trucks can haul a variety of different trailers.
Dry Van Trailers (48' or 53' are the most common sizes)
Reefer Trailers (for refrigerated transport)
Tanker Trailers
Bulk Cement semi-trailers
Flat bed trailers (lowboys, doubledrops, singledrops, and more)
Dump body trailers
Side wall/fence trailers
Car carriers
Marine Container Chassis (for drayage services)
Horse and Livestock trailers
and more!
No matter what your company may be producing, chances are you can find a way to get it hauled where it needs to go with an FTL service provider. This includes very oddly-sized items which require specialty trailers.
The majority of cargo moved across the U.S. is transported in common-sized dry van trailers. These trailers, measuring 48' or 53', are used by FTL and LTL shipping services. They provide a safe and secured environment for any merchandise that fits. When properly packed, the risk of damage to the merchandise is greatly reduced.
Above and beyond the great variety offered by FTL services, let's explore other specific benefits that your business may be able to take advantage of.
At times, you may need LTL shipping instead of full truckload. If so, check out our article on the benefits of LTL shipping.
5 Benefits for Full Truckload Shipments
We are going to break down these benefits into five different categories. Depending on the merchandise you need to move, some of these benefits will have more or less impact.
As always, you want to weigh your options carefully when choosing freight services. The best service will be the one that can meet all or most of your shipping needs at the right cost.
1. Rate Negotiation
The ability to negotiate rates when shipping via FTL services may give shippers an advantage if they know which factors to look more closely at. Quotes from FTL carriers are more dependent on market factors such as current demand and fuel costs.
On the other hand, LTL shipping rates are regulated by the NMFTA (National Motor Freight Traffic Association) which organizes all freight according to a freight classification ranking system. Each commodity is given an NMFC (National Motor Freight Classification) number that determines the freight shipping rate for the item. Since the majority of carriers use NMFTA's system, prices will be standard regardless of carrier and leave little room for price negotiation.
If your shipping needs are taken care of by a 3PL service, they may be able to negotiate a better rate using full truckload shipping. A similar service can be provided by a freight broker if you don't feel comfortable enough with your understanding of the market to negotiate on your own.
Factors that make negotiation possible include:
Availability of backhaul loads
Type of freight
Preferred destinations
Origin of shipment
Fuel prices
Available freight lanes
Accessorial charges (extra packing, blanket wrap use, or other requests)
Not all of the factors may work out on your behalf. For instance, rising fuel costs are more likely to increase your rate. That said, improving your understanding of these gives you an advantage in price negotiation in the long term.
You may find it better to plan shipments for specific times of the year or along specific routes to get the best rates. Your best rates are likely to come from negotiating a long-term contract, six to twelve months depending on your business model. In doing so, you build a relationship with your carrier service that is mutually beneficial.
Although at times it may seem like you pay more, remember that a cheaper price may come at the expense of reduced or non-existent customer service assistance. It's people, not equipment, that really make the trucking industry successful.
In the long term, a contract is more cost-effective because it allows you to navigate market fluctuations and provide your own customers with stable pricing. Should you need to switch carrier services or plan a one-time shipment, a good freight broker can point you in the right direction.
2. Faster Delivery Times
If you needed to restock your store yesterday, FTL shipping is going to be your friend. Total transit times for full truckload shipments are typically faster than comparable LTL distances and times.
If you have a large shipment at port or in a local warehouse, an FTL service will load and deliver cargo with no stops in between. For cargo and merchandise that is time sensitive, speedy delivery times are a must.
FTL is also faster than LTL because there is less hassle for initial loading. If you are combining truckload services with transload services, as an example, then the warehouse simply needs to take the goods out of one container and load them directly into the trailer making the final delivery. The same transload service for an LTL shipment is slower because pallets and crates must be weighed and classified to determine the shipping costs.
3. Exclusive Use of Trailer
A big draw for high-value or fragile shipping needs is the exclusive use of a trailer for the entirety of the transport process. Regardless of whether you take up all the trailer space or not, paying for exclusive use has several perks.
Increased shipment security: The fewer times a trailer needs to be opened and closed, the fewer chances there are for something to go missing.
Lower risk of damage in transit: When shipping fragile items that need to be carefully packed, such as glassware, being the only package in the trailer reduces the likelihood of another package in the trailer shifting and causing damage.
Dedicated Services Available: Some carriers offer a full truckload service as part of a daily or weekly service. A driver and truck are dedicated to you and your shipment for that length of time. If you know it may take additional time to load a truck or you are in the process of consolidating multiple shipments, this service may be of use to you.
Exclusive use also goes hand in hand with faster delivery times. You don't have to wait for additional merchandise to be loaded. Once your items are on or in the trailer, your driver can get moving.
This benefits drivers as well, especially the owner-operators that contract independently. No driver wants to waste time waiting around for shipments to be loaded when they could be covering miles and making deliveries.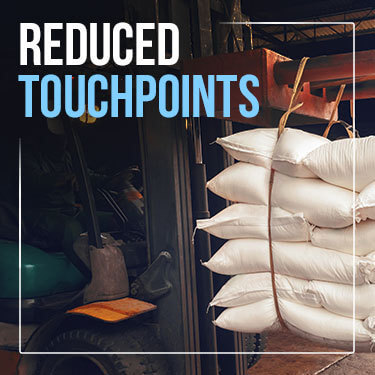 4. Reduced Touchpoints
A touchpoint is considered to be any point in the shipment and delivery process where cargo is moved, adjusted, or otherwise handled. Typically, the fewer touchpoints there are, the less likely your shipment is to get damaged or misplaced as it moves from container to truck to warehouse to more trucks. Each move risks damage or loss.
Depending on what you consider to be the starting point of the shipment, full truckload services can have just two touchpoints.
Merchandise loaded into the trailer or onto a flatbed at the point of origin
Merchandise is unloaded at the delivery destination.
In reducing touchpoints and improving delivery times, FTL carriers are providing a quick and safe high-quality service. The additional benefit to reduced touchpoints that's worth considering in current times is the reduced human exposure.
Even as the world is learning to live with Covid-19 and its many variants, it's still important to us as a company to ensure that deliveries are made with cleanliness in mind as well. The fewer people that need to physically handle products, the easier it is for everyone involved to stay safe.
5. Peak Season Capacity Space
Every industry has its peak season. For retail stores, it may be holidays such as Christmas or Halloween. For farmers, it may be their crop's harvest season. Whichever the case may be, finding available truck space during peak seasons when everyone around you is also trying to do the same can be frustrating and expensive.
As far as using full truckload services to benefit during these times, it very well depends on what merchandise you are shipping and what profits you expect to make.
Perhaps you own and operate a grocery chain and you know the Super Bowl is coming up. Some top commodities you want to have on hand might include things like beer, paper plates, or a wide selection of chips. Since these are items you regularly re-stock either way, you may have them coming in via LTL shipments.
However, your regularly scheduled shipments aren't arriving in time because the truck carrying them has been caught in a storm. You realize that the most popular beer is nearly gone and now you need to rush in a shipment of beer from elsewhere. Contracting an FTL carrier to provide a one-time delivery can save your Super Bowl beer sales.
Fair warning, one-time shipments are usually more expensive. You should consider it as an emergency type service for when you're in a bind and make sure the profit will be worth the cost. In the same line of thinking, if you know that you're likely to need additional shipments, you can contract an FTL service provider ahead of time to handle your peak season overflow needs and possibly get a better rate.
Which Shipments Benefit Most from Full Truckload Services?
Almost any freight shipment can benefit from FTL services. Some of the most common FTL shipments in the U.S. include commodities commonly used in construction or for fuel. These items include:
Gravel (along with other crushed stone)
Gasoline
Crude Oil
Grains (wheat, oats, and other cereals)
Sand
Farming/construction equipment (tractors, combines, cranes, excavators, and more)
Some of the above items, like gasoline and crude oil, need to be transported by tanker, making FTL services their only option. For other shipments, such as coal and sand, the weight and quantities in which these are shipped also make them ineligible or impractical to ship through other services.
Other types of freight that may benefit from switching to a full truckload service may be:
Pre-assembled furniture: Usually more delicate and sometimes difficult to crate or palletize, these shipments can be easily damaged in an LTL environment.
Fragile glassware and China: Glassware tends to be expensive to ship because of the high liabilities attached. Paying for dedicated service from an FTL service can give you time and space to make sure all items are correctly packaged and secured within the trailer itself saving you money from damages.
Household Appliances: Although heavy, most appliances like washing machines and refrigerators, aren't very dense. This makes them more expensive to ship via LTL. A full truckload may be safer and less expensive.
As a business owner with shipping needs, you need to determine what services you need most from your carrier. Pricing, delivery speed, and availability will vary. Speak to your 3PL providers or knowledgable freight brokers who can make suggestions based on your business model, customer needs, and budget.
Can Smaller Shipments Still Use FTL Shipping Services?
In short, yes, smaller shipments can still benefit from shipping via full truckload. High-value or high-weight shipments, even if they may be physically smaller and able to fit with an LTL carrier, might find better pricing through full truckload services.
A secondary option for shippers is freight consolidation for multiple shipments. As a service, this may be commonly combined with cross docking or transload services. If your merchandise isn't time-sensitive, you can have shipments transported to a facility for consolidation services. Once enough boxes, crates, or pallets come in, they can be transported by the truckload rather than piecemeal.
This may include items such as:
Power Tools
Ready to Assemble Furniture
Canned goods
Honey (real honey doesn't expire)
Sugar
Although you may be saving on warehouse space by shipping these items directly out with an LTL carrier, it's worth examining how much you are profiting from their sale. Are items piling up in stores because of frequent shipments? If you have the storage capacity at the retail location, storing a consolidated shipment may be possible.
As with all shipping decisions, you should take the time to look at all aspects for pros and cons. There may be multiple options and services available for you to combine. Different parts of your supply chain might have different needs.
What are the Disadvantages of FTL Shipping?
As great as full truckload services are, there are times when it really isn't the best option. If you really only need to ship three to four pallets that take up less than 30 square feet of space (less if they can be stacked), you don't need a 53-foot trailer with over 400 square feet of space.
If you aren't sure about your shipping needs, check out our article, "When Do I Need Commercial Freight Shipping?"
The goal of most shippers is to get goods to where they need to be along the fastest possible route at a price that still allows them to make a profit. If choosing FTL services gets your goods to the location faster, but eats up your profit margin, then you should consider other shipping options.
Truck capacity is tighter than ever and supply chain disruptions continue to affect not only the movement of goods domestically but internationally. Drivers and carriers want to be sure that their time and truck space is being utilized in the most efficient way possible.
Have USA Truckload Be Your Logistics Partner for Full Truckload Freight
If you believe the benefits of full truckload service can help your business goals, get in touch with us at USA Truckload Shipping. We believe our people are our greatest assets and strive to provide you with an unmatched customer service experience.
Our team takes advantage of the newest technology to make communication between you and our drivers and carriers easier than ever before. Let us know what cargo you need moved and we'll provide you with a way to move it.
Get in touch now by calling us at (866) 353 - 7178 to speak with someone directly. You can also get a quote online by giving us an estimate of your current shipping needs. Someone will be in touch shortly to review your options.